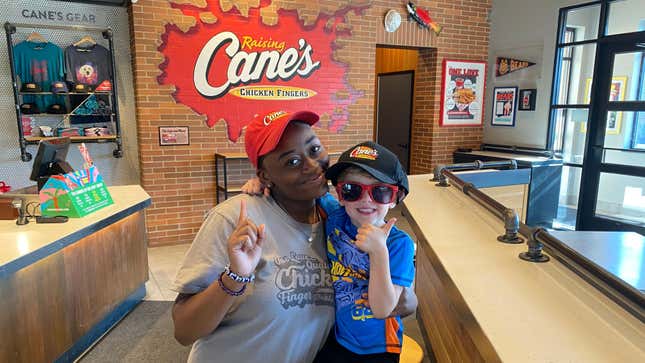 "Can we please go to a restaurant?" my son begged me from his car seat.
For years, we'd talked about going somewhere to eat away from home. With a host of food allergies plus the pandemic, he'd never set foot in a restaurant, even a fast food establishment. It was time to give it a try.
How To Dispose Of Cooking Grease The Easy Way After Frying
With his teddy bear in tow, we walked into Raising Cane's, a popular fried chicken chain I'd never visited before. I had called ahead and made sure the location had a separate fryer for crinkle-cut french fries, so my son could eat something. Always prepared, I still brought my stealthy, purse-like watermelon cooler bag filled with supplemental food, including cucumbers and strawberries.
Inside, Raising Cane's was clean, with wooden high-top booths, an assortment of tables, and three gigantic disco balls hanging from the ceiling. Dance music pumped through the restaurant. Squealing, my son started jumping up and down.
"Mommy, it's amazing!" he shrilled. It was everything he had hoped for and more.
After triple-checking the type of oil Cane's uses (trans-fat-free, all-vegetable blend of soybean and canola) and confirming yet again that a separate fryer is indeed used only for french fries, I nudged my son, encouraging him to place his order at the register.
"Can I have some fries?" he asked the employee gingerly.
The girl behind the counter, a high school senior named Shaniya, smiled.
"Sure," she replied. "What's your bear's name?"
"Little Bear," my son told her. "This is my first time going to a restaurant."
We finished ordering. I asked for a cup of water, but once we were at the table, I realized too late that the water came out of the shared spigot from the soda fountain. This is not a problem for most people. For my son, I knew it might become a serious issue of cross-contamination, since food dyes, including Red Dye 40, can be found in pink Hi-C fountain drinks.
When I returned to the counter offering to pay for a bottle of water, Shaniya gifted us one instead, plus a few temporary tattoos.
"This is amazing!" my son squealed again. "Thank you, thank you," he said in a sing-song voice.
The gesture was simple but huge. I later filled out a customer satisfaction survey, making sure to let Shaniya's manager know what she'd done. He awarded her a $25 Visa gift card for her generosity.
In the coming months, we would visit Cane's often, and we learned Shaniya was trying to graduate high school early. She was going to a local junior college to follow her dream of eventually going to Clark Atlanta University to study business and marketing.
"Oh Shaniya, oh Shaniya," my son would sing before entering Raising Cane's. "I hope she's here today."
When it came time to celebrate my son's 5th birthday, the only place he wanted to go was Raising Cane's. And all he wanted to do was introduce his grandparents and his dad to Shaniya, who happened to be working that night.
Realizing this was a special occasion, Shaniya and her manager, Matthew, went into the back office and plotted a birthday surprise.
They appeared with an armful of swag including a Raising Cane's baseball cap, T-shirt, red sunglasses, and a basketball hoop.
"This is the best day ever," my son said in delight. Soon, he was sporting a new red lanyard adorned with a silver disco ball and football key chain around his neck.
Decked out in his new gear, my son started dancing, spinning, and flowing with the music like a glow stick raver, only a pint-sized version with a Hot Wheels T-shirt and Paw Patrol sandals. I picked him up, twirling him around the dining room. Collectively, we sang a joyous rendition of "Happy Birthday."
A few months later, Shaniya shared a personal essay she wrote in the weeks leading up to her high school graduation. The interaction with my son sparked "a period of growth," she said.

"Helping others is what I have always wanted to do," she said. "The water bottle incident made me realize life is so much more than sleeping, waking up, and going to school every day. It's about going into the world and being my best self—for not only me but the people around me."
Honestly, what better gift could any parent receive?

My son still talks about that night. It made a huge impression on him—and of course, it made him a Raising Cane's fan for life.