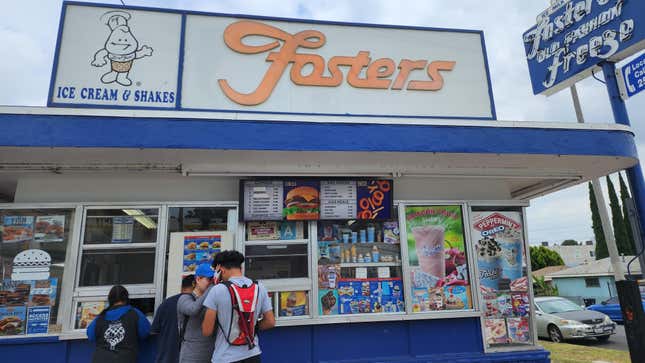 I was watching baseball the other day when I saw a Dairy Queen commercial that featured Freddie Freeman, first baseman for the Los Angeles Dodgers, indulging in a Peanut Butter Puppy Chow Blizzard—and I immediately called bullshit. My disbelief was simply not suspended. Why? Because Freddie Freeman would never be at a Dairy Queen, at least not while playing for the Dodgers.
How To Dispose Of Cooking Grease The Easy Way After Frying
Dairy Queen just isn't a part of Los Angeles ice cream culture; in fact, there are few Dairy Queens in Southern California to begin with. No, Freddie Freeman wouldn't be eating a Blizzard. He'd be enjoying a Twister at Fosters Freeze.

What is Fosters Freeze?
Fosters Freeze began in 1946 when George Foster opened the first Fosters in Inglewood, California. The website claims that Fosters is "California's first fast food chain," though I believe In-N-Out has it beat. (Also, are we not counting McDonald's here, which opened its first location in San Bernardino in 1940?)
Fosters, like many regional fast food chains in Southern California, is both endearing and endangered. It describes its food as "nothing ritzy," punctuating that claim with a mission statement to provide "everyday happiness." Indeed, Fosters is all about approachable yet decadent ice cream and simply prepared hot foods—family fare for anyone looking to treat themselves. In short, Fosters Freeze is just like Dairy Queen, right down to the soft-serve-centric menu. So why aren't there more Dairy Queens in Los Angeles? Why is Fosters the more recognizable chain here?
Dairy Queen's journey across the U.S.
Dairy Queen, founded in Joliet, Illinois, is a beacon in the Midwest. Since its founding in 1940, it has spread throughout every state (except, infamously, Vermont, home of Ben & Jerry's). Texas leads the country in Dairy Queen locations with nearly a whopping 600, which makes sense given Texas' rambling, gassed-up driving culture.
While there are a fair number of DQ shops in the greater state of California, the ice cream scene in Los Angeles is decidedly more upscale. Here, it's all about Salt & Straw, Jeni's, McConnell's, Van Leeuwen, and other "creameries" with fancy flavor combinations lousy with ingredients like brown butter and balsamic vinegar. Candy bars crumbled on top of soft serve might not be haute cuisine, but it's what many Midwest and Texas transplants crave here in LA. Yet a humble, family-friendly Dairy Queen serving upside-down Blizzards and BeltBuster sandwiches would look out of place in West Hollywood, to say the least. Aesthetics aside, there's another reason that Fosters Freeze locations outnumber Dairy Queens, and it has to do with the pettiness of the dairy industry.
How Fosters Freeze won Los Angeles
Back in 1946, George Foster bought Dairy Queen's developmental rights for the whole state of California. He was about to be damn rich opening up Dairy Queens all over the state. In fact, he had originally intended to use the Dairy Queen name all over California. However, it was only after purchasing the rights that Foster found the heads of the California dairy industry had gotten laws on the books prohibiting the word "dairy" in business names and other public uses. Due to these thin-skinned constraints, George Foster instead named his Dairy Queen clone Fosters Freeze.
That's why, even today, you're more likely to see a Fosters Freeze than a Dairy Queen in LA. Inglewood, Atwater Village, Eagle Rock, and Burbank all have Fosters Freeze locations. There are more shops spread throughout Los Angeles County (a massive, sprawling county line, for those who don't know), but suffice it to say that Fosters Freeze is highly accessible across much of the city.
Dairy Queen, on the other hand, is a relative unknown in Los Angeles. There is one location in Burbank, which is a Treat Only (that means no hot food) tucked away in the damn mall. You'd miss it entirely if you weren't looking for it. The other DQ resides in Arcadia, in the San Gabriel Valley, where all the good food is—evidently the state's dairy industry eased up on the use of the word "dairy" at some point in the intervening decades. Still, you can't just drive around Los Angeles and spot Dairy Queens along the road. They aren't part of our landscape.
What Does Fosters Freeze Serve?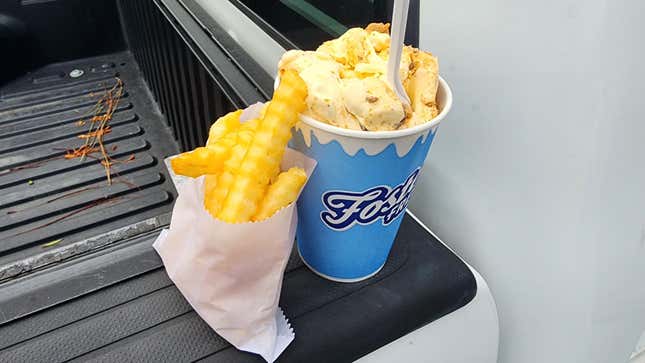 Like DQ, Fosters is all about ice cream. Blizzards are instead "Twisters," a mound of chilly soft serve swirled into a cup and topped with your choice of Butterfinger, Snickers, Reese's, worms 'n dirt, mud pie, M&M's, rocky road, chocolate chip cookie dough, and more, depending on the Fosters location. I most recently enjoyed a Butterfinger Twister with a side of crinkle-cut French fries, and the taste of a Twister is nearly identical to that of a Blizzard.
The crinkle-cut fries, by the way, are awesome. They're perfectly golden, salty, crispy on the outside, and creamy on the inside. I'm sure it's just a Sysco-manufactured fry, but man, they rock. A Butterfinger ice cream treat and fries for under 10 bucks is a pretty good deal in Los Angeles. By the way, the Twister pictured above is the "small," which is to say, gigantic.

As with Dairy Queen, I don't really go to Fosters for hot food, though the option does strike me as erratically charming. In addition to a fairly recognizable menu of chickens strips, burgers, and fries, Fosters also serves a number of "local favorites," such as Texas toast cheeseburgers, patty melts, and chili cheese dogs (the latter two are debatably Los Angeles inventions). And at the Fosters in Atwater Village, I saw placards advertising Fish Fridays, the Bacon Extreme, and a Spicy Chicken Boss, a spicy chicken sandwich topped with onion rings and bacon.

There are currently only 66 Fosters Freeze locations, all in California. That means Dairy Queen outpaces Fosters by nearly 4,000 locations and 48 states (again, Vermont, what are you trying to prove?). For Middle America transplants living in the Los Angeles area, this might mean feeling some degree of homesickness. Sure, they can head to Arcadia or hit the DQ in the Burbank Mall, but it makes much more sense to embrace Fosters Freeze, a cozy fast food stop quite literally born of DQ itself.