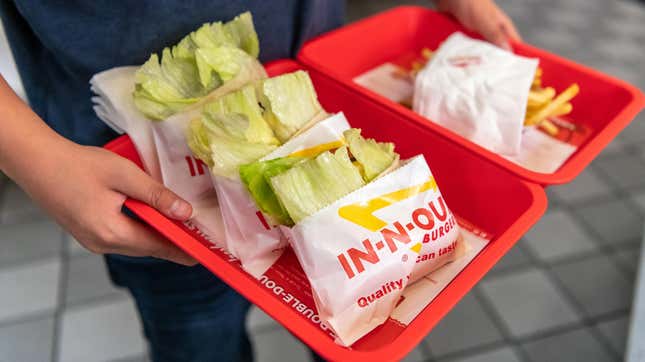 We don't often pay much attention to what our burgers and fries are wrapped up in when we exit the drive-thru, but In-N-Out Burger would like us to pause and take in its message. As Los Angeles news station KTLA explains, the burger chain has placed references to Bible verses on its packaging for decades—and has even expanded upon the tradition over time.

In-N-Out's 'subtle' history of sharing its faith
The practice of placing Bible verses on packaging began in the early 1990s with the president of the company at the time, Rich Snyder. The tradition has been kept alive by current president (and Rich's niece) Lynsi Snyder, who has also expanded the reach of these verses by adding them to more products. Originally, Rich Snyder only had the Bible verses included on some cups and wrappers.
"His goal was to express his faith, and he felt this was the perfect way to do so," wrote Denny Warnick, chief operating officer for In-N-Out, in an email to The Takeout. "He chose the verses himself. Rich died tragically in a plane crash in 1993, but the scripture references remain today."
Warnick also described the practice as a way for the Snyder family, which founded In-N-Out in 1948, to share its faith in a "subtle yet meaningful way." "Subtle" is definitely the optimal word here, considering that many of us don't look that closely at what our burger is dripping grease onto. It's hard to spot if you're not looking for it; on the soda cups, for example, you'll find a small "John 3:16" on the bottom rim. Some diners might not even realize it's indicating something religious.
A list of In-N-Out menu items and their Bible verses 
A representative for In-N-Out noted that a master list of which wrappers have Bible verses on them could not be shared, because the intention is for customers to "discover them." However, KTLA recently shared some of the products and their corresponding Bible versus—and went to the trouble of sharing the passages in full.
G/O Media may get a commission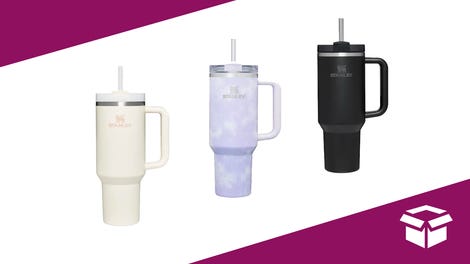 Up to 45% off
Stanley Cup Sale
Soda cups: John 3:16 - "For God so loved the world, that he gave his only begotten Son, that whosoever believeth in him should not perish, but have everlasting life."
Milkshake cups: Proverbs 3:5 - "Trust in the Lord with all your heart, and lean not on your own understanding."
Burger or cheeseburger: Revelation 3:20 - "Here I am! I stand at the door and knock. If anyone hears my voice and opens the door, I will come in and eat with that person, and they with me."
Double-Double: Nahum 1:7 - "The Lord is good, a refuge in times of trouble. He cares for those who trust in him."
Fry tray: Proverbs 24:16 - "For though the righteous fall seven times, they rise again, but the wicked stumble when calamity strikes."
Cocoa cups: John 13:34 - "A new command I give you: Love one another. As I have loved you, so you must love one another."
It's no surprise that In-N-Out's Bible verses have sparked curiosity and discussion online for years. After all, it's not common for a major American fast food brand to align itself so directly with organized religion—Chick-fil-A is probably the only one that comes to mind for most customers. As much as these passages might rub some people the wrong way, the practice clearly hasn't hurt business: According to Restaurant Business magazine, In-N-Out ranks in the top 50 largest fast food chains, with over $1 billion in sales in 2021. I guess the religion, like the poor quality of the fries, doesn't deter people too much.