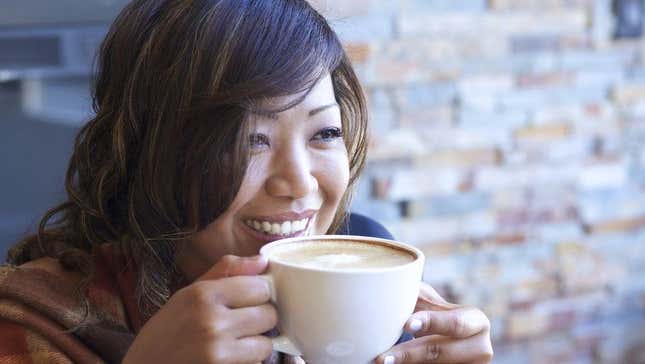 The morning cup many of us need in order to get our day started can have some unfortunate side effects. You might get the jitters if you drink too much, you might get a bad case of coffee breath, and you might make your teeth a little dingier. But you don't have to cut the java from your life completely in order to mitigate some of these factors.
All the Best Finds at the Sweets & Snacks Expo
The right insights from dentists and other experts in oral care can help you keep your teeth clean and healthy while you caffeinate. These three tips won't fully prevent your teeth from changing shades over time (only good oral care can do that), but they will help prevent coffee from being the main reason your smile isn't as bright as it used to be.
Drink coffee earlier and faster
We all want to savor that first sip as it rejuvenates us just enough to get moving in the morning—but you might want to speed up that enjoyment just a tad. In a recent article in SELF, Vera Tang, DDS, a clinical assistant professor at the NYU College of Dentistry, explains that the acidity of coffee can harm the teeth, yet that's not the main reason you should drink your latte a little faster.
"When sipping all day, it's the sugar content that's a bigger issue than the acidity," Dr. Tang says. Yes, the more common culprit of tooth decay (and other oral hygiene issues) is sugar. This means that Venti Java Chip Frappuccino on your desk should probably get finished before noon, and ideally within the span of about 10 minutes instead of over many hours.
Wait longer to brush your teeth after coffee
You might think that finishing a cup of coffee in a timely manner is deemed beneficial to oral health partly because it allows you to brush your teeth immediately afterward. In fact, the opposite is actually true.
To rid ourselves of stale breath and any tooth-staining remnants, most of us brush our teeth as soon as possible after coffee. Actually, brushing your teeth too soon after drinking coffee can make your teeth more vulnerable to the acidity of the drink. With each sip you take, some amount of that acid is coating your teeth. Your saliva plays an important part in flushing some of the acid away. So by brushing right after having coffee, you're not giving your saliva enough time to cleanse the teeth. Essentially, you're brushing that acid right into the enamel, Dr. Shahrooz Yazdani, DDS, tells Parade.
Rinsing your mouth with water after your coffee and waiting at least 30 minutes to brush is a better way to ensure you don't invite acid to degrade your teeth. Even better than that, brushing your teeth beforehand is more effective in preventing coffee from messing with your teeth. This is true because, as Dr. Yazdani notes, coffee doesn't stain by tinting your teeth directly. It's staining the plaque and food particles on your teeth.
Add more milk to your coffee
Probably the simplest tip to prevent coffee from messing with your smile is simply to add a little more milk to your cup. Diluting your beverage with milk reduces the acidity of your coffee, which means less of a threat to your enamel. Dairy milk is best for achieving this, but some plant-based milks can also be effective.
Don't be afraid to get that caffeine boost you need. If you take the right steps, you can keep your smile gleaming long after the mug is empty. (No judgment, though, if you prefer to just rock the coffee stains.)