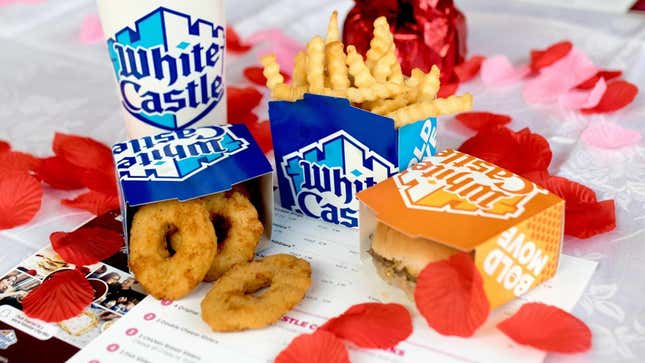 Valentine's Day is just under a month away. If you're in a relationship and haven't started at least thinking about what to do, you'd better start planning, especially if you're hoping to dine out that night. Valentine's Day is, of course, a huge night for restaurants, but if you're looking for an option that's off the beaten path and less likely to drain your bank account, might I suggest dining in a castle? Specifically, White Castle?

All the Best Finds at the Sweets & Snacks Expo
White Castle's Valentine's Day service, explained
According to a press release from White Castle, the slider palace is bringing back its sit-down Valentine's Day service in 2023 after a two-year pandemic pause. That alone is a reason to celebrate. From 4 p.m. to 9 p.m., participating locations will be transformed into full-service restaurants: There will be hosts to seat you, and food will be brought directly to your table by a server. The dining room will be also be cheerfully decorated for couples to mark the special occasion.
I went to White Castle on Valentine's Day some years back with a few friends for a cheeky little night out—I was sadly single back then. I wore a suit and everything. And I have to say, it was fucking wonderful. The staff was attentive, the place was decked out in pink and red, and all the tables were dressed with red tablecloths.
It might not seem romantic, but it was pretty endearing to see a fast food restaurant having fun with its Valentine's Day celebration (and upending the traditional notions of what those celebrations have to be). The other guests that came in that night were primarily older couples and families, all of whom were clearly having plenty of fun.
The benefits of celebrating Valentine's Day at White Castle
I understand wanting to wow your partner by lavishing them with a Valentine's Day tasting menu and fancy wine, but there's something about celebrating at White Castle that's just as intimate. It's a meal that's every bit as celebratory but with none of the ritualistic performance of a Big Night Out. Why not spend the evening in a place where you can relax and be yourselves? If you dress up, you won't be out of place one bit. Not at the Love Castle.
You and your date will both be perfumed with the romantic scent of steam-grilled sliders as they arrive at your table in little individual boxes, a gift all their own. And there's nothing wrong about saving some money on dinner, either. Rest easy knowing you didn't spend it all on a high-end experience where you worried about proper etiquette the whole time.
In case you still doubt the legitimacy of this Valentine's Day dinner idea, White Castle is taking reservations on OpenTable, which should prove just how fancy this whole operation is. Just search for "White Castle" in the city you live in, and you should be presented with the nearest participating locations. If all goes well and you suddenly feel like proposing over dinner, you could always slip a chicken ring over your date's finger when you pop the question.