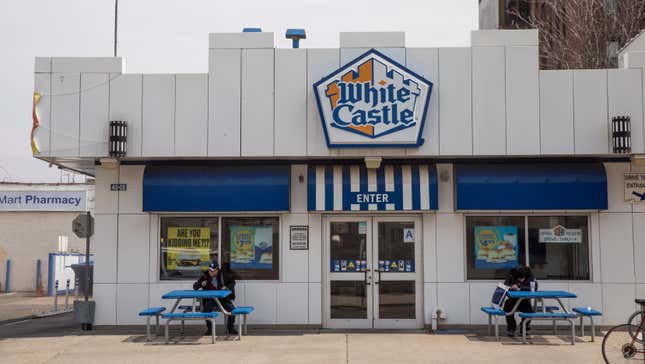 Anyone looking forward to a romantic night out at the annual White Castle Valentine's Day event will be disappointed this year. The company announced in a press release that its restaurants will forgo the "fine dining experience" it has offered in previous years.
How To Dispose Of Cooking Grease The Easy Way After Frying
Because of the recent spikes of COVID cases across the country, White Castle has chosen to go the no-contact route by offering a "Love Cube" to customers for delivery or carryout. Nothing says "I love you" more than a cube. I mean a pyramid? Absolutely not. A love sphere? It could easily roll away, and a heart is just too obvious. A cube is just right.
The box of love consists of eight Cheese Sliders, two small soft drinks, and a choice of two shareable sides, all going for $14.99. It will only be available on February 14 while supplies last. On top of that, White Castle is looking to sweeten the deal by adding a strawberry swirl cheesecake on a stick to its menu.
"We had hoped to take reservations this year, but out of an abundance of caution for the health and safety of our customers and team members, we decided the best thing to do is shift our focus to an experience that customers can take with them," said Jamie Richardson, the company's vice president.
Before COVID concerns were at the forefront of everyone's minds, White Castle had been offering a "fine dining" to its customers on Valentine's Day since 1991. The experience included the need for a reservation, hostess seating, tableside service, and holiday-themed decorations.
On the bright side, White Castle does seem to have hope that 2023 will be different. "Next year, though, we have every intention of bringing back the in-Castle dining for the biggest Valentine's Day yet," said Richardson.