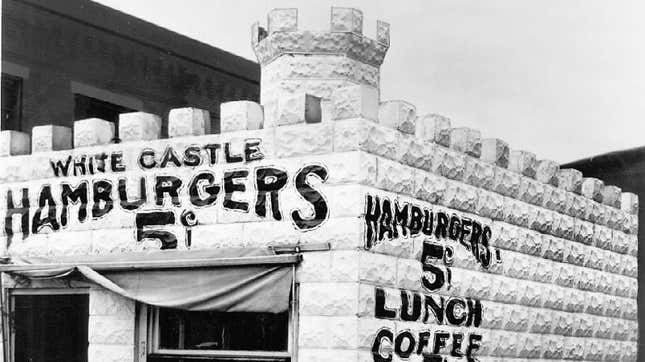 I consider myself blessed to live within walking distance of one of the few White Castles in New York City. The castle-shaped fast food haven is open 24 hours and has saved me more times than I can count. How often have I drunkenly stumbled home and made a pit stop at the White Castle for a handful of sliders (which, let's be honest, are 98% bun) and a cup of soggy, unsalted fries?
How To Dispose Of Cooking Grease The Easy Way After Frying
Well, it turns out White Castle is open to acts of charity beyond helping drunk people in desperate need of carbs. (Anyone eating White Castle sober is someone to whom I do not relate.) The company is now stepping in to help save a building in Kansas that looks just like—but is not—a White Castle.
A Facebook page and Instagram account called Cheap Old Houses (exactly what it sounds like) posted about an abandoned castle-shaped building in Douglass, Kansas on February 1. The tiny, portable building once functioned as a diner, and was being offered up for free to anyone willing to move it, which would take "significant logistics and money," per the post. Although the building never functioned as a White Castle, it somehow looks as if it were always meant to.
Is White Castle going to step in and fulfill this building's destiny? Not quite. Although America's self-proclaimed first fast food restaurant has no apparent interest in breathing new life into this long-abandoned building, the company has offered to help move the building should any museum or historical society want to add it to their collection, reports The Wichita Eagle.
"Given its aesthetic similarities to original White Castle restaurants and its location near Wichita ... it's understandable why people would think it could have been part of the pioneer fast-food chain," White Castle VP Jamie Richardson said in a press release.
Although White Castle is now headquartered in Ohio, it was founded in Wichita, just a 35-minute drive from where this tiny, empty castle now sits.
And this castle really is tiny. It's 20 feet by 20 feet and only 15 feet high. Inside stands an intact lunch counter with stools still around it, so the building could easily be repurposed as a miniature luncheonette. The Wichita Eagle determined that the building was one of several "Valentine Diners" built by Ablah Hotel Supply in the 1920s or '30s. This particular one, the Eagle reported, was either Little Palace Lunch No. 1 or Continental Grill No. 2, both of which were just around the corner from where the building currently lies.
The Kansas Historical Society may find this building to be of use. Per the society's website, it already has an exhibit showcasing the history of fast food at the Kansas Museum of History in Topeka, and the page specifically mentions Valentine Diners. If the museum has the space for it, perhaps it should hit up White Castle for an assist.