White Castle is best known for its classic sliders and ability to satisfy all your 2 a.m. cravings, but you might not know the burger chain also has options for pleasing your sweet tooth: three different slices of pie, each on a stick.

It's unclear whether the stick adds much in the way of utility or pizzazz, but one thing is certain: White Castle's dessert offerings are snack-sized at best. Which is fine—at $1.55 apiece, you get what you paid for. It feels appropriate that this chain's desserts match its sliders in size.
Here I present to you the underdogs of the White Castle menu, ranked from "just all right" to "give me the whole pie."
3. Strawberry Swirl Cheesecake on a Stick
This slice was my least favorite because it looked and tasted the most artificial out of the three offerings. When describing this dessert on the menu, White Castle gets right to the point: "Craveable cheesecake with a strawberry swirl on top of a brownie crust." The cheesecake portion is smooth and creamy, but the quality of the strawberry swirl is what ruins it. It smells like strawberry but the actual taste isn't there, and the texture is grainy like crystalized sugar when you mess up a batch of homemade caramel. The chocolate brownie crust was also a little more moist than necessary, but that could just be a side effect of the slice being pre-packaged and refrigerated. 

G/O Media may get a commission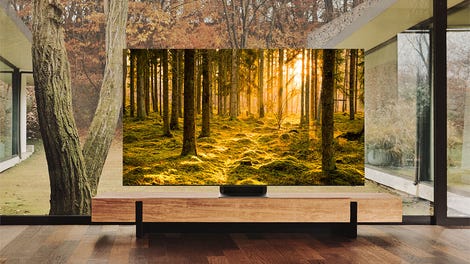 Up to 40% off
Samsung Smart TVs
2. Fudge-Dipped Brownie on a Stick
If you're looking for a death-by-chocolate bite, this is the slice for you. The whole triangle is essentially a thick box-mix brownie with a chocolate coating at the edge. There were also some chunks of chocolate dispersed throughout the brownie. Overall, it was just chocolate on chocolate on chocolate, but I'm not mad at it. The only reason this doesn't get the top spot is because even in a snack-size portion, all that chocolate becomes a little overwhelming. The brownie offering could've used the addition of some salt or crunch to break up the chewy, chocolate overload; I suggest pretzel bits.
1. Gooey Butter Cake on a Stick
Similar to a pound cake, White Castle's Gooey Butter Cake slice wins out over the rest because, despite not actually being gooey, the cake is a buttery and delicious bite. White Castle's description of this dessert isn't so forthcoming about the ingredients—"a delicious treat! Sweet and gooey buttercake"—but upon tasting it, I found that the cake also includes some cream cheese frosting and cookie crumbles on top. This layered topping offers a variety in both texture and flavor that the brownie lacks.
All three of White Castle's desserts could do without the stick shoved through their center, but they're decent options for when you're craving something sweet. And if your interest is piqued, you'll be happy to know the three skewered slices are available not only at White Castle, but in the frozen section of major grocery stores like Walmart, Kroger, and Mariano's.