Like most people with an internet connection, I spent a few distracted moments this week perusing Merriam-Webster's excellent Time Traveler feature, in which users can discover which words entered the English lexicon by year. (Merriam-Webster explains date are "first known use," meaning while certain words may have older histories, the dates represent the first time words were recorded in print.)

Naturally, I gravitated to words related to food and drink, and I've spent the last hour rounding those words back to 1960 (the feature goes as far back to pre-12th century; Papa Bear's got other things to do). Take a look below, but a number of points jumped out:
I'm surprised by how late and how early certain words entered the English lexicon. "Panettone" in 1994?! "Umami" in 1963?! I suppose appearing in print is different from becoming part of everyday vernacular.
The 1970s was the golden age of new food words appearing in the English language. "Veggie burger" entered in 1972. "String cheese" in 1974. "Fork-tender" in 1973. "Food court" in 1979! The one unfortunate byproduct came in 1970, with the appearance of the shorthand for pizza: "za."
There's so much to extrapolate. It seems like an obvious point, but it's utterly fascinating to me seeing how certain food words and when it entered the language reflected the culture of the moment. "Chinese restaurant syndrome" ushered in the MSG scare that continues today. The 1970s saw Asian dishes entering the mainstream. In the late '70s and early '80s, words such as "bad cholesterol," "canola," "glycemic index," and "sucralose" were ushered in around the same time diet foods started taking off.
"Foodie" first saw print in 1980. [Sigh.]
In any case, thank you to Merriam-Webster for wasting our time in the most educational way possible.
2005: Locavore
2002: Goji berry
1998: Microgreen
1997: Toothfish
1994: Panettone
1993: Santoku
1992: EVOO
1991: Arnold Palmer (the drink), brain freeze
1990: Farro
1989: Caffeinate, queso, Vietnamese cinnamon
1988: Food desert, functional food, mad cow disease
1987: Beer goggles, macchiato
1986: Portobello, sippy cup, sous vide
1985: Ciabatta, chiltepin, microbrew, sucralose
1983: Asian pear, brewpub, carbo-load, gel ice, guac, kettle chip, piehole
1982: Barista, food secure, frisée, microbrewery, tiramisu, Yukon Gold
1981: Canola oil, European flat oyster, glycemic index
1980: Foodie, gingko biloba, ziplock
1979: Canola, California roll, food court, Napa cabbage, orange roughy, sugar snap pea, tiger shrimp
G/O Media may get a commission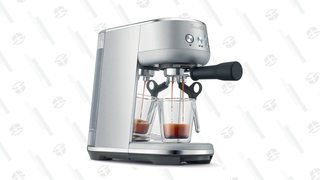 20% off
Breville Bambino Espresso Machine
1978: Agritourism, caprese, curly endive, duck sauce, kalamata, pad Thai, snap pea, trans fat
1977: Bad cholesterol, bibimbap, brewski, carne asada, cheesesteak, food insecure, ganache, good cholesterol, hanger steak, lotte, menu-driven, yuzu, zuke
1976: Arborio rice, extra-virgin, fern bar, kung pao, mesclun, trail mix, waitperson, white zinfandel
1975: Cotija, crème anglaise, game hen, hand blender, nouvelle cuisine, spaghetti squash, sports bar
1974: Carpaccio, chai, gratinée, megavitamins, snow crab, string cheese
1973: Antarctic toothfish, beefalo, food processor, fork-tender, orecchiette, rock shrimp, surimi
1972: Beer pong, habanero, Italian parsley, masa harina, serrano, tomatoey, veggie burger
1971: Beaujolais nouveau, cooking spray, fajita, food bank, gyro, jug wine, lacto-vegetarian, minibar, pinot grigio, sell-by date
1970: Chimichanga, comfort food, granola, harissa, Hunan, lo mein, mochi, self-catering, za, zero-waste
1969: Cold duck
1968: Charbroil, Chinese restaurant syndrome, seitan, single malt
1967: Dietary supplement, fry-up, muffuletta, omega-3, she-crab, zester
1966: Alfredo sauce, crisphead, gelée, gochujang, ponzu, ranch dressing, tamarillo
1965: Kiwifruit, schmear, tamari
1964: Barf bag, carryout, drink-driving, miracle fruit, soul food, table sugar, xanthan gum
1962: Belgian waffle, carbonara, ramen, salsa, yakitori

1961: Mai-tai, Nantua sauce, surf and turf, toaster oven