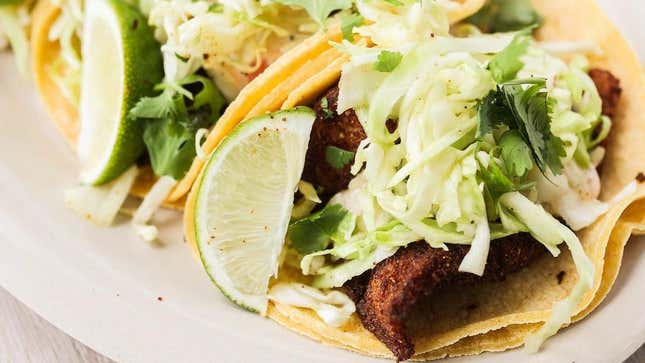 I don't know anyone who would turn down free tacos, but if you are one of those people, you may not want to leave your home on October 4. National Taco Day has arrived, and the promotions that go along with the celebration are looking spec-taco-lar. (That's the last time we use a taco-related pun in this article. We promise.)

McDonald's Shrinks Its Restaurant for the Digital Age
Rather than subject you to more wordplay, let's see what these brands are offering. They, of course, will probably make you withstand many more puns as you claim their discounts and giveaways.
California Tortilla: This Mexican chain restaurant, with locations along the East Coast and much of the South, is offering a coupon for a free taco when you make a purchase on October 4. So, while you won't get your free taco on National Taco Day, you'll be able to keep the celebration going from October 5 to October 11.
Jack in the Box: Tapping into both National Taco Day celebrations and the beginning of the spooky season, Jack in the Box is bringing back its Monster Tacos. These are hard-shell tacos filled with ground beef, American cheese, shredded lettuce, and taco sauce. Customers can get two Monster Tacos for $3 until the end of October. (PSA: The chain's Tiny Tacos are good, too.)
Salt & Straw: From Oregon-based ice cream brand Salt & Straw comes both a National Taco Day celebration and a Halloween-esque resurrection of a deceased treat. As an homage to the fallen Choco Taco, Salt & Straw is selling 5-packs of its own Chocolate Tacolates. These not so subtle Choco Taco copycats feature a handmade waffle cone taco shell stuffed with cinnamon ancho ice cream; the top is dipped in chocolate and sprinkled with flaky salt. This tribute to an ice cream truck classic can be shipped nationwide, available while supplies last. Remember, fast food marketing is all about the nostalgia at the moment, so you might as well take advantage of it while you can.
Taco Bell: Keeping the celebration a bit more exclusive, Taco Bell is bringing back its Taco Lover's Pass for National Taco Day, per a press release sent to The Takeout. The pass, which costs $10, lets rewards members redeem one free taco per day (among seven taco options) for 30 consecutive days. The pass can only be purchased on the Taco Bell app on National Taco Day—remember, that's Tuesday, October 4.
Casey's: America's most beloved gas station pizza chain, Casey's, is offering a large taco pizza for $14. If you prefer your taco ingredients in a different format, this probably your best option. Though I wouldn't consider it a true taco by any means, I can't argue with a deal.
Long John Silver's: Seafood is one of the many delicious proteins you can pack a taco with, and Long John Silver's isn't letting anyone forget it. Per a press release sent to The Takeout, the seafood chain is offering a free taco to customers with the purchase of any combo, meal, or platter in-store and online for pickup. To get the coupon for the offer in-store, you'll need to follow Long John Silver's on social media or subscribe to its email club. For online pickup, customers should use the promo code NATIONALTACODAY and they can add a Pepsi to their order through DoorDash to get $3 off an order that costs $15 or more.
Yelp's Taco Trailblazer: This promotion from Yelp is a great way to track down some of the best local taco spots near you. And for the truly dedicated taco lover, that's worth more than any monthly taco pass. Per a press release sent to The Takeout, Yelp has been hunting for its first-ever taco trailblazer and the search ends on National Taco Day. The chosen trailblazer will tour the U.S. and visit the 100 top-rated taco spots on Yelp over the course of four months while blogging and recording their travels. The winner will also be given $20,000 to complete this mission. Everyone who applies and isn't chosen can at least use the resulting list to help scope out some great taco spots. You might find your next taco oasis.
Wherever you find your tacos on National Taco Day, may they be well-packed and dripping in flavor. Taco filling options are endless, and on this "national holiday," I hope your stomach is, too.