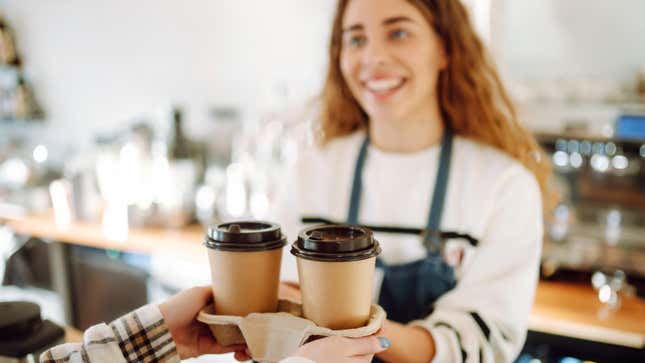 You lose an hour, you gain an hour. The sun wakes us up, or it's so dark out in the morning you could swear it's still midnight. The switch to Daylight Savings Time, which happens again this Sunday, March 12, is just one of those things we have to grin and bear—even though many have argued we should stop changing the clocks altogether. Since it's happening this weekend whether we like it or not, we'll all just have to find some way to deal with the loss of sleep. Thankfully, a few brands out there want to help us spring forward with a little more pep by offering some free caffeine.
How To Dispose Of Cooking Grease The Easy Way After Frying
Where to get free coffee for Daylight Savings Time
Dunkin': In a recent survey of Grubhub users, more than half of all respondents said they feel the effects of Daylight Savings Time even beyond the actual day the clocks are changed, and they need caffeine to get them through it. To fulfill that need, Dunkin' is offering a full week of free coffee. From March 12-18, if you place an order that costs $15 or more on Grubhub you can get a free Dunkin' drink tacked onto your order. There are 20 different Dunkin' drinks, both hot and iced, that qualify for the promotion, including the matcha latte and iced macchiato, though the selected drink will only be free if it typically costs $5 or less.
Denny's: March 13, the day after Daylight Savings begins, will probably be a rough Monday. Denny's wants to make things a little easier, at least for its rewards members. The breakfast restaurant chain is offering a free cup of coffee to loyalty members from 6 a.m. to 2 p.m. local time on March 13. The coupon will automatically appear in rewards members' digital wallets.
Natural Grocers: Natural Grocers, an organic-focused specialty grocery chain with locations in 21 states, will be offering customers free coffee as part of its annual Beat the Time Change Blues event. The first 200 customers on March 11 (yes, the day before DST starts) will receive a free sample size of the chain's proprietary organic coffee, and from March 11-14 customers can enter a sweepstakes to win free coffee for a year. There's also a sweepstakes to win a weekend getaway to Tucson, Arizona. Why? Because Arizona doesn't do Daylight Savings.
The Coffee Bean & Tea Leaf: Wescom, a Southern California credit union, is partnering with The Coffee Bean & Tea Leaf to offer free coffee to customers in California's Los Angeles, Orange, Ventura, Riverside, and San Bernardino counties. The annual event will take place Sunday, March 12, with 22 Coffee Bean & Tea Leaf locations participating. The plan is to give out $44,000 worth of beverages, all of which will be offered on a first come, first served basis until those funds are depleted. So, get there early for your cup of coffee or tea. If you show up at the same time you normally do, then technically, you'll be an hour late.
As annoying as it'll be to adjust our circadian rhythm next week, it's hard not to have a brighter outlook when there's a whole extra hour of daylight to enjoy at the end of the day. Starting off DST with a free latte in hand doesn't hurt, either.