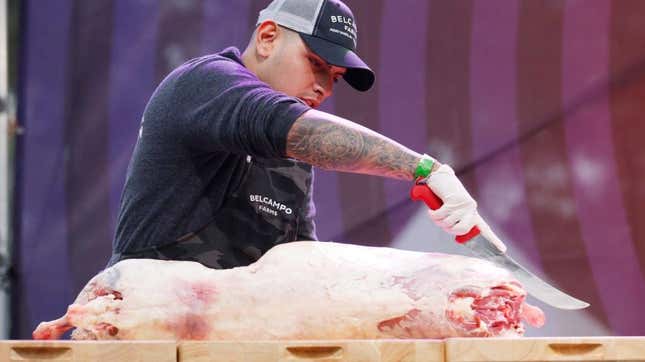 Update, October 20, 2021: It sounds like Belcampo's meat scandal is now at its conclusion. Because Belcampo might be no more. Eater LA reports on what feels like the final twist in this story.
Belcampo is in the process of ceasing all of its operations, from closing its flagship Santa Monica butcher shop, to removing its OpenTable reservations in the Bay Area and Los Angeles. Its social media accounts have been nuked as well. Co-founder Anya Fernald has also erased her relationship with Belcampo from her Instagram profile, and there's also been a statement from its CEO, Garry Embleton, that sounds like the final nail has already been driven through the coffin.
"While we are ending e-commerce, retail and restaurant operations, the company is exploring a range of options to provide consumers with non-branded products through new distribution channels. The company's supply chain, farm and processing facility are both best in class and we hope that there are opportunities to collaborate with companies eager to provide consumers with meat products that meet those high standards."

What's interesting about the statement is that Belcampo is still exploring possibilities which involve the sales of non-branded products. Does that mean the company is laying low until people have seemingly forgotten about the drama? Because the branding is exactly what landed Belcampo in hot water in the first place.
Update, June 4, 2021: Looks like this meat-based rabbit hole is far deeper than we knew. Eater LA reports in this extraordinarily in-depth piece that deceptive practices at Belcampo Meat Co. were going on for well over a year, and they weren't even all meat related.
The company was also involved in a wage theft lawsuit in 2020, brought by a Belcampo employee named Maria Celina Perez Aguilera on behalf of herself and other employees. The suit alleged a variety of labor and wage theft violations, including failure to pay workers minimum wage, failure to pay overtime wages, and failure by the company to adequately allow for employee meal breaks. Belcampo has agreed to pay $750,000 as part of a legal settlement that does not admit any wrongdoing on behalf of the company.

G/O Media may get a commission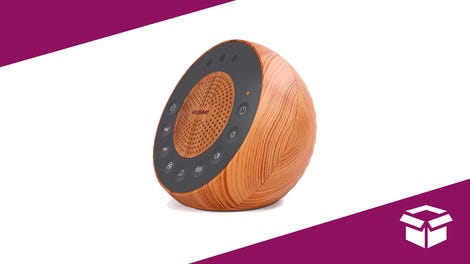 23% off
Housbay White Noise Machine
The company also seems to have been struggling financially. A former employee said that staff hours had already been cut and all staffing levels were at their minimum even before the pandemic touched down in March 2020.
The ex-employee responsible for the Instagram post that opened this can of worms, Adam Reiner (whose username is nela_butcher and is referenced below, in our original post), also told Eater LA that the product substitutions began at the Santa Monica store where he worked all the way back at the end of 2019. It started quietly with lamb that was dropped off from a distributor that was not Belcampo Farms and also wasn't organic. Yet management still ordered staff to put it in the display case under the Belcampo logo.
Later in June 2020, Reiner started seeing shipments coming in from other local purveyors that weren't Belcampo-affiliated, including Rocker Brothers and West Coast Prime Meats, distributors that work with L.A. based restaurants and businesses. Both Rocker Brothers and West Coast Prime Meats do sell grass-fed, organic, and humanely raised beef, but they also sell factory-farmed birds and choice grade corn-fed beef, depending on customer needs. Some of the products shipped to Reiner's Belcampo retail store included beef filets from Cape Grim Beef, which shipped all the way from Tasmania (which is far from local) and also never appeared as an approved partner on Belcampo's website.
All of these additional details (and wow, there are a lot) that have come to light paint a bigger picture of a company struggling to keep up with increased online order demand, reduced retail sales, store closures, and COVID-19 outbreaks in its retail stores and farm, and it remains to be seen how this whole thing is going to play out.
Original post, June 2, 2021: Belcampo Meat Co. is a Bay Area-based company that became famous for selling organic, sustainably-raised meat. Except it might not be so organic or sustainably raised after all, and this revelation has started a bit of a ruckus on Instagram. Grub Street has provided a summary.

On paper, the story of Belcampo Meat Co. is picture-perfect. The co-founder and CEO, Anya Fernald, used to be a vegetarian (is that how you know the meat is good?), and the cattle and chickens are free-range. It's exactly the way you want your dinner raised. Even the abattoirs are designed by animal-welfare activist Temple Grandin. In addition to the ranch, Belcampo also owns whole-animal butcher shops, restaurants, and some lofty ideals: the website states that "we can own the supply chain and offer our customers total transparency from start to finish."
An ex-employee known on Instagram as nela_butcher, however, has a much different story to tell. In an Instagram story, he claimed that Belcampo was ordering meat from other distributors and claiming it as their own. "I apologize to all the customers that I lied to for the past 2 ½ years in order to keep my job," he wrote. "They are lying to your face and charging 47.99/lb for Filet that is either USDA choice and corn-fed or from a foreign country." The photos that accompany the story show boxes in Belcampo's Santa Monica Restaurant and Butcher Shop from other suppliers, like Mary's Organic Chicken and Pasturburd.
Fernald said via an emailed statement to the San Francisco Chronicle that nela_butcher's story was an "isolated incident" that only affected one store. The company has "strict protocols in place for for any products purchased from other suppliers that includes making sure these meats are clearly labeled at the point of purchase or in the meat case," and that "the preliminary results of our investigation show that unfortunately protocols both for sourcing and communicating product origin to customers were not being followed in our Santa Monica location." The company also noted that nela_butcher had been fired before the information was leaked.
And apparently some Belcampo butchers do sell meat sourced from different companies. The Chronicle reports that in an Instagram post, now deleted, the company claimed that "when we're unable to source a specific cut from our own farm or partner farms, or when we've had a short term COVID-related disruption to our supply chain, we always ensure the production standards as close as possible to Belcampo Farms' own offerings: grass-fed and finished, certified humane, and certified organic. Typically this ordering represents a tiny fraction of our total volumes." Comments on the account are now turned off.
In another Instagram post, Belcampo writes that "we're actively investigating all Belcampo locations to ensure that our strict guidelines for sourcing and labelling are being followed and executed properly." There's also a new page on Belcampo's website that addresses all the issues brought up by the meat scandal (my new favorite term). There's a ton to info to sift through, including notes about using "partner farms" when "there are supply shortages on certain items."
The biggest statement, however, is, "Effective earlier this week, there is no purchasing of meat and egg products external to our supply chain at our restaurants and butcher shops." I guess sometimes things aren't so good as they seem when it comes to the wild world of meat, but there's always fine print on any statement, anywhere.