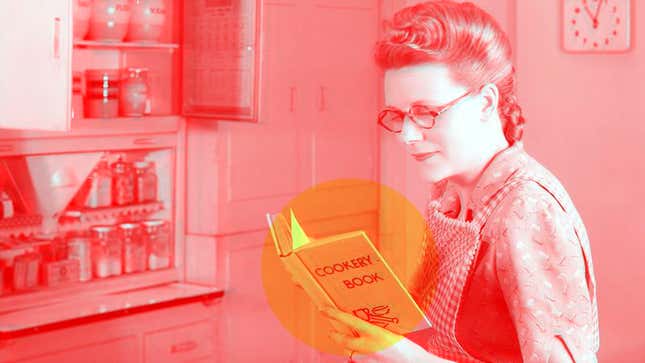 Yesterday, we presented a list of cookbooks we consider to be the finest tomes published so far in our young century. Today, we open it up to The A.V. Club staffers and contributors, and rephrased it as a question: If you could save one cookbook from your burning kitchen, which book would you save? (Let's assume you'll have a working kitchen again at some point.)

How To Dispose Of Cooking Grease The Easy Way After Frying
---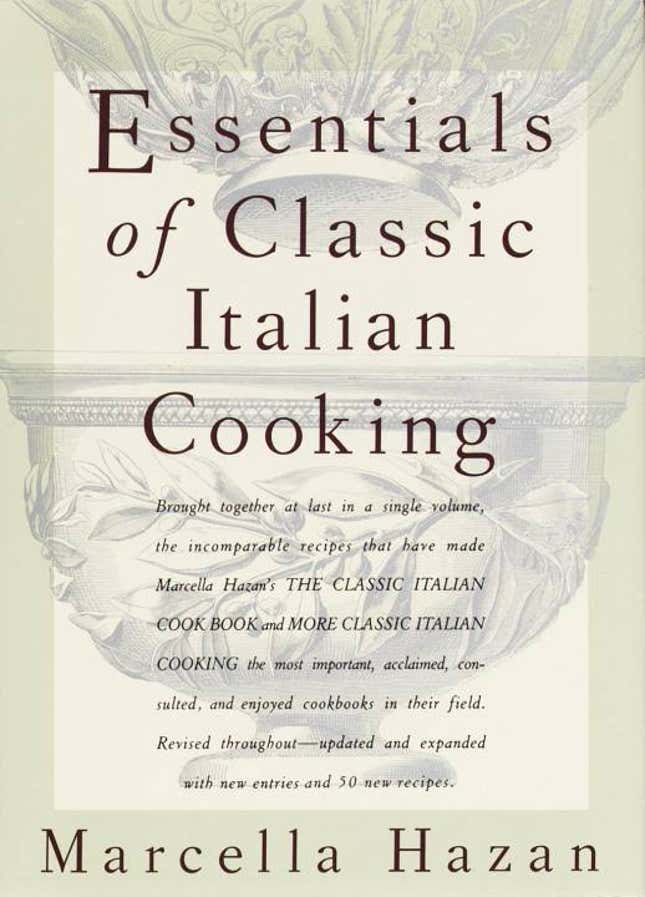 Essentials Of Classic Italian Cooking by Marcella Hazan
While the cookbooks I turn to most often are a slate of America's Test Kitchen volumes (shout-out to their Complete Book Of Pasta And Noodles, as well as a vegetarian one that came out last year), the book I'm most likely to grab from my flaming kitchen is probably the one most likely to cause that kitchen to catch fire: Marcella Hazan's Essentials Of Classic Italian Cooking. Don't get me wrong: many of the recipes contained herein are almost shockingly simple, like her famous three-ingredient tomato sauce or (one of my favorites) the broccoli and anchovy pasta. But Hazan has a marvelously inexact, writerly quality to her recipes, bucking the reassuring specificity of the America's Test Kitchen style in favor of loose quantities and feelings-based heat settings. She'll tell you to taste a bean, for example, and throw some more salt in if you want. Many of the recipes just ask you to set some good ingredients in contrast against each other, but other times she is unchecked in her contempt for doing things the easy way. Her instant polenta recipe practically shames you into attempting her arduous, day-long Real Polenta recipe. The result is a cookbook that sets you out on adventures, with reliably delicious rewards. Its spattered, crinkled pages are irreplaceable, in part because Hazan made the process of cooking so fun. [Clayton Purdom]
---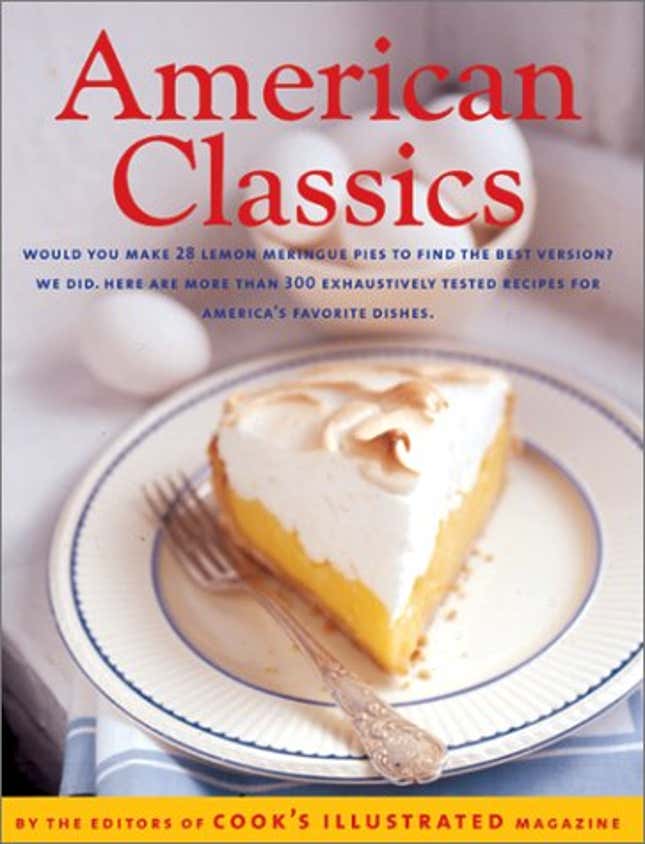 American Classics by the editors of Cook's Illustrated
About a decade ago, I failed out of graduate school. (Turns out: science is hard.) After moving back home in pretty-much disgrace, I decided I would do one thing to make myself actually useful around my mom's house: I would learn to cook. (The "follow the recipe" part had always been my favorite aspect of lab work, anyway, so it should be easy, right?) But I found myself irritated by the glut of recipes out there, distracting me and leading me astray. What made one set of cookie instructions better than another? Was I going to have to try them all? The ambiguity of it gave me literal anxiety attacks.
My salvation came from the good folks at Cooks Illustrated, and their accurately titled American Classics (which my mom had a copy of hanging around her kitchen). Cooks is published by the America's Test Kitchen folks, and follows their same ethos: research your methods, come up with a bunch of different ideas and procedures, and then text exhaustively. This culinary scientific method soothed the raging war in my head, and I slowly mastered all sorts of basic staples. (Especially desserts: Cue a minor self-esteem boost the first time I nailed a lemon meringue, or coconut cream pie.) American Classics isn't just a great way to learn to cook—although it is. It's also a key part of me coming back from one of the worst periods of my life, and, fire or no, I could never leave it behind. [William Hughes]
---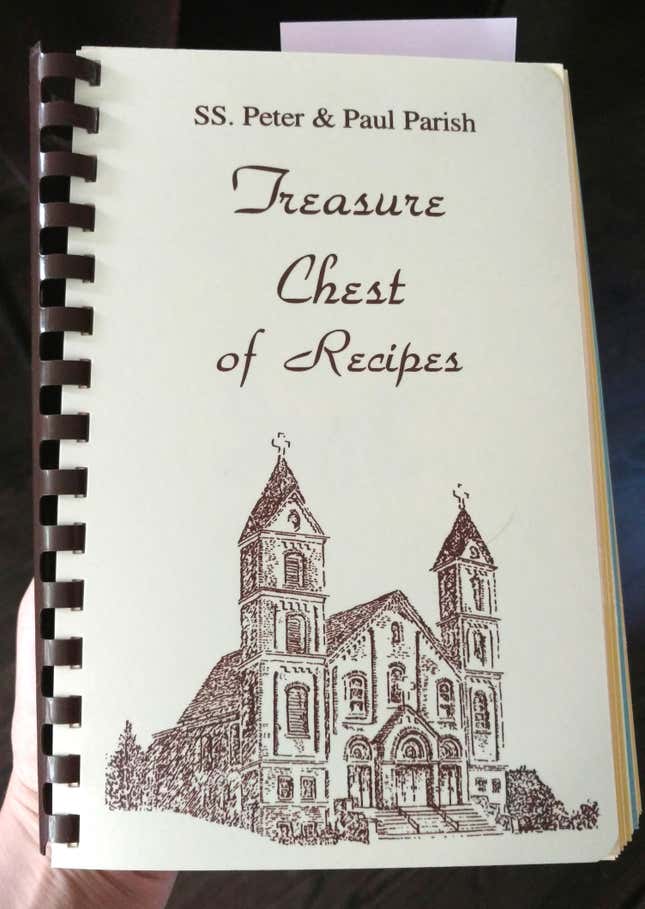 Treasure Chest Of Recipes from SS. Peter & Paul Parish
Every Catholic Church in the Midwest, at some point, releases a community cookbook. It's what they do. And the early-1960s, Treasure Chest Of Recipes doesn't even do anything particularly new with that formula: plastic comb binding, color-coded pages of casseroles inscribed with the names of the women (always women) who submitted them—the front matter even contains cloying little recipes for "A Happy Home" and "The Perfect Marriage Stew," lest we forget we're being preached to.
Generic as it was, I grew up with a soup-stained copy of this cookbook, and it bestowed both cheese-ball inspiration and our family's trademark dessert, No Fuss Reese's Cups. The submissions are a glimpse into the kitchens of yesteryear, always recommending oleo over butter and never specifying the correct amount of anything ("one package," "one box"). The worn cookbook even had my toddler scrawlings on the front cover. On Christmas in 2007, my mom surprised me with a brand-new copy of this no-name gem. Just as I was entering adulthood with all its culinary demands, Peter & Paul Parish had released a 50th-anniversary edition of Treasure Chest, and my mom had inquired at exactly the right time. Serendipity only adds to its legend. [Marnie Shure]

---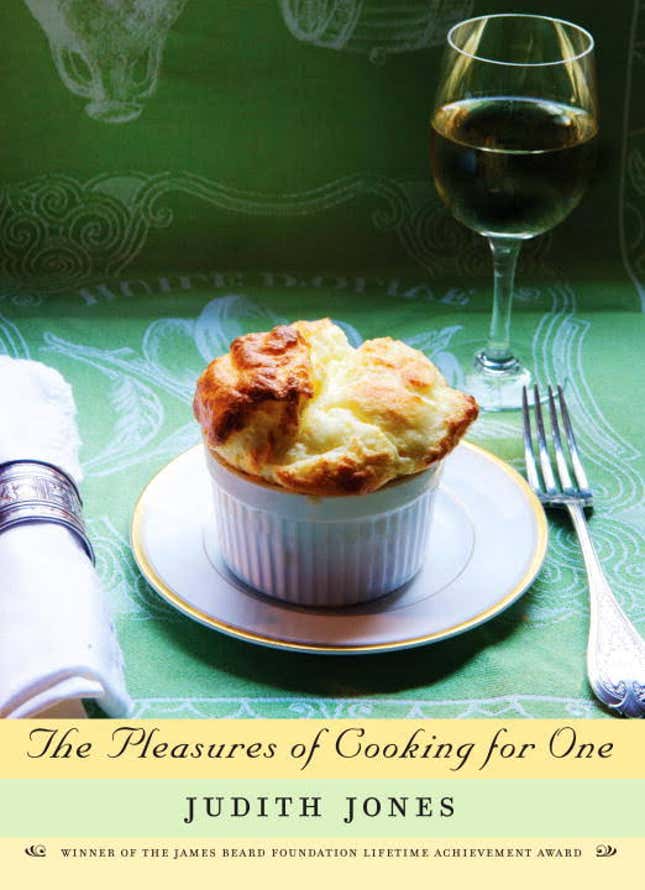 The Pleasures Of Cooking For One by Judith Jones
This is a not a book you could ever give to someone else. The title alone evokes a lonely soul, determined to keep their chin up and feed themselves. I'll admit, I saw this on a friend's table and thought, "oh, sad," until I opened it. The message was clear: Cooking a meal for yourself is a luxury you should indulge in. Judith Jones' recipes are poetic, calming to read and prepare. "Minced Chicken On Toast" is not dry chicken nubs on stale bread—it's an elegant tartine with a mushroom cream sauce and tarragon. "A Slice Of Baked Ham" is not a last-ditch effort to not starve, it's an indulgence slathered with Dijon mustard and braised in herb-infused milk. I bought my own copy the next day.

Jones is the Appledore of the culinary world, housing six decades of food knowledge from having worked on cookbooks with Julia Child, Jacques Pepin, Madhur Jaffrey, and Marcella Hazan. Her book sparked a desire to make good food for just myself. It changed way I view the fridge, from food scrap wasteland to a mine of potential deliciousness. Jones dignifies leftovers, presenting larger meals as a chance to feed oneself well several times over. I envied her nimbleness with food, to pivot from beef bourguignon one night, to braised beef and mushroom gratin the second, to meaty ragu the third. It was the way I wanted to eat, and the cook I wanted to become.
I make better soup because Judith Jones taught me how to view stumps, peels, and languishing roots as the key to tawny-hued stock. I learned you can freeze individual portions of bechamel sauce, and have not purchased boxed mac 'n' cheese since. I stopped buying salad dressing and frozen meals. There's a banner across my brain, saying "I can make that better myself" when I look at prepared supermarket food because I learned how to from this book. [Anne Dwyer]
---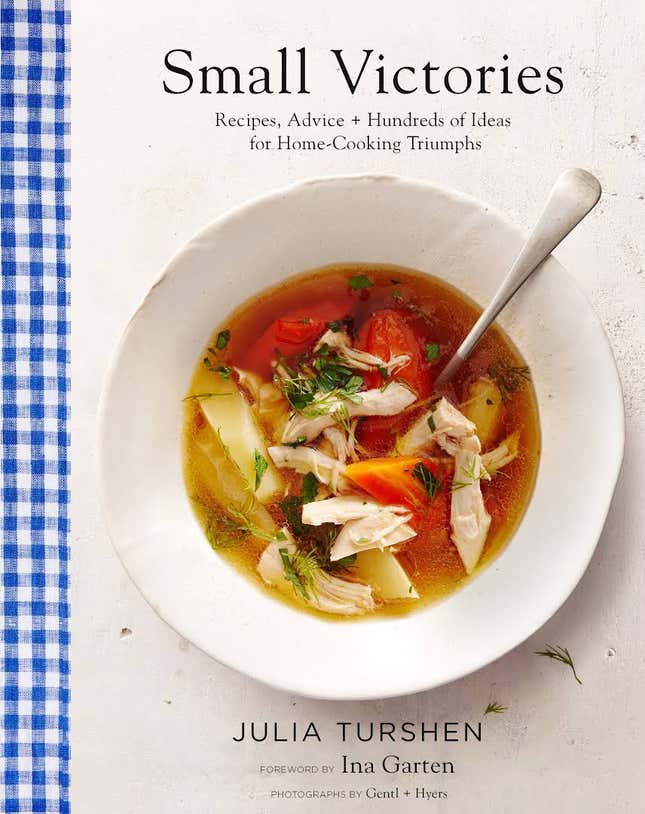 Small Victories by Julia Turshen
I received Julia Turshen's much-lauded Small Victories as a birthday gift this past year, and spent that evening reading the book from cover to cover. It's rarely left my side since (seriously, I even brought it on vacation with me like a kid would a stuffed animal). Turshen's book follows a philosophy that if you know how to cook one core ingredient—say, eggs—you can actually cook 1,000 different things. In turn, all of her recipes come with spin-off, variations on a theme, providing delicious alternatives for anyone looking to experiment within a structure. In the few months Small Victories has been in my possession, I've felt myself grown as a home cook, infused with the confidence of Turshen's prose to achieve my own (however small) victories. [Fran Hoepfner]
---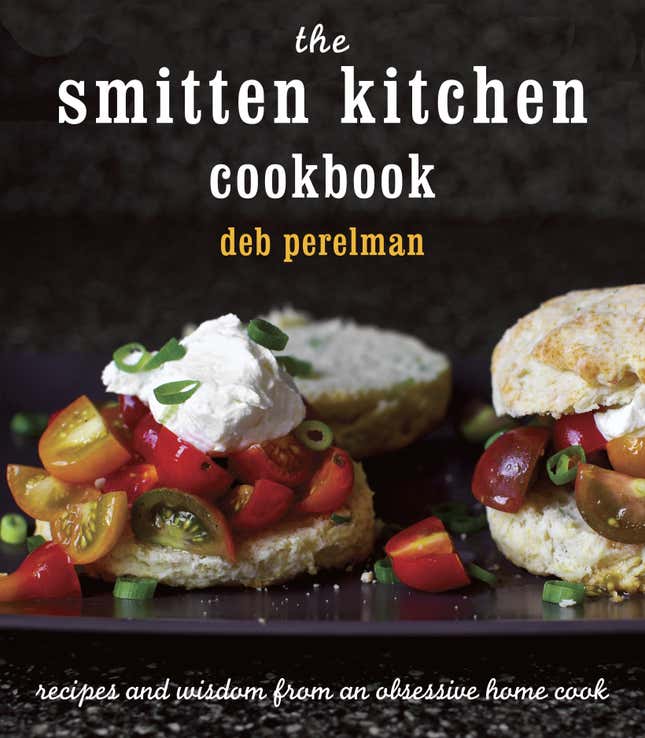 The Smitten Kitchen Cookbook by Deb Perelman
My love for food is a recent one. A "fancy dinner" growing up for me was a trip to Red Lobster or Outback Steakhouse. It wasn't until I got married that my wife introduced me to the delights of the culinary world. Around that same time Top Chef was airing its first season and my love for fun, interesting food grew. It was also growing online as we saw the dawn of food bloggers. Men and women graciously shared their recipes online, for free, with one of those pioneers being Deb Perelman and her blog The Smitten Kitchen. My wife and I have been fans of her site since its early days and The Smitten Kitchen Cookbook has been a weekly read in our house. Deb not only has an amazing palate; she also has an amazing eye. The pictures in this cookbook are half the reason we own it. All dining options are covered: breakfast, lunch, dinner, dessert, and my favorite, party snacks and drinking. A number of dishes from the book have become regulars in our household: cinnamon toast French toast, butternut squash and caramelized onion galette, and mustard Milanese with arugula fennel salad. Almost every recipe has a short list of easy to find ingredients and doesn't require the use of four pots and pans. Simple food that tastes amazing. What more do you need? [Eric Munn]
---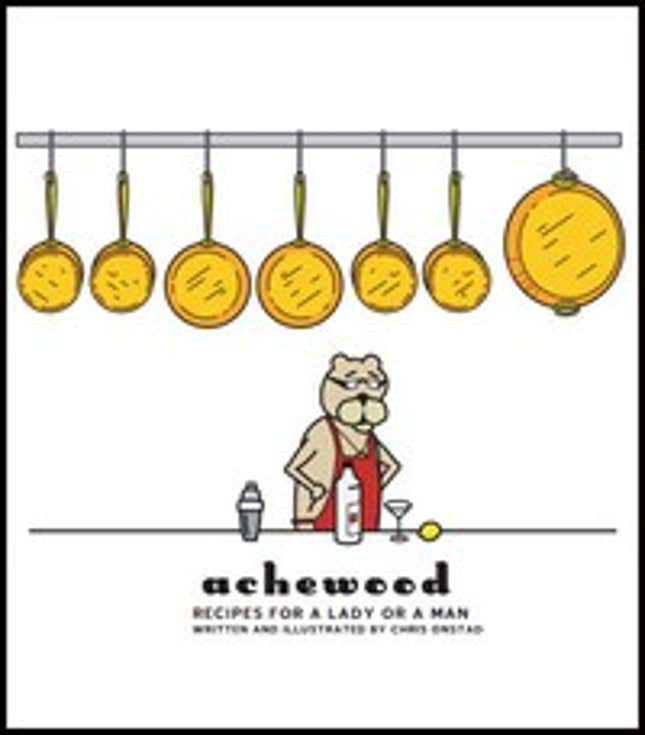 The Achewood Cookbook by Chris Onstad
When I first graduated from college, I knew fuck-all about cooking. Things like sauces, oven temperatures, and seasonings were beyond my ken. Basically, if there weren't instructions on the back of the box, I avoided it. But as I experienced firsthand how great it was to have roommates who knew what they were doing, and see both the sensual and fiscal benefit of cooking for myself, I made the decision to start growing beyond just Hamburger Helper and Kraft pasta. And the most helpful and honest cookbook I've had to this day remains Chris Onstad's slender tome The Achewood Cookbook. Sure, I was a fan of his comic series (as should you all be), but Onstad is also an amateur gourmand and frequent food writer/blogger who possesses a knack for delivering wildly entertaining prose that still manages to tell you in no-bullshit terms what exactly you need to do to make food taste good, from the moment you pick up the ingredients at the grocery store to the time you take it off the stove or out of the oven.
And among these recipes, one is head-and-shoulders above all others as the most important recipe and cooking lesson I've ever learned. It's Onstad's recipe for "Galaxy Nachos," which manages to turn a set of ingredients for perfect stay-at-home nachos into an invaluable insight about what cooking does to carbohydrates, and gets you thinking about what it means to have different ingredients interacting with one another. Until you're forced to reckon with it, keeping your chips crisp is something that just doesn't occur to you as a non-cook. It was the written equivalent of someone holding my hand (and offering me a beer) as I stumbled through the early stages of fumbling around in the kitchen, and I would never want to be without it again. [Alex McLevy]