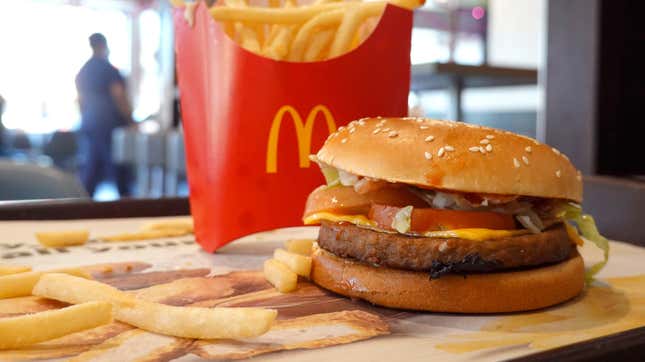 Fast food restaurants are designed to be endlessly replicated. Especially now as automation takes over and franchises adopt layouts that match our ordering habits, we're seeing more and more cookie-cutter dining rooms with little variation in construction or color palette. In some ways that's comforting—when you're in a strange city, you know that the McDonald's there will be virtually identical to the McDonald's you're used to. But that doesn't mean that there can't be standouts, and one McDonald's in Wales is now being called the best in the world.

McDonald's Shrinks Its Restaurant for the Digital Age
Why the Wales McDonald's is so good
According to The New York Post, UK Michelin-star chef Gareth Ward declared that the McDonald's in Welshpool, Wales, was not only the best McDonald's in the world, but one of the top three restaurants in the country. And there's a bevy of Google reviews that agree with him.
Part of what makes this particular location different is its menu. As we know, the McDonald's menu can change drastically from country to country, featuring things like rice burgers in Japan, the Halloumi McMuffin in Cyprus, and the McBaguette in France. The Wales-specific dishes that are inspiring rave reviews include the McPlant (and an extensive vegetarian and vegan menu to match), the McCrispy chicken sandwich with black pepper mayo and a sourdough bun, and a Cadbury chocolate McFlurry. Other unique items on the Wales menu include the Millionaire's Donut, the Vegetable Deluxe sandwich, and the limited time only Cheesy Garlic Bites.
But the positive accolades for this particular location go beyond just the food. A handful of Google reviews confirm that the service is quick and the staff is friendly, adding to the overall pleasantness of the experience. It proves that the simplest of things can go a long way to ensure customer satisfaction.
How other McDonald's locations can compete to be the best
Many of the factors that would allow other locations to compete for the title of "World's Best McDonald's" are unfortunately in the hands of corporate overlords, the ones who dole out directives for menu changes and initiate remodels of the physical space. Regularly rotating specialty items served at different locations would certainly add more excitement. And even more exciting yet would be a return to the more dynamic architecture of McDonald's previous locations, back before the company stripped all its restaurants of any personality. What we wouldn't give to see another UFO-shaped or zoo-themed Mickey D's pop up somewhere.
Ultimately, though, the ideal McDonald's location masters the simple stuff first and foremost: friendly service, clean facilities, and classic McDonald's menu items served at the level of quality that we expect. We'll even take those three attributes over an order of Cheesy Garlic Bites.