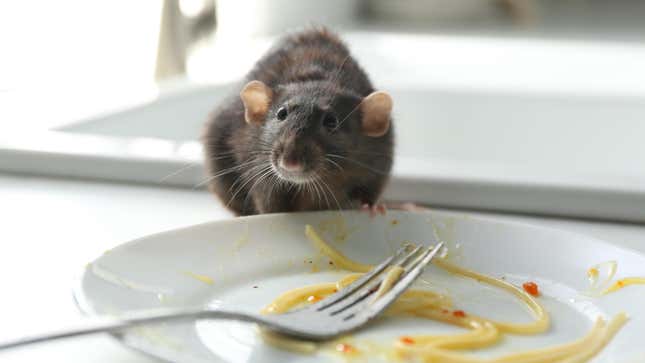 Soon after unleashing its massive list of 194 new social rules for life after COVID, The Cut recently wrote about a practice that would not be allowed anywhere near its etiquette guide. It's a phenomenon that's hardly new, but which has been given a new name and new life over on TikTok. We're talking about the unconventional/unhinged creations we create in the privacy of our own kitchens—we're talking about the Rat Snack.
How To Dispose Of Cooking Grease The Easy Way After Frying
Apologies for the name. It's not what I would have chosen, but I understand the sentiment behind it. I make rat snacks, too. Take my longstanding desire for pickles and some form of chocolate, or the turkey slice and provolone cheese I wrap around a pickle (yes, much of my rat snacking is pickle-based). Whatever it's made of, the rat snack is personal. The combination of ingredients is not for everyone, but that's exactly the point.
"The rat snack is self-evident," writes Mia Mercado for The Cut, perfectly encapsulating the spirit of this form of snacking. "It is goblin mode for your midday hunger pangs. It's a heh, heh, heh you can eat."
These snacks, which TikTok users have been sharing with one another for years now, are nothing you'd serve on a platter when company comes. Rat snacks are created by staring at the contents of your refrigerator, realizing you're too hungry to spend time actually cooking anything, when your hunger suddenly asks, "Why not all of it?"
TikTok user Abbey Sharp (@abbeyskitchen), one of the creators who most recently re-popularized this trend, is shown heating apple slices with butter, brown sugar, and cinnamon, piling them onto two slices of toasted bread, draping a sheet of processed yellow cheese on top, and squishing pecans into the cheese for "some crunch." She gives the combo positive reviews, but it isn't like the video is a recipe demo. It's more like these videos exist to show us all we're not alone in our strangest tendencies.
Mercado notes the rat snack is typically an expression of the odd cravings that one can experience "between the hours of 11 p.m. and 2 a.m." While this is certainly true, the rat snack isn't just limited to late-night eats. In the true spirit of the rat, I would say this snack has no concept of time.
Alexis Morillo writes in Bustle that the rat snack is "further proof that satisfying snacks do not have to be pleasing to the eye." And it's true: We're past the era of applying Instagram filters to beautiful avocado toasts. As much as I'd like to be food influencer with a perfectly presented plate of "health-forward" snacks, my true self stands in front of the fridge at 2:30 p.m. on a Saturday afternoon, using a single slice of bread to pinch cold, leftover mostaccioli out of its container and eat it like a taco. No plate, no napkin, just vibes. I am absolutely not ashamed of the number of foods I will eat while standing in front of an open refrigerator.
This type of snacking is not one I ever felt the need to name, but TikTok is a place for sharing, and it looks like the community has spoken. We should all snack openly and with pride.