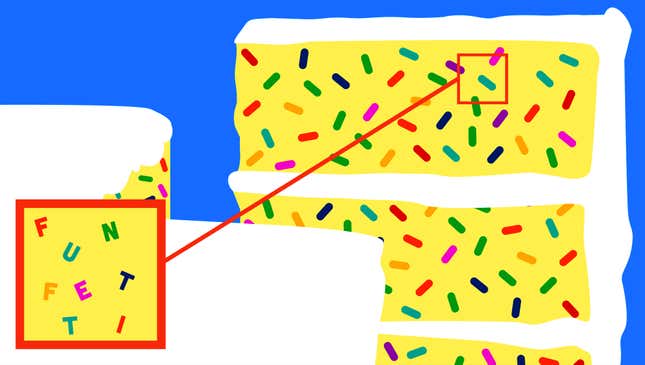 "What is Funfetti, really?" I asked myself during a recent iteration of Deep Thoughts With Kate Bernot. On a Tuesday afternoon, I'd found myself suddenly craving that specific saccharine-sweet, uber-processed, artificially colored Pillsbury cake product.
How To Dispose Of Cooking Grease The Easy Way After Frying
Why? Rationally, I know Funfetti is just vanilla cake mix with unremarkable candy sprinkles baked in. But it's been a grocery-store and birthday-party staple since Pillsbury unleashed it on the world in 1989. It has its own trademark, and has spawned countless gourmet bakery "confetti cake" riffs. Clearly, Funfetti has staying power.
So I set out to find out why, starting in my own kitchen.
Holding my hand mixer in my right hand as the Funfetti batter swirled rhythmically in its bowl, I began reading the box's list of ingredients. (Pillsbury Funfetti mix requires two minutes of beating with a mixer, just barely enough time to scan through the list of sodium stearol lactylate, blue 1, yellow 5 lake, red 40 lake, carnauba wax, and other wholesome components). The candy bits are, as suspected, primarily comprised of sugar, corn starch, vegetable oil, soy lecithin, confectioners glaze, and artificial colors. I fished one out of the batter: It just tastes like any other sprinkle.
This, to me, is the great, inexplicable triumph of Funfetti: It doesn't taste like anything more than tooth-achingly sweet vanilla cake. And yet, those sprinkles—so devoid of flavor or even crunch—endure like tiny, multicolored culinary termites. It's proof yet again that humans eat with their eyes before they eat with their mouths.
"If I could put sprinkles on everything, I would," Jennifer Estrella, co-owner of Chicago bakery Bake, tells me. Her bakery's most popular cake is a more artisanal take on Funfetti: a rainbow-colored layered cake, every square inch of which is covered in sprinkles. She says sprinkles' appeal is almost primal: They're colorful. They're happy. Kids love them. (This cake was originally a birthday demand from her son years ago.) "When people come in the bakery and they just see the cake, their eyes light up."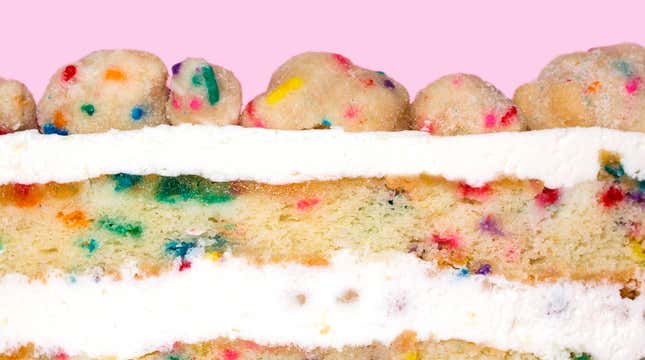 Funfetti was also the inspiration for New York City bakery Milk Bar's legendary Birthday Cake, a staple of baker Christina Tosi's repertoire since 2008. When the first Milk Bar location opened in the West Village, Tosi set out to replicate the flavors of Funfetti, canned-frosting flavor and all. Even using the side of the Pillsbury box to guide her ingredient choices, Tosi told me her Funfetti riff took two years to perfect. She ultimately landed on Malaverio brand sprinkles, which help strike the same "emotional, nostalgic chord" as Funfetti.

But I'd bet these painstakingly created, magnificently frosted gourmet creations aren't what most people think of when we hear the term Funfetti. That conjures memories of sugar-slathered single-digit birthday parties fueled by cupcakes from that vivid blue box with the smiling Dough Boy.
Despite his grin, though, all is not copacetic in Funfetti land.
In July, Ohio-based food company J.M. Smucker sold off its baking brands, Pillsbury included. It had owned Pillsbury's baking mixes since 2004, but as The Wall Street Journal stated in its reporting on the sale, J.M. Smucker hadn't invested much in the Pillsbury brand for at least a year before its sale. As Americans turn to freshly-baked cake offerings, WSJ notes, sales of baking mixes have languished.
Thankfully, Pillsbury's baking-mix business was scooped up for $375 million by a Greenwich, Connecticut-based private equity firm called Brynwood Partners. (My calls to them to ask about the future of America's favorite sprinkle-cake mix went unreturned.) With the ink still wet on the Pillsbury deal, only time will tell whether new ownership is able to preserve Funfetti's appeal for a new generation that may be more inclined to pony up for its patisserie-born counterparts.
As I type this—slathering high fructose corn syrup-based frosting across my keyboard—I'm really rooting for Funfetti. Like some of America's other nostalgic brands (a class that includes Necco, Mallomar, TastyKakes, et al.) it's not quite in step with the current trend toward natural ingredients. Funfetti is decidedly sugary, definitely not gluten-free, and contains colors not found in nature outside of jungle-dwelling poison dart frogs. But do we want to live in a world without $1.59 boxed Funfetti, where the joy of rainbow-confetti cake is reserved for those who can spend $50 on a three-tier artisan version?
For once, I'm on team Confectioner's Glaze Yellow 5.