Chili is not about subtlety or purity of flavors. Successful chilis are described with words like "rich," "complex," or "bold"—adjectives on the heavy end of the culinary spectrum—while their specific components can number as few as three or somewhere in the dozens. It's not so much a dish as it is a genre, with infinite variations. Furthermore, it seems like everyone has some "secret ingredient" or "secret technique" that makes their chili better than yours.
We solicited The A.V. Club staff for some of their own chili tips and tricks, then turned to a larger circle of professional chefs and food writers. Not surprisingly, they had a broad variety of opinions—many of them passionate—on chili best practices. Here are some of the highlights; share your own chili secrets in the comments.
Kevin Pang, The Takeout editor-in-chief
Chili for me is about depth of flavor—no one wants thin, one-note chili. You can achieve that by boosting its umami qualities. Whenever I make beef chili in the slow cooker, I'll always add in a mixture of anchovy paste, Worcestershire sauce, double-concentrated tomato paste, soy sauce, grated parmesan cheese, and a dash of fish sauce. It's a small enough dose where you don't taste the components, but in concert it deepens the flavors and makes the stew richer on the palate.
Becca James, The A.V. Club editorial coordinator
I often think about food in terms of pop culture, so for me, chili brings to mind a maniacal desire to win a chili cook-off by providing the spiciest version of this firehouse favorite. (This is maybe best captured in the "Chili Cook Off" Regular Show episode, which perfectly exaggerates the stakes of this trope while also taking jabs at popular cooking contest shows.) My own "trick" for making things extra spicy is simple: In addition to adding the expected peppers to my batch, I also brown my ground beef in canned jalapeño juice. (What else are you supposed to do with the leftover juice once your sliced jalapeños are gone?) This infuses the meat with its own kick, and turns the spice factor up a welcome notch.
G/O Media may get a commission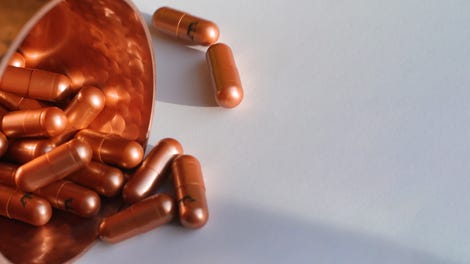 health
The Lyma Supplement
Gwen Ihnat, The A.V. Club assistant editor
My chili dramatically changed for the better when I started using my crockpot instead of my stovetop. I throw it on low first thing in the morning with some cans of beans and tomatoes, frozen corn, and a wide variety of meat products: browned ground beef, crisp bacon, and my ultimate secret ingredient of Big Fork bacon sausage. Lance Avery, creator of this concoction, is one of the most popular guys in my neighborhood, as he's been feeding us all for years with this amazing, smoky recipe that catapults my chili to the next level. I usually take it out of its casing to brown it first, then use those drippings to sauté some green peppers, onion, and garlic. My final spice adds are almost as important as all the solid ingredients: high-end chili powder, rock salt, Hungarian paprika, and not a little cinnamon. Every time I tweak these various combos to keep striving toward perfection, and every time it comes out just a little bit differently. I love making chili because it's like a lifelong creative quest for me, especially this time of year.
Caity PenzeyMoog, The A.V. Club assistant editor
From my days growing up in the family spice business, I heard a lot of "secret ingredients" for chili told to me by enthusiastic customers not so concerned with keeping their secrets close to their chest. These included: cocoa (the most obvious one); chocolate (likewise a very common "secret"); coffee; citrus bits of lemon, lime, orange, or some combination; ground nuts of various kinds; whole, roasted cumin grated in; chicken soup base (bouillon cubes); dark beer; vanilla; pasilla pepper; bay leaf; mace or nutmeg; Mexican oregano; white pepper; Ceylon cinnamon; and mashed olives. For what it's worth, grating whole, roasted cumin is the best.
Fran Hoepfner, The Onion digital editor
In college, my house was involved in a chili-making event in which we had to make both a meat and vegetarian chili. My meat-loving housemate added pineapple to the veggie one to add something chewier and sweeter to the texture of it—so it wasn't all peppers and onions and beans. It wound up being a bigger hit than its meat counterpart.
Daniel Vaughn, Texas Monthly BBQ editor
I start my chili with chopped bacon and thin-sliced onions. Also, when I can, I make broth from frozen, leftover beef bones and/or pork ribs and use it instead of water. Chicken stock works, too. Basically, use a meat-based flavoring element wherever possible.

Brett Martin, GQ correspondent
When I imagine the basics of chili—the sauce, the meat, the beans; I'm not going to wade into any of the internecine battles over the particulars—what I picture is a song I love played through the speaker of a phone. It can be very good. I'm certainly not going to complain about hearing it. But what it needs to be great is some treble and some bass. For those low notes, I add a few dashes of Red Boat Fish Sauce to my chili (ground beef and limited beans, for the record). For the high, an addition that I'm pretty sure I arrived at by mishearing a friend's recipe: one whole apple, peeled, cored, and food-processed to the point where it will disappear when cooked, leaving only a faint sweetness and acidity behind. The goal is to taste neither, but be left with chili that both booms and sings.
Daniel Humm, chef of Eleven Madison Park and The NoMad, New York
How to make your chili better? Just add a little Miles Davis. It was his self-proclaimed favorite dish to cook and he called it Miles' South Side Chicago Chili Mack. He served it with spaghetti, grated cheese, and oyster crackers. A huge bowl of that and "Kind Of Blue" playing in the background—doesn't get much better.
Eric Rivera, chef of Alexis Hotel/Bookstore Bar & Cafe, Seattle
My chili uses fermented tomatoes, and it requires a pH strip. But it's worth the effort to go to the science store. I roughly chop five pounds of tomatoes, soak them with salt and sugar overnight, rinse it off, then puree into chunks. I would then add about a half a cup of apple cider vinegar with the pureed tomatoes and let it hang out at room temperature, at a pH level under 4.5 (use a pH strip) for about a week. The longer the tomatoes sit in the vinegar, the lower the pH drops. Build the sauce once it has a nice tang to it, usually around 3.25 pH, then build with beans and/or meat. I will build mine with various beans I have stashed around the kitchen, lots of charred vegetables, and the fermented tomato sauce to round out the flavor. It's intense and comforting!
Michael Solomonov, chef of Zahav and Federal Donuts, Philadelphia
Tip one: Nothing says, "I'm an amateur and am destined to wear ugly/ironic aprons at chili cook-offs" than adding way too much heat early in the cooking process. You will incinerate everybody's esophagi and then, later, asses by adding handfuls of habaneros or ghost peppers without tasting or layering the piquant. Add your fresh and dry peppers, sparingly, as you add each ingredient. Finish with a little fermented hot sauce at the end, if needed, and you will be the big winner even if you are wearing the apron. Tip two: A little cumin, coffee, or even burned onion goes a long way because it gives a rich depth and meatiness to your chili while accentuating the sweeter elements like tomato and sweet peppers (so you don't have to dump sugar in your chili pot).