Welcome back to AVQ&A, where we throw out a question for discussion among the staff and readers. Consider this a prompt to compare notes on your interface with pop culture, to reveal your embarrassing tastes and experiences, and to ponder how our diverse lives all led us to convene here together. Got a question you'd like us and the readers to answer? Email us at avcqa@theonion.com.
This week's question comes from Supper Club editor Kevin Pang:
Your fridge is overflowing with holiday leftovers—ham, turkey, mashed potatoes, gravy, anything and everything you might make for the celebration. What's your preferred tactic for cobbling together a dish the next day?
I've always found that I make too much mashed potatoes. A great way to repurpose spuds is to make potato croquettes. I dice up whatever meats are leftover from the night previous—even some gravy—and fold it into the potatoes. Then I form the mixture into flat pucks or golf ball-sized spheres, dip it in an egg wash, then panko breadcrumbs, and deep fry until golden brown.
G/O Media may get a commission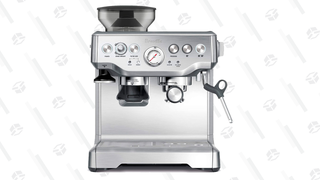 20% off for Cyber Monday starting now
Breville Barista Express Espresso Machine
Caity PenzeyMoog
The only item needed to make a spectacular post-holiday dinner is rye bread. Ply it with leftover turkey and cranberries for the base of your sandwich, then add whatever other seasonal flavors you want. Frying the rye bread in butter or mayonnaise is good way to bump it up a level. My family does a Brussels sprouts side dish, which I like to chop into a hash, fry up in butter, and add to my hangover sandwich.
Matt Gerardi
Caity basically covered my go-to post-holiday tradition: the turkey, stuffing, and cranberry sauce sandwich. But in the event that we've doubled up on meats and I've been blessed with some leftover ham, I'll get a start to the day with a bastardized version of a croque madame, a pan-fried ham-and-cheese sandwich with bechamel and an egg on top. I say bastardized because, odds are, I won't have the traditional Gruyere cheese sitting around—I'll usually sub in brie or Swiss, whichever I have in the fridge—nor will I have the quality bread to really do the dish justice. But as long as you've got that sauce and a runny egg, even a cobbled-together pseudo-madame is a delicious and decadent way to put that ham to good use. Just don't make my usual mistake and fill up on handfuls of cold meat while you wait for the thing to cook.
Laura Adamczyk
The thing in your fridge that you'll surely have too much of—cranberry sauce—can form the base of some pretty delicious cocktails. With cranberry sauce being tart and sweet and spiced all at once (assuming you've made your own from scratch), you won't need much more than a spirit of your choice and some garnishes for this holiday-themed drink, which, if memory serves, my family has dubbed a "Cranberry Sauced." I use about a shot or so of whiskey per drink, a spoonful or two of cranberry sauce, an orange slice (plus some juice), and sparkling soda, if I have it. Stir the whiskey, a squeeze of orange juice, and cranberry sauce together until the latter's dissolved. Adjust sweetness as you desire with simple syrup. Add your ice, then top with the soda and the orange garnish. Drink responsibly; don't get sauced.
Alex McCown-Levy
The day after Christmas is great because it gives me a chance to indulge in one of my favorite meal strategies: The Kitchen Sink Hash. Toss everything you loved from the previous night's meal—stuffing, mashed potatoes, gravy, cheesy onions, vegetables, quiche, anything and everything that tasted good—into a big pan, turn on the heat, and start stirring. Soon, you've got a mouth-watering (if possibly repugnant-looking) flavor combination of all those great holiday dishes that you don't get to enjoy the rest of the year. Weirdly, they all taste good together, no matter what food items might be your favorites. It's one of the great secrets of the winter holidays: The chosen dishes somehow are always in near-perfect alignment, even if you're one of those cranberry sauce-loving weirdos.
Marnie Shure
My approach to leftovers is not to elevate them in any way; instead, I recreate the previous day's meal as much as possible, right down to the ratios in which they occupy my plate. I eschew the microwave, which makes the whole experience feel like a huge downgrade. Reheating on the stove or in the oven better simulates the original experience and keeps things from getting mushy. I also add a dozen glugs of Frank's Red Hot to the potatoes, turkey, stuffing, and cornbread casserole—something I'm only comfortable doing once I'm out from under the gaze of whichever family member's culinary creation I'm mangling.
William Hughes
Whoever coined the term "cold turkey" as some kind of negative had clearly never tasted the greasy wonder of a day-old leg of poultry that's been cooling happily in the fridge. You can save your fancy luxuries like sauce, bread, or fire: the best way to eat leftover protein is like a rabid animal, cooked but cold. (In this version of rabies, the animals have refrigerators and access to cooking, but not right now.) If you're feeling elaborate, you can add some salt, and maybe a plate, but there's no reason to make this complicated: Just grab the Tupperware, sit down on the couch, and shove meat in your head until your stomach says stop.
Esther Zuckerman
I always relish a good leftover lunch, but for my family these meals are simple. You take your meat—Turkey after thanksgiving, brisket post-Jewish holiday—and slap it on some white toast with mayo. Perhaps, if you're feeling frisky, you pair pickles with the turkey. These sandwiches are my dad's special.