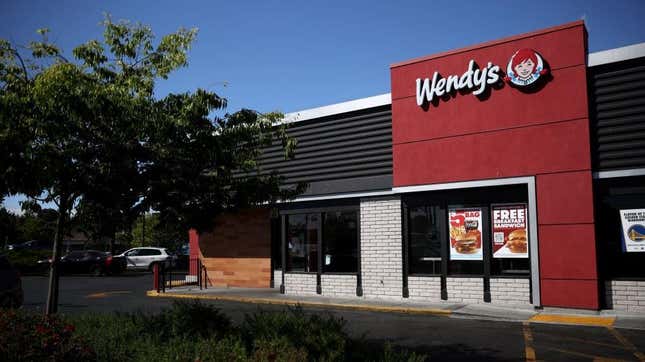 Surely you've seen the hyper-modern fast food exteriors sweeping the nation. "Sleek" is the name of the game for chains like McDonald's, Taco Bell, and Wendy's, all of which have adopted boxy exteriors like the one pictured above. But Wendy's is reportedly allowing franchisees to get a little funky, expanding the number of design options on its development menu.
McDonald's Shrinks Its Restaurant for the Digital Age
A recent slideshow from Nation's Restaurant News shows some of the design options, including a Frosty cart at the Tampa Zoo in Florida, a shipping container restaurant in Guatemala, a "next generation" design with a covered area for outdoor seating (hey, that sounds familiar), and ultra-modern interiors throughout. Nation's Restaurant News reports that the updated designs are a response to the way customer habits have changed because of the pandemic.
NRN also quotes Abigail Pringle, Wendy's president for international and chief development officer, who says the burger brand wants to expand to 8,000 outlets by 2025. (The brand currently has about 6,800 units.) "The trends that were coming before the pandemic," Pringle said. "What COVID did is it accelerated at an unbelievable pace customer behaviors that were already evolving."
While the design options vary, speed and convenience are a theme throughout. Among the designs are delivery-only "dark kitchens," drive-thru-only stores, and modifications to interior spaces and parking lots to accommodate pickup and delivery orders through mobile apps. Pringle explains that design should prioritize customer ease. "It should be fast," she said. "It should be tailored for each customer. And really, I think, help take our parking lots and turn them into transaction centers." Transaction centers! Now, there's a dystopian term, because that's how we like all of our meals. Dystopian.