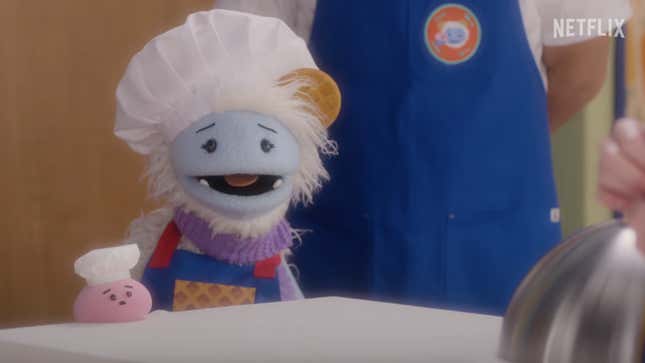 In March 2021, two new felt faces entered the global canon of beloved television puppets: Waffles, a yeti that has waffles as ears, and Mochi, a pink mochi ball that acts as Waffles' sidekick. These two are curious food enthusiasts, and from the moment Netflix debuted Waffles + Mochi, created by Jeremy Konner and Erika Thormahlen and executive produced by Barack and Michelle Obama, among others, my kids and I were on board. Michelle Obama, affectionately referred to as "Mrs. O." by the title characters, also stars in the series.
Dr. Pepper Strawberries & Cream Is Tearing Us Apart
Netflix recently debuted a spin-off series, Waffles + Mochi's Restaurant, which my family watched over winter break. As with the first go-around, the new show features the two friends going on adventures to learn about food from celebrity chefs and other creators. Mrs. O. is still there, cheering them on. And although there are some obvious differences between this series and the one that established the Waffles and Mochi universe, anyone who loves learning about food will be just as enthralled this time around.
The show takes viewers into the kitchens of Marsai Martin, Padma Lakshmi, Samin Nosrat, Lyric Lewis, Big Freedia, Bryan Ford, Marcus Samuelsson, Demi Adejuyigbe, Arturo Castro, Rashida Holmes, and Rick Martinez. Each segment is reliably fun and lighthearted. I was particularly drawn to the bread episode, in which Bryan Ford bakes pan de coco with his kids, Marcus Samuelson makes injera with his family, and Big Freedia makes beignets (and then teaches Waffles and Mochi to dance).
If we think of food programming on a scale, with Salt Fat Acid Heat on one end and Monster Foodies (Sesame Street's answer to culinary programming) on the other, I'd say the original Waffles + Mochi hewed slightly closer to Samin Nosrat and the latest season sits closer to Cookie Monster and Gonger. Where the first series went deep on individual ingredients—potatoes, rice, mushrooms—the new series is a bit broader. Bread. Chocolate versus vanilla. Bananas, cheese, honey. Even the episode titled "spicy" was a pretty basic look at what causes a spicy sensation and how to circumvent it (milk and mango lassi are among the suggestions).
The titular restaurant offers a grounding place, one that echoes the store and garden run by Mrs. O. in the first series. By my measure, the restaurant works better, but then again, that set feels like a familiar place to me. A million years ago, I was a child wrangler (real job title) on a short-lived kids' TV show called The Electric Company, Sesame Workshop's reimagining of the show by the same title from the 1970s. It too was rooted in a restaurant, though less for food education reasons and more for the purposes of having somewhere to give the characters to gather. Waffles and Mochi's restaurant reminds me of that place, both how it appeared on screen and how it felt to be on set. Which is to say, it's creative, kid-oriented, colorful, and approachable. The kind of hangout you'd love to have with your own kids.
The most important thing to note is that the new series does retain the unapologetic weirdness of the original. Mochi is still getting mixed up in bad situations—flattened by a rolling pin, for example—and they're still traveling the world in a MagiCart. Unfortunately, the new series doesn't open with the lyrics, "Listen to your vegetables and eat your parents," which is a shame. Still, as noted by Allison Shoemaker in 2021, this show is trippy, and that holds true here. The chocolate and vanilla episode, for example, features each of the series' protagonists having out-of-body experiences while they explore whether they like chocolate or vanilla better.
Some of the cast has changed, too. Notably, Waffles is now voiced by Sarah Berman (Michelle Zamora previously held the role), and David Bizarro has replaced Piotr Michael as Mochi. Some voice actors, including Diona Elise Burnett (MagiCart and Steve the Mop) and Jonathan Kidder (Busy Bee) have returned. Some new humans round out the cast, including Kimiko Glenn and Eugene Cordero, who frequently help Waffles and Mochi through their restaurant prep adventures.
Overall, the show is great to watch with kids, and I'd watch it on my own as well. The featured review on the show's IMDB page says it best: "I wanted to preview the show before I sat my four and eight year olds to watch it and accidentally binge-watched the entire thing," the reviewer wrote. "I think they're gonna love it and I guess I'll have to watch it again!"