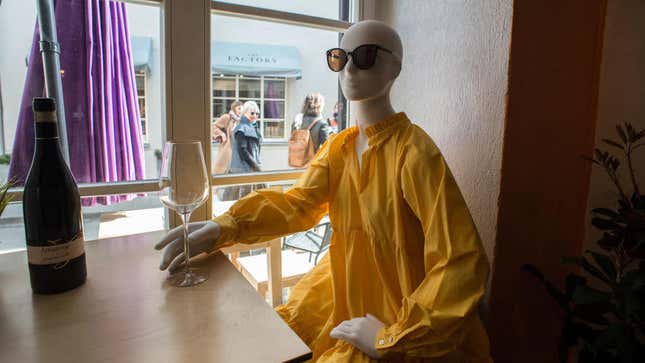 Update, May 27, 2020: Since we wrote about The Inn At Little Washington installing mannequins to pad out its dining room while operating at 50% capacity, it seems like more bars and restaurants by the day are adopting the mannequin strategy, each putting their own unique twist on it.

How To Dispose Of Cooking Grease The Easy Way After Frying
In Vilnius, Lithuania, a group of cafes are placing mannequins in their dining rooms not only to enforce social distancing guidelines indoors, but to act as fashion models for local designers to display their latest collections. Since COVID-19 has had a significant negative impact on the fashion industry, combining dining with window shopping is a collaboration that makes perfect sense—and maybe the facelessness of the mannequins makes it less uncanny, therefore less unsettling?
Meanwhile, in Vienna, one upscale bar is using ultra-realistic mannequins to space out its patrons. "Modepuppen," or fashion dolls, are also dressed in local designers' outfits at Kleinod Prunkstück, but their expressions and their posture range from seductive to sexual:
If this trend catches on, it'll be fun to see how many customers unwittingly order a drink for the beautiful woman eyeing them at the end of the bar, only to discover she's been eyeing that same spot unblinkingly all night.
Original post, May 13, 2020: Virginia is scheduled to start reopening this Friday, May 15; restaurants will open again two weeks later, on May 29. And The Inn At Little Washington, a three-Michelin-starred joint located in the Blue Ridge Mountains about 90 minutes outside Washington, DC, has already started taking reservations.

There's just one problem, though: under Governor Ralph Northam's proposed regulations, restaurants can only be at 50% capacity and diners can only sit outside. That means that The Inn At Little Washington's lavish dining room would remain unoccupied, and owner-chef Patrick O'Connell thinks that would look sad.
But O'Connell has a plan. He's going to fill the dining room with mannequins dressed in 1940s costumes! "That's right," The Washingtonian confirms, "life-size human dolls—kind of like that scene in Home Alone when Kevin throws a mannequin holiday party to fool the burglars." (The article notes that O'Connell majored in drama in college.) He also plans to provide guests with custom-made face masks bearing Marilyn Monroe's smile and George Washington's chin.
Washington, Virginia, where the Inn is located, hasn't had any COVID-19 cases that O'Connell knows of, and while he expects he'll be hosting guests from big Washington up the road, which has had many more cases (so many that representatives from the four counties closest to the city have sent a letter to the governor arguing that they were nowhere near ready to reopen), he says he's taking precautions.
"I think it would do people a world of good to reduce their anxiety level when they come out to a place which is still unaffected," he said, "because if you watch your television, you think that there isn't such a place under a bubble."
Yeah, but now there are big, creepy dolls, so how does that help anxiety?