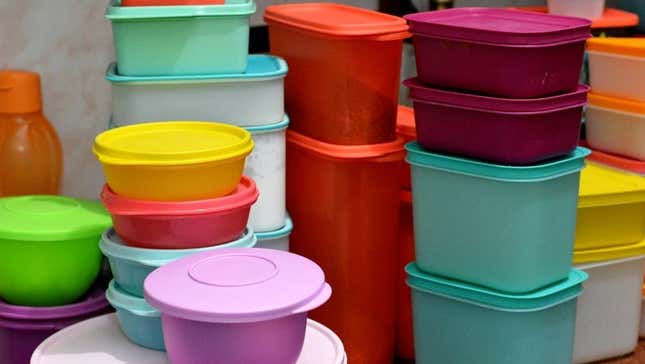 "Tupperware" is to food storage containers what "Kleenex" has long been to disposable facial tissues. The brand name is so synonymous with the product that its trademark has become genericized, functioning as shorthand for all products in that category. However, Tupperware's status has faltered over the years, and the company has recently announced (for the second time) that it might be going out of business. Bloomberg has the story.

All the Best Finds at the Sweets & Snacks Expo
To put it simply, Tupperware is reaching for every last branch to rise back up from rock bottom. The company currently has $700 million in debt and is working with financial advisors to explore options to overcome that debt, as well as seeking potential financing or investor options, per an announcement made earlier this month.
"The Company is doing everything in its power to mitigate the impacts of recent events, and we are taking immediate action to seek additional financing and address our financial position," Miguel Fernandez, President and Chief Executive Officer of Tupperware Brands, said in the announcement.
A brief history of Tupperware
Overall, Tupperware has had some major ups and downs throughout its 77-year history. When the company was first established in 1946 there was a steep learning curve to using the product, as many consumers had never encountered plastic containers with that kind of durability and tight seal.
This gave rise to a business model in which women in the 1950s could build a career and expand Tupperware's reach into homes across the country by hosting parties to sell the product—yes, a classic multi-level marketing structure. The most successful consultants would unlock rewards from Tupperware based on how many products they sold at the parties.
The brand kept this exact approach for many years, even as modern technology allowed for other means of selling Tupperware. As a result, potential customers could only be introduced to Tupperware via these at-home demonstration parties or via the brand's own website. While Tupperware did manage to become the household name we all recognize today, with its rise came a number of easier-to-access competitors and other bumps in the road.
What happened to Tupperware?
In 2019, the company's sales had been on a steady decline for years as it struggled to stay relevant with consumers who would rather shop online than host in-person parties. Moreover, the colorful plastic bowls many associate with Tupperware were also hampering the brand's ability to seem fresh and modern. Despite attempts to expand its offerings into kitchen gadgets and containers with a sleeker design, none of Tupperware's efforts were sticking, reported The Wall Street Journal in an article titled "How Tupperware Lost Its Grip on America's Kitchens." Interestingly, this article was published on March 8, 2020—right before the company's fortunes changed.
Once the pandemic hit, Tupperware's in-person demonstrations were out of the question. This could have been the final blow to end the brand, but surprisingly it ended up being a blessing: Tupperware shifted to digital parties and sales hit a 72% surge, reported Modern Retail in November 2020. Kitchenware as a whole was in higher demand because everyone was stuck inside and spending much more time experimenting in their kitchens than they ever had before.
Unfortunately, that momentary revitalization of the brand did not last. In an attempt to hang onto its moment in the sun, Tupperware even let go of its home party model and finally started stocking its products on store shelves in Target and selling on Amazon, reported CBS News in late 2022. Fernandez noted this was part of a strategy to appeal to younger customers who did not know about the Tupperware party era and expose them to the brand.
If anything, the original food storage container is a victim of its own success, having gone global early on in its lifespan and prompting a thousand competitors to flood the marketplace. If Target can't make Tupperware connect with today's consumers, what can? Will we lose the brand that started it all?