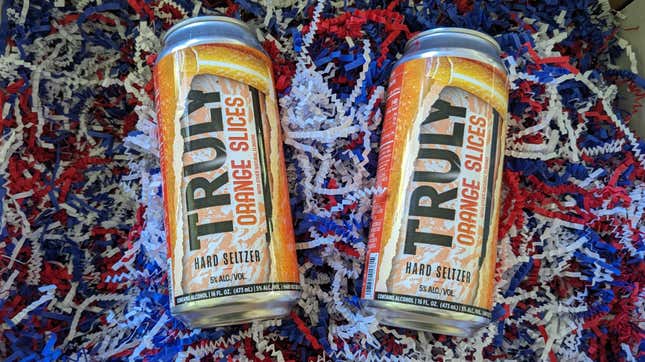 To help cheer on the U.S. Women's National Team at the Women's World Cup, Truly Hard Seltzer has introduced a new flavor called Truly Orange Slices, which claims to be "the Official Hard Seltzer of U.S. Soccer." The new seltzer is meant to reignite memories of Saturday soccer games as a kid, specifically the flavor of soccer's quintessential halftime snack.

How To Dispose Of Cooking Grease The Easy Way After Frying
Orange you glad Truly has a new flavor?
According to the press release, Los Angeles–based Truly created this new flavor "as a tribute to a generation that grew up playing soccer and enjoyed orange slices as a go-to halftime snack." It is available for delivery in several states: Arizona, California. Delaware, Florida, Hawaii, Idaho, Indiana, Louisiana, Maine, Minnesota, Montana, North Carolina, North Dakota, New York, Oregon, South Dakota, Texas, Vermont, Washington, Wisconsin, and Wyoming.
To strengthen the tie-in, "Truly will host their own special events and engage in new partnerships to further celebrate this summer's biggest moment in sports." These events include soccer-themed movie, trivia, and game nights. To unite the fans, the brand has created the Truly Bar Network, a one-stop-shop for fans looking to support the U.S. National Teams all year long with an interactive map indicating where and when you can watch U.S. Soccer games.
What does the new Truly Orange Slices taste like?
The press release tells us to expect "hints of orange and other citrus flavors" and claims that "Truly Orange Slices delivers a light, bright, refreshing experience wrapped in team spirit that takes drinkers back to simpler times on the soccer field and big dreams for a W." I am all for going back to childhood while adding a touch of alcohol to make it more palatable. This sounds promising.
However, I recently ranted about all the specific reasons I hate seltzer, both alcoholic and non, so I'm not an impartial judge. As is now my custom, I appeared at my neighbors' houses in the middle of dinnertime with the forceful suggestion that they taste test cans of Truly and give me their unfiltered thoughts. My one neighbor paused his FIFA Women's World Cup viewing and gave the new flavor its first tester sip. Without having read the press release, he specifically remarked on how "bright" it was. We both found the smell to successfully evoke orange-themed memories.
This beverage carries a mild flavor, both in terms of the citrus element and the alcohol taste. One neighbor commented that "it does a good job being an orange-peel-flavored seltzer." While he said he could do with more juiciness, he did tell me that he drank the entire can.
This is a "dry" seltzer in terms of mouth feel. However, the alcohol content is low, which could be a good or bad thing. Personally, as someone who doesn't drink much and who would be drinking this kind of thing on a hot day, I consider the high soda-to-booze ratio a plus.
Truly Hard Seltzer is, in my expert opinion, far less "spikey" than msot nonalcoholic seltzers, which is a good thing for my particular sensitivities. The slightly sweet flavor is appropriate for an adult beverage. Some of the testers noted they would rather drink a more traditional beer while watching a game, but for anyone who wants a fun tie-in and a lighter drink during the match, Truly Orange Slices might be a good contender.
I do believe Truly succeeds at what it set out to do. Though I'm not transported right back to hot days on the soccer field, with my dad taping me on his camcorder and my mom fighting with the coach about how headers cause brain damage, I did find this to be an inoffensive, summery seltzer. More importantly, by reminding us of our time in youth sports, Truly's new product really can spur us to tune in as the powerful athletes of the U.S. National Team take on the rest of the world.