I love sparkling water, so I'm always on the lookout for a sale at my local grocery store. The many flavors of LaCroix, Polar, Spindrift, and AHA always excite me, making me feel like I'm choosing a healthy alternative to juice, flavored water, and soda while still getting my flavor fix in the canned beverages aisle. But I was skeptical when I received a recent email about a new brand of sugar free, zero-calorie flavored water touting itself as nothing but "water and air."
Air Up first debuted in Germany in 2019, and in three years the product has appeared in ten countries, including the United States. The brand claims the product is "an entirely novel flavor experience that leverages the power of your olfactory system."
"You're drinking plain water while experiencing the flavor of a tasty beverage—all through scent alone," reads the Air Up website.
The press materials reference "retronasal smell," a term I'm fairly certain has not existed in the beverage world's marketing materials until now. Retronasal smell is your body's ability to detect the flavor dimensions of foods and drinks through your olfactory senses. I was immediately intrigued, but at the same time, not entirely convinced. Can you really taste something that's not actually there?
I asked the PR rep for a sample. Three days later, a beautiful orange box arrived, filled with a water bottle, bottle straps, a variety of flavor pods, and instructions.
G/O Media may get a commission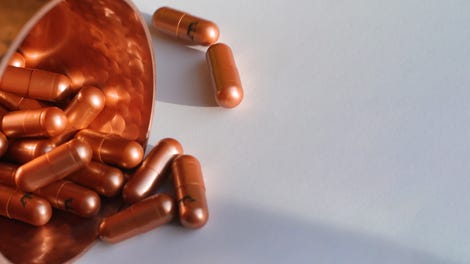 health
The Lyma Supplement
What it's like drinking water and air
The instructions were clear and simple enough: Fill the bottle with tap water (or any water you'd like), put the straw into the mouthpiece, slide the flavor pod all the way down the length of the straw, then pull it up slightly to "activate the flavor." I'll admit, it took me a few minutes to figure all this out, but once the pod was in place, I waited for the magic to happen.

Nothing much happened at first. I inhaled the taste of water, and wondered when I would be able to "taste" the lemon pod I'd just activated. After several minutes, I grew frustrated and decided to put the bottle in the fridge. Hours later, it was still there, so I took it out, ready to dump out my water… until my senses told me to give it another shot.

This time, the magic did happen. I sipped and sipped, and my brain felt like I was actually drinking lemon water, as appetizing and refreshing as if I'd squeezed citrus into it. I don't usually make absolute statements, but this was the best experience I've ever had drinking plain water. How does this happen?

It's all about the nose
We've long understood the connection between our senses of smell and taste, but the concept of the using the olfactory system to "trick" our taste buds is fairly new. In 2016, Lena Jüngst and Tim Jäger were two German university students working on their senior project. Their thesis? Neuroscience meets design. With the help of an economist, a Michelin star chef, and an entrepreneur, Jüngst and Jäger invented a technology that uses a slanted bottle and a scented flavor pod attached to a mouthpiece. The aroma is released as you drink the water, making you think that you're consuming that flavor when you're actually not.

This is not to gush about a specific brand, but I haven't encountered anything like Air Up's technology before. How are these flavor pods created, anyway? Press materials describe a "renowned European flavor house," which tells me that this is perhaps a trade secret. Fair enough. The product has tricked me into thinking I drank lemon water. But is it worth it for everyone?

The cost and commitment of air-flavored water
In its PR kit, Air Up claims that its design is all about reducing waste and keeping yourself hydrated with water.
"Designed to encourage an ethos of reducing waste while increasing water consumption, our reusable bottles and long-lasting flavor pods keep you hydrating in style," it says. It sounds like simple concept, until you consider the fact that you must purchase a special BPA-free slanted bottle along with its many peripherals.

The bottle itself comes with multiple parts that you can purchase separately, for a total price of $62.95, which includes the bottle body, bottle cap, mouthpiece, strap, and a flavor of your choice. Of course, you can save yourself a few bucks by purchasing the starter set for $39.99, which comes with one flavor (lemon). If you want more flavor, you can buy the single sipper bundle for $49.99, which comes with two flavors (lemon and peach).

As for how long each pod will last, Air Up's FAQs state that it flavors "approximately 1.3 gallons of water." This also depends on how much water you drink: "If you drink a gallon from your Air Up bottle each week, then a pod pack of 3 will last you about 3 to 4 weeks." Suffice it to say, there's some upfront investment involved in using your nose to fool your brain.

Does tricking your senses help you drink more water?
It's been almost two weeks since I received the Air Up package, and the lemon scent appears every time I drink this "sparkling water." Even my partner and kids got a kick out of it. Like me, they couldn't believe that you can actually "taste" the lemon flavor even though nothing but water is in the bottle. And yes, I've noticed that I've been drinking a lot more water too, simply because lemon is so refreshing.

But while I'm impressed with the technology that Jüngst and Jäger have created, Air Up is still very much a proprietary product, and the user is limited to its branded pods (and its prices). At $49.99 for a bottle and a few flavors, plus the cost of each refillable pod ($7.99 each), it's hard to justify spending that much on just flavored water that I can only purchase online, especially because I must pay extra for shipping. For now, flavored air will remain something akin to a splurge and less of an item to incorporate into my daily routine. If you're a fan of flavored water, there are other products on the market that can deliver a zero-sugar, zero-calorie experience.