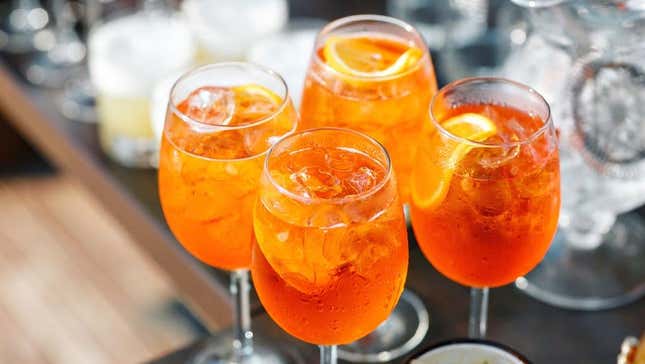 If you've been to any weddings over the past year or so, there's a good chance you had a fun choice of beverages at cocktail hour. Many couples are opting for a unique signature drink to mark the occasion, one that either reflects their tastes and personalities or is concocted specifically for them. It's a fun departure from the traditional selection of beer, wine, and classic cocktails that the typical open bar package provides, and it's a memorable way to kick off any celebration.
How To Dispose Of Cooking Grease The Easy Way After Frying
How fitting I'm writing this in the midst of planning my own wedding. This whole signature cocktail trend isn't something I encountered at weddings a decade ago. Instead, it's a product of the slightly more modern tendency to customize every inch of one's wedding celebration, and it looks like this beverage trend in particular is only gaining popularity.
Wedding planning website The Knot notes that the practice of serving signature cocktails has seen a 17% bump in popularity since 2017, and is one of the few trends that has continued to stick around, and even grow, post-pandemic. Some formerly popular reception elements, like disposable wedding favors, are falling out of fashion due to concerns about sustainability (and the fact that guests can't stand them).
What is a signature cocktail?
If you're celebrating yourselves as a newly wedded couple, you might as well toast with a customized drink that celebrates your union. According to The Knot's survey, as many as 40% of couples had a signature cocktail at their wedding in 2022, almost as many as requested "unplugged ceremonies" (45%).  
Newlyweds can go about the cocktail a few different ways. It can either be a classic that the couple enjoys drinking together, like a spritz, a mule, or an old fashioned. The bar can also offer guests the option of two different cocktails, each representing the favorite of one half of the couple. Or, most nontraditionally of all, the signature cocktail can be something brand new, perhaps brainstormed in partnership with a buddy who's a bartender, or by tinkering with one's favorite spirits at home.
Why couples serve signature cocktails at their wedding
People enjoy signature cocktails for a few reasons. They're certainly memorable, for one thing, and couples might have fun designing the menu—but if you play your cards right, a signature cocktail can actually save a lot of money in wedding planning costs, too.
Open bars are expensive, so some people opt to serve a small selection of beer, wine, and signature cocktails only—this helps shave off any unnecessary extra expenses for liquors that ultimately don't get consumed by the end of the night. You can also pre-batch the signature cocktails and keep them on tap to keep the party going, without having to hire a large team of bartenders or enlist your frazzled cousin to sling beverages throughout the reception.
By now, I've been to plenty of weddings where signature cocktails mark the special occasion, and I do think it's a practice that'll pass the longevity test. Hey, we might even have one at our own wedding reception, if we can get past all this stress. I'll just have to do all the testing myself.