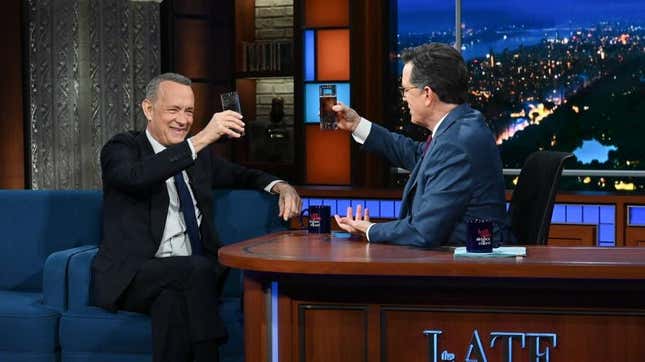 Tom Hanks recently appeared as a guest on The Late Show With Stephen Colbert to promote A Man Called Otto, and we as viewers were treated not only to anecdotes about the best advice he's ever given and the joys of playing grumpy characters, but also to a cocktail recipe of his own creation.

How To Dispose Of Cooking Grease The Easy Way After Frying
"I'm not a big drinker," Hanks told Colbert. Yet at a recent dinner, a bottle of champagne made its way to his and wife Rita Wilson's table, and Hanks, who had been drinking a Diet Coke, requested that "a shot" of champagne be added to his glass. Apparently, the concoction was pretty good.
"Stephen, it was delicious," Hanks declared.
Colbert then pulled out two glasses and concocted the Diet Coke/champagne mixture under Hanks' tutelage. After taking a sip, Colbert seemed to agree that it was good. He christened the beverage the "Tom Hanks," while Tom Hanks revealed his own working title for the drink: Diet Cokagne.
Later, Hoda Kotb and Jenna Bush Hager of TODAY with Hoda and Jenna also tried the drink and appeared to enjoy it. It's unclear whether this drink is actually good or if there are few people on this earth who want to publicly disagree with Tom Hanks, or maybe it's just fine and no one, not even Tom Hanks, is going to drink it again. But one thing is certain: Celebrities should be using their platforms to advocate for messed up food and drinks.
Devising unexpected flavor combinations can, at worst, be fun to do, and at best, you strike gold. Who thought mixing red wine and Coke would be good? Why not take advantage of the fact that you can put Nacho Fries in/on basically anything at Taco Bell? I will not try dirty soda anytime soon, but who am I to judge the entire state of Utah? I've been a longtime fan of jalapeno and pineapple pizza, a combination that I forgot was weird until Netflix started selling a jalapeno pineapple pizza to promote Stranger Things.
Plus, sometimes a messed up culinary combo can turn into a longstanding tradition. Take the Regional American Food Twitter account, which highlights beloved delicacies from across the country that might have also started as twisted little experiments. Diet Cokagne probably won't be one that sticks, but who knows?