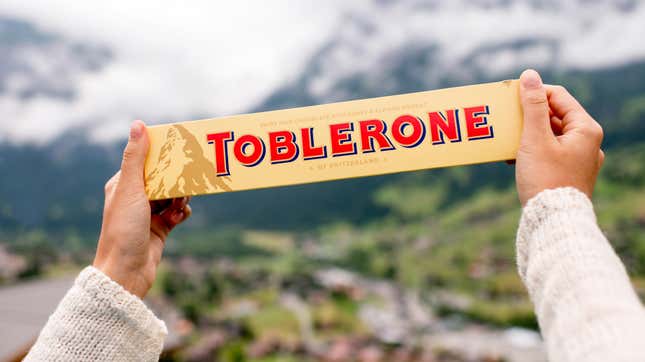 The mere mention of Toblerone immediately calls to mind that triangular box with the bold red lettering on front, the distinct outline of the Matterhorn looming just beside it. Well, that not-so-subtle nod to Switzerland, where the product has been made for 115 years, is soon going to be removed from the packaging. Part of Toblerone's manufacturing process is moving to Slovakia, and printing the mountain on the label at the new facility would violate Switzerland's official "Swissness Act." (Yes, you read that correctly.)
How To Dispose Of Cooking Grease The Easy Way After Frying
What is Switzerland's Swissness Act?
The idea behind "Swissness" legislation is to protect the reputation of Swiss products (watches, chocolate, cheese, etc.) across the world, as the Swiss believe the idea of something denoted as being "made in Switzerland" commands the ability to charge a premium for a product. In order to be able to use symbols denoting Swiss origins on product packaging, such as the Swiss cross—or in the case of Toblerone, the illustration of the Matterhorn—certain criteria must be met.
NPR explains that when it comes to food, 80% of the raw materials used to create the product must come from within Switzerland, and essential processing procedures must be handled within the country as well. The fact that part of the candy's production line will now be in Slovakia technically lowers the official Swissness of the product, which means the iconic Toblerone label will have to ditch its Matterhorn.
What's changing about Toblerone chocolate?
The cosmetic changes to Toberlone's packaging will be fairly simple—in fact, the label will still have a mountain on it, a representative for Mondelez International (parent company of Toblerone) confirmed to The Takeout via email.
"The redesign of the packaging introduces a modernised and streamlined mountain logo that is consistent with the geometric and triangular aesthetic," they wrote. "The famous hidden bear is retained."
Yes, for those of you who never noticed before, the Matterhorn logo has the subtle outline of a bear inside it—a tribute to its birthplace of Bern, Switzerland, known as the city of bears.
"The other changes to the packaging also reflect Toblerone's heritage: the font and brand logo are inspired by the Toblerone archives and include the signature of our founder Tobler," they added.
It's important to note that the chocolate itself will continue to be produced in Switzerland. Only the packaging process is moving to Slovakia, so you're still getting the product you know and love. The language on the label will also change from "Of Switzerland" to "Established in Switzerland" in order to comply with the law. 
Toblerone stressed that because the bars will still be made in Switzerland, there's been continual investment in the company's Bern facilities. The long-term plan, the brand's statement explained, is to manufacture 90 million more 100-gram bars per year out of Bern in the future.
It's been years since I've had a Toblerone. Maybe I should grab one soon, since it might be a collector's item years from now. See you later, Matterhorn.