"So," I said to my friend on the train on the way to work this morning, "I think today I have to write about this vibrator that will order a Domino's pizza for you after you've had an orgasm."

We Taste Kazbars, the New Hostess Snack Cake With Crunch
"I'm sorry," said the woman sitting across from us, completely cutting off her husband next to her, "But your conversation sounds way more interesting than my conversation."
"Yeah," chimed in another perfect stranger lady. "I have to know more about this."
As I suggested to these interested parties, if you Google "pizza" and "vibrator" today, you may find something surprising (unlike all those other times you've Googled "pizza" and "vibrator"). A press release was sent out yesterday about this magical new contraption called RubGrub. We didn't receive it, but apparently Huffington Post did:
"Masturbation, while ultimately enjoyable, can be a strenuous physical activity during which an individual exerts a lot of energy and burns many calories. Inevitably, once someone has climaxed, they feel lethargic and hungry," [company VP Daryn] Parker said in the press release. "Now, in order to enjoy your Saturday night, all you need is your RubGrub device. Get off and get stuffed, all with the quick click of a button."
G/O Media may get a commission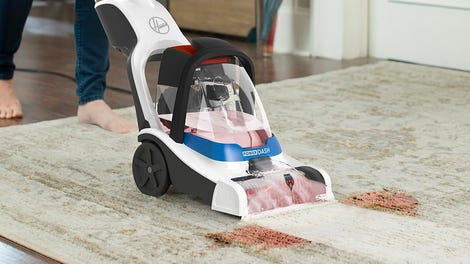 26% Off
Hoover PowerDash Pet Compact Carpet Cleaner
My boss Kevin Pang, being a responsible professional journalist, tried to ascertain the legitimacy of the press release, but we quickly found out that there was no way to do a search into RubGrub's parent company, CamSoda, that wouldn't likely end up in a meeting with HR. Needless to say, all of this stuff is NSFW. There is, however, this photo floating around Twitter:
Pizza Hut tried out a similar contraption last year with Pie Tops, a shoe that let you order a pizza by pressing a button on the tongue, but without all of the sexiness.
Right now, once you get your RubGrub hooked up, your post-climax pizza will come from Domino's (so, in 30 minutes!). Although, when asked about the press release, it was revealed that "Domino's may be a little touchy about being connected to a sex toy—a company spokesperson told HuffPost the chain knows nothing about the RubGrub—but the device is able to order pizza from the chain because its API is public, Parker explained." Other pizza chains are expected to eventually added to the uh, mix. God, everything sounds dirty with this thing.
Post-orgasmic people longing for the convenience of pushing a button on their vibrator rather than ordering a pizza on their phone will have to wait a while for the RubGrub though, as it's still in development. When it's released in a few months, it will cost $19.95. Judging from our train conversation, marketing should be an absolute breeze. Great, now there are ads for strap-on dildos all over my browser. Thanks a lot, RubGrub.