This Month In Overturned Trucks is The Takeout's monthly roundup of overturned trucks spilling shit over public roadways.

---
Cash: A door to a Brinks truck reportedly malfunctioned while the vehicle traveled on Route 3 in East Rutherford, New Jersey, on December 13, causing dollar-dollar-bills-y'all to spill across the roadway. NBC News video shows a traffic jam as passing motorists park their vehicles on the multilane highway, exit the vehicles, and attempt to collect the money. [Editor's note: The truck did not in fact overturn, but come on, how was I not going to include this?]
Christmas trees: There was a silver lining to the upturning of a truck hauling Christmas trees through Buena Vista, Michigan. The truck overturned on November 15, but it wasn't until mid-December that police officers delivered the spilled trees to area families in need. Per MLive, Bill Giorgios, who is the co-owner of a local towing company, bought 500 trees from the truck's insurance company for $1,500; he sold them for $10 a piece, or gave them away to families who could not afford trees.
Chickens: An unspecified number of chickens were lost when a truck carrying approximately 6,500 fowl overturned in Oak Ridge, Tennessee, on December 10. KnoxNews reports authorities, assisted by Oak Ridge Animal Control, responded to the scene where several holding pens had been loosed from the truck. Also per KnoxNews, "Police have not yet specified how many may have crossed the road and how many survived."
G/O Media may get a commission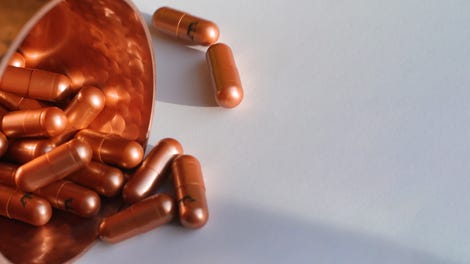 health
The Lyma Supplement
Cooking oil: An overturned trailer transporting used cooking oil spilled in Limerick Township, Pennsylvania, on December 4, casting approximately 1,500 gallons of the liquid across the roadway. 69 News reports it took two hours to right the truck; presumably, the roadway was slick.
Liquid manure: Attempting to make a turn onto Old State Road in Wyoming County, New York, a truck "fully loaded" with liquid manure tipped onto its side December 7. The truck spilled 4,500 gallons of its cargo, some of it into nearby Pearl Creek. According to WHEC News, authorities are investigating the cause of the spill and condition of the truck, the latter of which is presumed to be shitty.
Bonus holiday addition: Streets runneth over with chocolate! A leaking tank at a German chocolate factory paved the streets of Werl with liquid chocolate on December 10. German newspaper Soester-Anzeiger reports the spill had little effect on the factory's busy production ahead of the holiday season, but the cleanup was tedious as the chocolate hardened onto streets.