Below is a list of the fun, unique food festivals and eating opportunities taking place in July 2023. It's part of The Takeout's 2023 Eats Calendar, a rundown of the year's best events. To return to the calendar and check out other months, click here.
Held in the "Cherry Capital of the World"—Traverse City, Michigan, that is—the National Cherry Festival runs for the entire week of July 1-8, a testament to just how celebrated this stone fruit is among locals and tourists alike ("We are thrilled to put cherries on the top of everyone's mind," reads the official website). This is not a rinky-dink operation: More than 500,000 attendees are expected at this year's event, enjoying activities such as a cherry pancake breakfast, the crowning of the Cherry Queen, and delicious barbecue and beer. Jeff Foxworthy and Larry the Cable Guy are headlining the 2023 festival. Maybe you can show them how to tie a cherry stem with one's tongue?
The Taste of Chicago has a pretty exhaustive Wikipedia page, which is a pretty good indication that the event is practically built into the city's DNA. As one of Chicago's largest summer attractions since its founding in 1980, The Taste consistently draws over 1 million people, though at its peak it has drawn nearly 4 million, all of them there to sample food from a variety of restaurants from across the city. The event has shrunk from 10 days down to just three this year (July 7-9), but that's plenty of time to eat your fill of local food.
Pittsburgh is out here proving that it might be the city with the best sense of humor, mounting the "Picklesburgh" festival annually in partnership with Pennsylvania-based Heinz. Everything about this festival is a sheer delight, from the pickle juice drinking contest to the Li'l Gherkins kids play zone. Pickled foods are, of course, the highlight here, but it's comedy-focused too, featuring stand-up shows and touring performers throughout the weekend. Check out the photo gallery and tell us that doesn't look like a great time.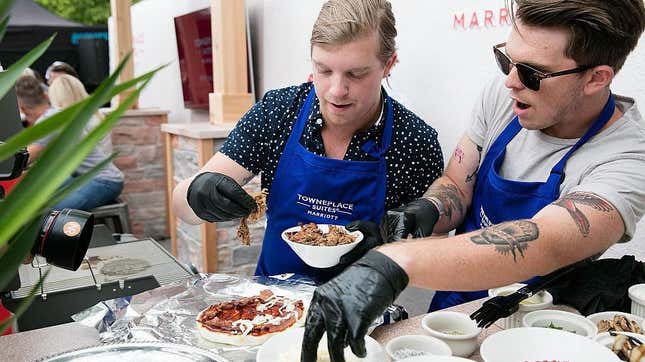 Thankfully for the organizers of the wildly popular Windy City Smokeout, fans of barbecue and fans of country music are often one in the same. From July 13-16, pitmasters will provide various styles of mouthwatering barbecue to be enjoyed alongside performances by big names in country music (Zac Brown Band and Darius Rucker among them). Gather around for events such as the "biggest happy hour of the summer" and enjoy an all-you-can-eat barbecue brunch on Sunday.
The Cave City Watermelon Festival is, in many ways, the perfect summer celebration. From July 27-29 in Cave City, Arkansas, you'll find a feast of watermelon courtesy of local growers; the website also notes that "Catfish dinners, pancake breakfasts, talent shows, watermelon judging contests, 5K runs, ice cream making contests, car shows and local entertainment have filled the event calendar" in previous years. The prize melon will be auctioned off to benefit St. Jude's.