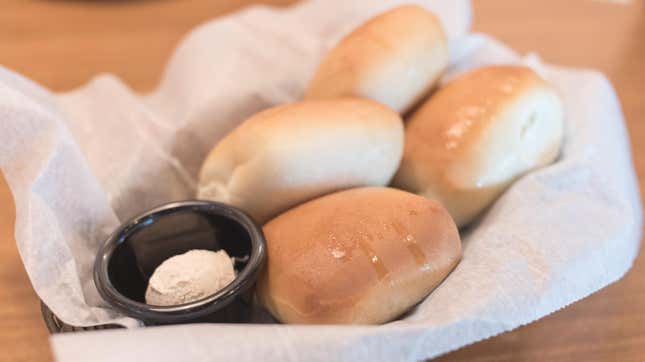 With buttery rolls and a highly curated atmosphere to match its menu, Texas Roadhouse has made strides in the post-pandemic dining landscape. But few might understand just how successful the chain has been in that time. It's currently doing so well that it's making plans to grow its brand and expand its footprint, bringing Texas to more states than ever.
McDonald's Shrinks Its Restaurant for the Digital Age
The steakhouse chain is most known for its casual vibe, free rolls ("baked fresh every five minutes"), and large portion sizes for its steaks, ribs, and country dinner combos. The valuation consulting firm Brand Finance recently released its Restaurants 25 report for 2023, in which it named Texas Roadhouse as the fastest growing chain in the ranking. Per Brand Finance, the restaurant had a 56% brand value increase in 2023, giving it a value of $2.3 billion. This value increase is attributed to the company's aggressive growth plan.
I can personally attest to the appeal of Texas Roadhouse: It was the perfect place for my parents to meet my college boyfriend for the first time. Yes, there's nothing like having one's relationship scrutinized in a setting that includes peanut shells on the floor and servers doing a coordinated line dance right beside each booth every half hour.
Aside from the atmosphere, I recall the food being just okay. Considering I was about 19 and my diet consisted of late-night McDonald's runs and free pizza from campus events, impressing me should have been easy. Texas Roadhouse's signature offering, aside from the meats, are the butter-brushed rolls served with whipped honey cinnamon butter. The rolls themselves are, once again, just fine, as warm and soft as you'd want any table bread to be. However, the butter is just way too sweet for my taste buds, wrecking the palate before a savory entree.
Regardless of my personal review, Texas Roadhouse has drawn in foot traffic at its current locations at a rate that outstrips many of its competitors. This strong performance has led to an opportunity for growth that the restaurant's leadership is eager to take advantage of.
Nation's Restaurant News reports that Texas Roadhouse ended 2022 with a 7.3% boost in sales and 1.1% boost in foot traffic—not huge, but significant considering many of its industry competitors reported negative trends in that time. Most notable of all, the restaurant started 2023 with 15.8% higher sales than the same period in 2022. As the chain's director of investor relations put it on a recent earnings call, "Our restaurants averaged more guests over the past seven weeks than in any period in our history."
Texas Roadhouse CEO Jerry Morgan also noted that 2022 was the first year the company's annual revenue surpassed $4 billion. To keep up that pace, the restaurant will try breaking out of its current pattern—opening suburban locations adjacent to strip malls—and try bringing a little Texas to major U.S. cities.
"We do have a restaurant in New York City and New Rochelle (New York) that we've looked at and … have had some success in lower-populated, smaller areas," interim CFO Keith Humpich said on the call. "So, we are expanding a little bit. For a company our size and what we want to accomplish, we have to try some new things. We have opened the scope of what we will try so we can expand and have success and that may look a little different than what we've done in the past."
The key takeaway here is expansion: In the fourth quarter of 2022, Texas Roadhouse opened 10 company restaurants, and it's planning to open 25 to 30 more locations this year. Overall the brand currently operates 700 locations and is aiming to reach 900, per Brand Finance. With more restaurants in more cities of various sizes, perhaps Texas Roadhouse will become the site of even more college couples' meet-the-parents moment.