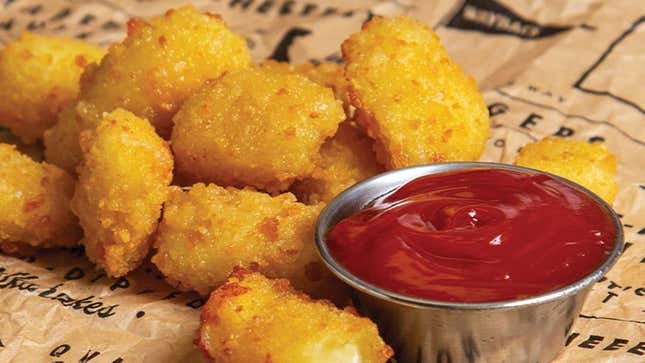 Tax season generally sucks. Unless you happen to be a certified public accountant, and even then I'm sure it's no picnic; taxes are a stressful chore. With Tax Day coming up on April 18, you need to know how to reward yourself for getting everything done.
Dr. Pepper Strawberries & Cream Is Tearing Us Apart
There are several national chain restaurants that want to congratulate you for getting your shit together to fulfill one of the many unpleasant obligations of adulthood. Here are some deals you can take advantage of on April 18:
BJ's Restaurant & Brewhouse: After compiling all your important documents, you might not want to think about the numbers "1040" for a while, but BJ's Restaurant & Brewhouse has a nationwide deal to change your mind. Customers can get $10 off any $40 purchase for takeout and delivery orders with the promo code 10OFF40. Baby back ribs, burgers, and deep-dish pizza can all be yours at a discount that day.
Boston Market: Honoring the 1040 income tax form is a recurring theme for this particular holiday. On April 18, Boston Market is offering a half chicken individual meal with two sides and cornbread plus a regular drink and a cookie for just $10.40. No promo code or coupon required, which just means one less bit of info to cram into your head after filing your taxes.
The Cheesecake Factory: It's okay if you file your taxes a little late, because The Cheesecake Factory understands this happens to the best of us sometimes. To serve both punctual and late filers, the chain restaurant is offering a deal both before and after Tax Day. You can get $10.40 off a $50 purchase when you use promotion code TAXDAY1040 at checkout from Monday, April 17 through Friday, April 21. All orders can be placed directly through The Cheesecake Factory's website or through DoorDash.
Great American Cookies: Maybe taxes have had you so stressed out, you just need a good old fashioned sugar rush. Great American Cookies is known for offering guests one free original Chocolate Chip Cookie on Tax Day. This year on April 18, the chain is instead offering a BOGO deal on a Chocolate Chip Cookie Cake Slice, valid in-store only.
Hooters: Get yourself a 1040EZ Meal, which is either four tenders and fries, eight boneless wings and fries, or six bone-in wings and fries, for $10.40. As for drinks, you have your choice of the W-$2 Blue Moons ($2 pints) or W-$4 off the Long Island Iced Tea.
Krispy Kreme: The doughnut chain is offering what it calls a sweet tax break. Customers who purchase an Assorted or Original Glazed dozen at regular price will only pay the sales tax on a second Original Glazed dozen.

Potbelly: Valid at all Potbelly locations on April 18, order an Original sized sandwich using the promo code BOGO online or through the Potbelly app to receive a second Original sized sandwich free.
Wayback Burgers: This chain will be offering 18% off all orders on 4/18 when you order through the restaurant's app. That means 18% off the regular menu and the chance to try the brand's limited-time spring menu items like the steakhouse burger, a red velvet shake, or fried cheese curds.
White Castle: Just as simple and wonderful as its iconic sliders, White Castle is keeping its Tax Day deal straight to the point: Use the promo code SAVE on April 18 and you'll get 18% off any order.
Whether you're expecting a hefty return or not, at least one of these deals is bound to make tax season suck a little less. Any calendar date that brings us good food on a budget isn't entirely a bad thing.