Due to popular demand and the fact that we love trying weird foods and candies, The A.V. Club will now regularly feature "Taste Tests." Feel free to suggest disgusting and/or delicious new edibles for future installments: E-mail us at tastetest@theonion.com.
Blair's Death Rain XXX Hot Habanero Chips
Blair's Death Rain Jalapeno Cheddar Chips
Thomas Kemper Sugar Cane Ginger Ale & Root Beer
Almost since we began running our very scientific series of Taste Tests, one of my favorite commenters (and yours), Zodiac Motherfucker, has been daring us to try his favorite brand of potato snack—Blair's Death Rain XXX Hot Habanero chips. In his charming, inimitable way (and I mean that sincerely), Mr. Motherfucker has goaded us into checking out what's billed as the spiciest chip in existence. As he repeatedly put it, "MAN UP AND FACE THE RAIN." It's been a long time, and we have finally manned up and faced the Rain. And as a very special Taste Test treat, I conducted an e-mail interview with Zodiac to ask him about his relationship with Death Rain. (Yes, really. He periodically corresponds with us, and we've had his e-mail address for a long time now, before the recent rash of ZMF imitators arrived.) All his capitalization, spelling, and non-punctuation remains unchanged.
The A.V. Club: What's so amazing about Death Rain chips?
ZODIAC M0THERFUCKER: BASICALLY ITS THE HOTTEST FUCKING CHIP OUT THERE THIS SHIT WILL ROAST YOUR FUCKING TONSILS LIKE HOT COALS AND GO DOWN YOUR ESPOPHAGUS LIKE FUCKING RAZOR WIRE. I MEAN GODDAMN IT AINT LIKE THERES A LOT OF COMPETITION OUT THERE IN THE HARDCORE CHIPS ARENA I HAD SOME BULLSHITASS CHIP ONCE I THINK IT WAS CALLED BETTER MADE AND THEY HAVE THEIR HOT BARBQUE HORSESHIT IN A RED BAG WITH EXCLAMATION MARKS AND SHIT AND THAT WASNT WORTH A FUCK. MORE LIKE WACKER MADE. FUCK ID RUB THAT SHIT IN A PAPERCUT BUT DEATH RAIN IS THE FUCKING REAL IT WILL OWN YOUR FUCKING ASS. LIKE YOU BUY THE CHIPS BUT YOUR THE ONE GETTING FUCKING OWNED
G/O Media may get a commission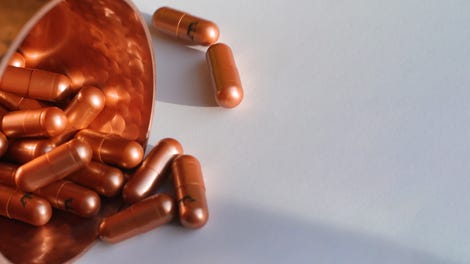 health
The Lyma Supplement
AVC: Do you think Death Rain chips are marketed to people who like metal?
ZMF: YEAH THEY GOT THE BLACK BAG AND SKULLS AND SHIT AND THEIR CALLED DEATH RAIN AND THATS PRETTY METAL BUT TO BE HONEST THE GUY WHO OWNS THE COMPANY KINDA LOOKS LIKE A POSING OLD BITCH WITH HIS WACKASS GOATEE AND STUPID FUCKING BACKWARDS HAT. LIKE NO OFFENSE DUDE BUT DONT PLASTER YOUR CHEESY FUCKING FACE ALL OVER YOUR WEBSITE BECAUSE NOBODY WANTS TO SEE THAT SHIT. KEEP IT METAL WITH THE SKULLS AND FIRE AND KEEP YOUR OLDASS FUCKING POISON FAN ASS OUT OF THE LIMELIGHT AND GO MIX UP SOME SPICES OR SOME SHIT
AVC: Are most of the foods you eat this extreme?
ZMF: NAH YOU KNOW WHAT THEY DONT SELL A LOT OF SHIT THIS HARDCORE I MEAN THEY GOT THE FUCKING FLAMETHROWER BURGER AT DAIRY QUEEN AND SOMETIMES YOU CAN GET JALAPENOS ON YOUR PIZZA OR SOMETHING LIKE THAT BUT IT AINT LIKE YOU FIND THAT SHIT AT THE 711. AND THEY GOT THIS SHIT THAT THEY ACT LIKE IS EXTREME LIKE A BURGER WITH FOUR PATTIES OR SOME SHIT LIKE BURGER KING COMING OUT WITH SOME SHITTY NEW WHOPPER EVERY OTHER FUCKING DAY LIKE THE INDY WHOPPER OR THE FUCKING SPIDERMAN WHOPPER OR WHATEVER THE FUCK. YEAH THAT SHIT MAKES YOU EXTREME EXTREMELY FUCKING FAT AS FUCK
AVC: How do you think A.V. Clubbers who don't like spicy shit are going to react?
ZMF: THEY WILL CHEW ON IT FOR A MINUTE AND ACT ALL BADASS AND SAY HEY THIS SHIT ISNT SO HOT ZODIAC IS FUCKING FULL OF SHIT. AND THEN THEY WILL TEAR UP LIKE THEY GOT KICKED IN THE BALLS AND START BEGGING FOR WATER AND MODELL YOU MOTHERFUCKER YOU BETTER NOT GIVE IT TO THEM. OR FUCK IT GIVE IT TO THEM IT WONT MAKE A DAMN BECAUSE WATER DONT HELP THAT SHIT
NAH FUCK THAT FUCK THEM DONT GIVE THEM ANY FUCKING WATER
YOU KNOW WHAT THIS IS NO BULLSHIT I HAD A BAG OF THESE ONE NIGHT AND I HAD A CHICK OVER AND I TOLD HER ALL NIGHT HOW FUCKING INTENSE THEY WERE AND SHE WAS SERIOUSLY FUCKING SCARED TO TRY THEM SO YOU KNOW WHAT SHE DID SHE DIDNT WANT TO EAT THE WHOLE CHIP SO SHE JUST TOOK A BITE OFF IT AND A FUCKING SPLINTER OF IT SHOT RIGHT INTO HER EYE. SHE WAS ALL RUNNING AROUND TEARS RUNNING DOWN HER FACE AND SHIT AND SHES RUBBING HER EYE SO HARD I TOUGHT IT WAS GOING TO ROLL OUT OF HER FUCKING HEAD. I MEAN FUCK I FELT BAD BUT WHAT THE FUCK WAS I SUPPOSED TO DO
SHES FUCKING SMOKIN HOT TOO SO I SERIOUSLY FELT BAD ABOUT THAT SHIT
AVC: Is Death Rain the spiciest food you've ever eaten?
ZMF: NAH SPICIEST THING I EVER EATEN WAS PROBABLY THOSE BLAZING WINGS AT BUFFALO WILD WINGS. THOSE ARE NO FUCKING JOKE EVEN IF THAT PLACE IS WACK AS FUCK BUT I KEEP HEARING ABOUT HOW HARDCORE INDIAN FOOD IS. LIKE THIS ONE CHICK IS ALL TELLING ME THAT SOMEDAY WHEN I GET A FUTON SHES TAKING ME OUT FOR INDIAN FOOD. I WAS LIKE FUCK I DIDNT EVEN KNOW THEY HAD FOOD IN INDIA
AVC: What's your message for people who won't dare to try them?
ZMF: MY MESSAGE IS QUIT BEING A LITTLE BITCH AND MAN THE FUCK UP. YOU HAVE TWO CHOICES IN LIFE YOU CAN EITHER OWN OR YOU CAN BE A FUCKING BITCH. YOU CANT DO BOTH. AND A LOT OF MOTHERFUCKERS HERE ALREADY MADE THEIR CHOICE BUT YOU KNOW WHAT ITS NEVER TOO LATE TO FUCKING OWN EVEN FOR YOU NOEL BITCHASS MURPHY
BOTTOM LINE IS NOBODY SHOULD BE SCARED OF A FUCKING POTATO CHIP. ILL TELL YOU WHAT THOUGH DONT GO INTO THIS SHIT ALL HALFASSED OR YOU MIGHT GET A FUCKING PIECE OF HABANERO KETTLE CHIP STABBED IN YOUR FUCKING CORNEA AND I WONT BE RESPONSIBLE FOR THAT SHIT
Thank you, Zodiac. Now, the anticlimactic-by-comparison Taste Test. Let's start with the website that produces these chips: extremefood.com. Most people, even A.V. Club Taste Testers, probably don't want their food to be extreme. "Extreme" implies pain, and something so out of the ordinary as to be extremely unpleasant. But these chips—and the company's line of hot sauces—seem popular enough that they can't be inedible, can they? The company makes several flavors, but we just ordered two—the above-mentioned habanero and the medium-spicy cheddar. Each bag comes emblazoned with the incredible slogan "Feel Alive!" and a cartoon thermometer telling you how hot the spices are. Habanero says "XXX Hot," which I assume means there will be full penetration. (Of my taste buds. Don't be gross.)
Because we knew we'd need something to wash the heat out of our mouths, we fetched a variety of Thomas Kemper sodas from the refrigerator. The company started out making beer, but branched out into sodas that don't use any high-fructose corn syrup—they're made with cane sugar. We had black cherry, root beer, and ginger ale, which the company sent us for free. Take note, other companies that make delicious things: We're here for you.
Taste: Because of Mr. Motherfucker's warnings and his taunting tone, we were all pretty apprehensive about the wrath of the Rain. I think we were expecting to have our asses blown out within seconds of the chips touching our tongues. This did not happen. Which isn't to say that the habanero-flavored chips aren't spicy. They are spicy. Perhaps even spicy as fuck. There is so much heat that it overwhelms the taste. But nobody ran screaming for the water cooler, and smoke was only seen coming out of one tester's ears. (It was Scott Tobias, if you must know.)
Once you get past the heat, they taste pretty good, but it's a bit of a struggle to actually find the taste. Also, it should be noted that the heat comes on slowly and insidiously. The chips at the top of the bag taste like a nicely flavored barbecue, but a few seconds after you've crunched, the part of the tongue they touched (and the throat they presumably slid down) gets hotter and hotter. It's not like eating straight Tabasco (or, God forbid, Blair's After Death sauce), but it does stick with you for a long, long time. Perhaps more time than you'd really want the taste of a chip sticking around.
The cheddar chips—medium-spice—weren't a hit at all. They're extreme in at least one way—extremely covered with cheddar powder, as if a Cheetos factory took a shit in every bag. They don't taste bad, though—the cheddar flavor is actually sort of natural, and there's just enough spice to keep the kick without losing the flavor.
How to cool the fire? Kemper sodas were a pretty good way. They aren't super-sweet, but they are tasty. They seem less carbonated than regular soda, too. Black Cherry = yum. A fine alternative to Coke, if for some weird reason you need an alternative to Coke. And it's good for the farmers or your body or something.
Office reactions:
Death Rain Hot XXX Habanero Chips
— [After one bite.] "Ow! I'm fleeing! I don't like your Taste Test!"
— "Okay, I ate one. Am I a man now?"
— "It's spicier than barbecue Krunchers."
— "It lingers. It's not like, 'Oh no, my mouth is burning!' It's just more heat than I want in a chip."
— "Yeah? You're more of a man than I am. My mouth is burning enough that I'm done after one XXX chip. This isn't food, this is pain in crunchy form."
— "They're hot enough that all you taste is the spice."
— "Yeah, it burns so much that there's no actual flavor. It just tastes dusty. I feel like I just licked dirt with ground glass in it."
— "The cheddar is spicier than I like."
— "The cheese powder is loose and it attacks your sinuses."
— "The cheese is way more terrible than the hot ones."
— "They aren't nearly as hot, but they've got the same overbearing-flavor problem."
— "As U2 might say, it's an unforgettable fire."
— "The exit flavor is lingering."
— "Do you want a report about when the burning goes away? Because it still hasn't."
— "My mouth is still tingling! It's not even that spicy or bothersome; it just sticks with you."
— "Why would anyone want to eat this? Besides, like, on a bet?"
— "The first habanero chip must have been a dud, because the second one was extremely hot. Nothing subtle about it, this chip almost made my eyes water. No depth of flavor. Just intense heat that lasted a good five minutes."
— "You usually expect a tomato-chile kind of sweet-and-spicy background with spicy chips, but I suspect these chips were just dusted with capsicum and maybe paprika for color."
— "I would only buy these to slip into my friend's bag of BBQ chips and then savor the hilarity! More punishment than food should ever be."
— "We have manned up, we have faced the Rain, and we lived to tell."
Thomas Kemper Sodas
— "Ooh, it has cane sugar!"
— "It's good root beer. The ginger ale is strange."
— "I'm used to ginger ale that almost burns your sinuses. This is really mild and smooth and sweet."
— "The carbonation on the ginger ale is so mild, and the taste is so smooth, that this is almost like ginger syrup. Except it isn't cloying or too sweet."
— "I associate ginger ale with being sick as a kid, so I don't really like the stuff. But that said, this is the best ginger ale I've ever had."
— "I know Genevieve usually says this first, but I just want to say that the ginger ale would go really well with alcohol. It's sweet and mild, but it has enough flavor to help mask the harshness of, say, vodka."
— "Yeah, I know I do say this about everything, but this would be really good with alcohol in it."
— "The root beer, by contrast, is pretty standard. The low carbonation level is the only exceptional thing about it. It's basically just flat, mild root beer."
— "It's so mild that I feel like we just manned all the way back down again. Pass the death-chips, I have to re-man myself."
Where to get 'em: The chips are available from extremefood.com, and Kemper can be found at tksoda.com.