American cuisine has yet to package and market food in all its enticing transitory stages—how about some lukewarm wet coffee grounds, halfway-soggy spaghetti, or chocolate-covered cocoons? Maybe it just isn't to be, but the Cold Stone Creamery chain, proclaiming itself an "ice cream innovator," recently attempted to harness the joy of pausing while baking and licking the beaters on your mixer: the company has produced an expanded line of batter-flavored, batter-textured flavors.
Cold Stone—the place where servers will break out into choruses of "Zip-A-Dee-Doo-Dah" if you tip them, serving your dessert with a sprinkle of the mandatory cheer of a nightmarish dystopia—explains in a press release that the "batter ice cream concept continues to gain momentum, and interest among ice cream aficionados grows." The little cards in the display case indicate batter flavors with the stitches of a baseball (get it?!) Earlier this month, chocolate-cake, blueberry-muffin, and cookie flavors joined Cold Stone's original cake-batter flavor.
Taste: Even before everyone got a sample of all four flavors, there was talk of sugar rushes and increased heart rates, and indeed, these flavors set off a body's sugary-shit overload meter in record time. The stuff didn't inspire loathing the way some of our Taste Test items do, but it's so dense that nobody seemed eager to take more than a spoonful of each. It's so dense, in fact, that the semi-melted, softened version—we had to carry it back to the office from the nearest Cold Stone in 95-degree heat, after all—was a suspiciously thick, stiff, battery goo, unlike the semi-liquid of most melted ice cream. This made it feel like we were eating frozen frosting straight out of the tub, which may have helped restrained some tasters from diving in face-first.
There was a fierce dispute over which Cold Stone flavor tasted best and which tasted most batter-like, but most agreed that Chocolate Cake Batter tastes more like brownie batter. The regular Cake Batter flavor tastes almost like it has some extra-sweet, extra-thick frosting mixed in. Blueberry Muffin Batter is by far the most flavor-saturated (um, strictly speaking, real blueberry-muffin batter isn't entirely flavored like blueberries), so take its bionic-purple color as a warning. It's also the only one that gives off a strong odor. A.V. Club film editor Scott Tobias seemed to dread the whole tasting experience, and noted after eating the blueberry flavor: "I feel like Violet from Willy Wonka And The Chocolate Factory looks." Cookie Batter flavor is supposed to taste like oatmeal cookies, and for better or worse, it proved the least overwhelming, with a relatively mild taste of oatmeal and brown sugar. Basically, Cold Stone batter flavors are a fun, ridiculous way to throw your taste buds and bodily nutrients out of balance with just a couple bites.
General office reactions:
— "They're all fuckin' good, man. Best Taste Test ever."
— "Ice cream is supposed to be cool and refreshing, but this is like eating bread."
G/O Media may get a commission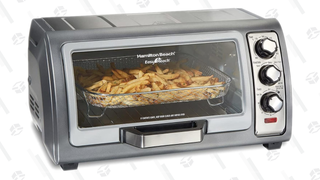 40% Off
Hamilton Beach Countertop Toaster Oven
— "It's for the ADD 10-year-old who thinks ice cream isn't sugary and tasty enough."
— "It's just like real batter. It sounds like a really good idea until you've licked two mixers of it."
— "All of the Cold Stone batter flavors have this subtle saltiness, which I guess translates to 'batter.' I think that's the reason these all seemed so sweet, because isn't salt supposed to enhance flavor? I think Food Network told me that once."
Cake Batter:
— "This is exactly like frozen yellow-cake batter. Just a little eggy, just a little floury. It's amazing how much it tastes like thick, semi-liquid condensed cake. And how much that makes me want to go find some insulin."
— "I really like this one. It's got a very batter-like taste, but it's also pretty light and fluffy. I'd definitely get this again, then regret stuffing my face with it."
— "Still the flavor that gets me to go to Cold Stone. Mix it with some brownie pieces, and it's unbeatable."
— "Probably the least weird-tasting; also the subtlest. I might be able to finish a full serving of this, with some mix-ins."
Cookie Batter:
— "Doesn't taste like cookie batter at all. It tastes like creamy maple syrup. Like drinking maple syrup and half-and-half directly out of the containers at the IHOP."
— "By far my favorite. It sorta has the texture of lumpy oatmeal, but it melts in a satisfying way. I'm satisfied. "
— "Tastes exactly like vanilla extract at first, and then the taste of sugar and cream hits hard right on its heels. There's a distinct two-taste series."
— "This has less of a batter flavor than the cake one, but it's still tasty in an unobtrusive way. This is meant to be overloaded with fixins and their empty calories."
— "I guess this was supposed to be oatmeal-cookie batter? Whatever it is, it's pretty indistinct… just an overwhelming flavor of 'baked goods.'"
— "Not my first choice, and pales in sweetness compared to the others, but still quite tasty. If there's any left next time I look in the freezer, I might eat it."
Blueberry Muffin Batter:
— "It tastes like dried-up blueberry bits in mini-muffins."
— "The least batter-like of the bunch. This tastes like frozen blueberry frosting. Like licking the tops off a hundred frozen blueberry donuts. Delicious and nauseating at the same time."
— "Wow, someone captured the essence of those processed blueberries in blueberry muffins. Now I know where to get my fix if that's all I want to taste for a while."
— "By my second spoonful, I noticed that my heart started buzzing."
— "If its electric color didn't warn you already, everyone should avoid this. The blueberry flavor is especially synthetic, and it doesn't have much of a batter flavor. More than anything, it's just kinda gross."
— "The color sure is scary, and the taste is scarily accurate. Delicious for one bite, but not too many."
— "I love this, but then again, I loved eating blueberry muffin batter when I was a kid. I want to try it with blueberries mixed in."
Chocolate Cake Batter:
— "If you poured cream into brownie batter and froze it, this is exactly what it would taste like. It's delicious, but it's too rich. There's an obesity epidemic in every spoonful."
— "Tastes like frozen chocolate buttercream frosting."
— "This didn't taste like cake at all; it's more brownie-ish. Like, those tiny morning-breakfast brownies that come four in a pack."
— "Neither terribly batter-like nor especially chocolatey. It's not very memorable; this seems like it's especially created for the fixins you can put in it."
— "Should've stuck with 'brownie batter,' because that's actually what it tastes like. Still, quite delicious."
— "Like actual batter, it's delicious at first, but after a few spoonfuls, it starts to taste like salmonella."
Bonus level: Just to see how the competition holds up, we also tried Ben & Jerry's Cake Batter ice cream, which comes with chocolate frosting mixed in, but doesn't quite catch the watery, flour-y consistency of batter the way Cold Stone's versions do. Office reactions:
— "This tastes much more like actual ice cream. Compared to the Cold Stone stuff, it's creamy instead of eggy, and it isn't nearly as much like batter. It has a much less goopy texture, too."
— "This is weird—all the super-sweet, super-butterfatty, super-thick Cold Stone makes this taste flat by comparison. It actually makes Ben & Jerry's taste like it isn't preposterously rich and sweet. Truly Cold Stone ice cream is the magic berry of the ice-cream world."
— "Ben & Jerry should just stick to the wacky flavor names and stay the hell away from the batter game. Didn't even notice any batter-y flavor in this."
— "This is one of those rare Ben & Jerry's misfires. It really doesn't have much of a batter flavor; it mostly tastes like a generic mixture of chocolate and vanilla. It's definitely not worth the 10,000 calories in every spoonful."
— "Probably tasty on its own, but compared to the gourmet Cold Stone jams, it pales."
— "Have they ever even eaten batter? This is just chocolate vanilla swirl. "
Where to get them: Your local Cold Stone, and for Ben & Jerry's, grocery stores everywhere.