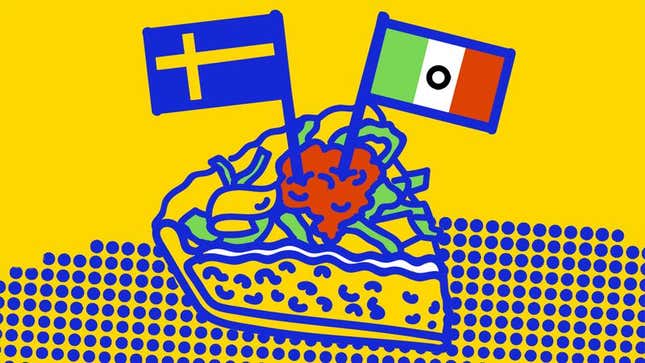 As I read the ingredients to my Norwegian mother-in-law, Inger, I sensed apprehension. I prefaced the call with a brief synopsis of the story I was working on, about tacopaj, a popular Scandinavian dish that's like tacos crossbred with quiche. It's all the rage in Sweden and Norway, I informed her. Ground beef, taco seasoning, pie crust, one egg, mayonnaise, crème fraiche. Shredded cheese. Jarred salsa. Tortilla chips. There was a pause.

How To Dispose Of Cooking Grease The Easy Way After Frying
"Please don't send me the recipe," Inger deadpanned. "I don't need that in my life."
But perhaps you do. In Magnus Nilsson's comprehensive, meticulously researched, 768-page ode to Scandinavian cuisine, The Nordic Cookbook, the decorated Swedish chef describes tacopaj as "an institution" in Sweden, a national dish that marries Swedes' love for minced meats with their love for pie. But how did Mexican spices make their way north and east, and settle into Nordic gastronomy?
Tacopaj is, in fact, a Swedish phonetic spelling of its English namesake, pronounced "taco pie." It's a phenomenon only a few decades old, essentially Minnesota hot dish on steroids minus the tater-tot topping. The pie crust soaks up enough of the grease from the ground beef to become slightly gummy. The eggy top is light and fluffy. In between is everything you love about a taco: seasoned meat and cheese (without the stupid vegetables).
"It's such a clever pie," says Patrice Johnson, a self-described Nordic food geek and meatball historian. Johnson, an instructor at the American Swedish Institute in Minneapolis, notes that Swedish cuisine has been heavily influenced by immigrants, who imported new flavors and new dishes to Sweden in recent decades. "I think Americans in general would be surprised by what's being eaten in Sweden," Johnson says. "Swedes eat more pineapple per capita than anyone else."
As with many backstories of idiosyncratic regional food, tacopaj was a dish born of necessity, shaped by convenience, and inspired by a populace that sought new and exotic culinary ideas—and Mexican flavors sounded pretty exotic to the hearty Swedes.
Richard Tellerstrom, an associate professor and food ethnologist at Stockholm University, says tacos became popular in Sweden in the 1990s, when high interest rates and growing unemployment forced many Swedes to cut back on eating out, opting instead for home-cooked meals. Despite their austerity, Swedes still coveted global fare. So when a food company introduced taco-seasoning packets, boxes of taco shells, and jars of salsa, Swedes ate them up. Soon, Friday nights became taco nights, just as Thursdays have traditionally been pea soup night and Saturdays are candy days.
Tellerstrom says tacopaj wasn't invented until 2000, when Ulrika Hjalmarsson, a worker at the Felix/Procordia food factory in Vansbro, began experimenting in her kitchen. A year later, her company launched a frozen version of her invention in Swedish supermarkets, with the idea to create a less messy version of the hard-shell taco. It was an immediate success. Soon Swedes began making home-cooked versions, creating a new dinner tradition.
My wife and I tried Nilsson's recipe for tacopaj one night. It wasn't much to look at, a bubbling mix of browns and taupes as it cooked slowly in our oven. There was a point when we thought the gooey mess would never set, but eventually it did. As directed, we lavished it with store-bought salsa and broke out a bag of tortilla chips to scoop it all up. As advertised, it was slightly less messy than a regular taco, and the egg topping made it closer to a properly proportioned breakfast burrito than a pie or quiche, still gooey and satisfying.
Inspired, I dug a bit deeper into Nilsson's cookbook. What to make next? Perhaps the boiled seal intestines with blubber and crowberries, featured in the "Marine Mammals And Seafood" section. To maintain harmonious familial relations, I'll refrain from calling my mother-in-law to recite the ingredients.