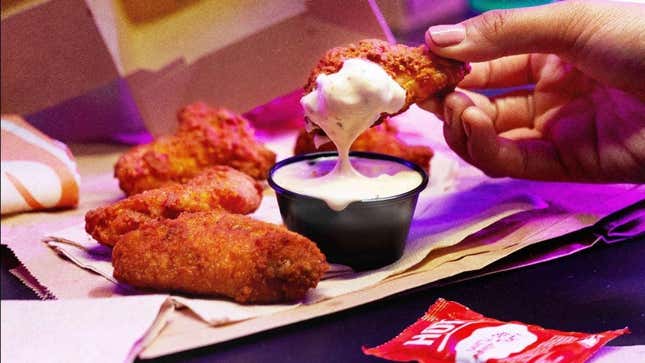 Update, January 12, 2021: We tasted Taco Bell's ultra-limited-time Crispy Chicken Wings and we have a lot of thoughts about them. On the one hand, the breading has an impressive crunch, and the meat inside is moist and tender. On the other... we were left with some bones to pick with the bone-to-meat ratio here. Read our full review here, and consider whether you want to grab some of these wings yourself before they're gone.
By the way, a quick note on the product's one-week-only run: CNN Business looked into why Taco Bell is making this flash-in-the-pan availability standard practice. Limited time offers (LTOs) minimize the risk of rolling out an unpopular item nationwide, of course. But there's also the fact that LTOs whip up a sense of novelty that might spur people to order fast food when they otherwise wouldn't.
"These items offer consumers some variety — key for fast food, as it's a notoriously thin-margin business with little customer loyalty," CNN Business explains. "Offering something new gives people a reason to come back."
And offering something new for only seven days can really instill a sense of urgency in customers to head to Taco Bell yesterday. Which you might want to do, lest you be left wingless.
Update, January 6, 2021: The chicken has landed. Starting today, for one week only, you can buy a five-piece order of Crispy Chicken Wings at Taco Bell, one of the few restaurant chains in America that hasn't already thrown its whole self into selling wings.
The chain's brief pivot to wings echoes its similarly brief entry into the chicken sandwich wars, the Crispy Chicken Taco Sandwich, in fall 2021. That offering was a pleasant surprise and gone too soon, but maybe if these wings sell well enough this week they will return to menus by popular demand later in the year. You never know what Taco Bell is planning.
Original post, December 21, 2021: Taco Bell's limited-time-offerings can be pretty fun sometimes, and the chain's got a great item in store for customers during the first week of January. The offer is—drumroll, please—chicken wings! Unfortunately, you're going to need to haul ass on this one, because they're only going to be around for a measly week before they're gone, per a press release sent to The Takeout.

"Pray tell, Dennis, what are these wings you speak of?" These are fried wings covered with a Mexican queso seasoning, along with a side of spicy ranch. You'll get five to an order (which means I'll probably be placing two orders). The wings launch on January 6, and you'll only have seven days to get your paws on an order, which will be $5.99 each.
The limited-time wings are launching alongside a few other new menu items, including a Chipotle Cheddar Chalupa, which comes with your choice of protein along with a creamy chipotle sauce. There'll also be a Fiesta Veggie Burrito, which'll come loaded with black beans, seasoned rice, tortilla strips, sour cream, shredded three-cheese blend, shredded lettuce, tomatoes, guacamole, and creamy chipotle sauce. Finally, you'll see a Beefy Melt Burrito with your choice of beef or black beans inside. Unlike the wings, these items are here to stay—they'll all be $2 on Taco Bell's revamped Cravings menu.
I am weirdly looking forward to these chicken wings. Every now and then, I'll go on a chicken wing tear and house a bunch of buffalo wings in one sitting. Back in the day, McDonald's served chicken wings (called Mighty Wings) that were pretty good, but they didn't last long. I remember them being spicy and crisp, but the price tag on them was steep, so they were pulled off the menu pretty quickly. I hope McDonald's brings those back for a few hot minutes too, but I have my doubts.
Are any of you planning on trying the Taco Bell wings? Are you as unreasonably excited as I am?