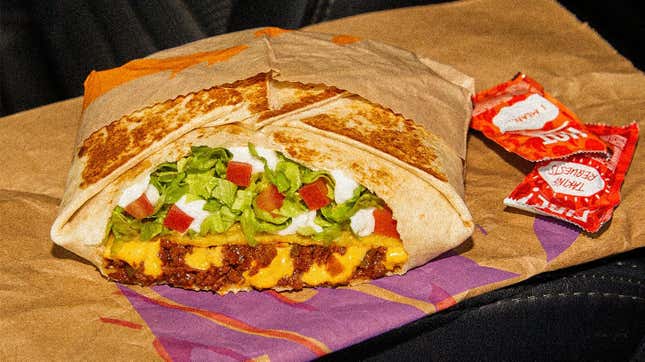 Taco Bell has a reputation for having one of the more vegetarian-friendly menus in the American fast food landscape, but now it's making one of its beloved staples an entirely vegan experience. For a limited time at select Taco Bell locations, the new Vegan Crunchwrap—the brand's first fully vegan entree—will grace the menu.
How To Dispose Of Cooking Grease The Easy Way After Frying
What is the Vegan Crunchwrap?
The new Crunchwrap includes seasoned plant-based beef, vegan blanco sauce, and vegan nacho sauce, as well as the usual Crunchwrap ingredients like diced tomato, shredded lettuce, and a tostada in the middle.
"Such a large part of our fandom is vegan or vegetarian, and we're as committed to them as they are to us and our menu," Liz Matthews, Global Chief Food Innovation Officer at Taco Bell, noted in the press release. "That's why we took so long, months and years, to release something this special; we wanted and needed to get it exactly right, to get it mouth-watering."
All of the ingredients in the Vegan Crunchwrap are certified vegan by the American Vegetarian Association. However, in a footnote of the press release, Taco Bell clarifies that it defines "vegan" as containing no animal ingredients. The restaurant does not guarantee against cross-contact, so vegan items might use the same frying oil as non-vegan items, and animal products are likely being prepared in the same common kitchen as the vegan ones.
Why the Vegan Crunchwrap matters
Interestingly, all of the certified vegan ingredients are proprietary—that is, Taco Bell worked to develop its own recipe rather than partnering with a major alternative plant-based meat brand like Beyond or Impossible. Taco Bell did test Beyond Carne Asada steak for a limited time last year at locations in Dayton, Ohio, a market test that allowed customers to swap Beyond steak for regular steak on any menu item. But the animal-free cheese and meat in the Vegan Crunchwrap were developed in-house.
The press release notes that vegan meat and cheese can't be used for customizations on other menu items: "Since the product was crafted as the perfectly complementary combination, the proprietary plant-based ingredients will be unavailable for individual orders."
Where to get Taco Bell's new Vegan Crunchwrap
Beginning Thursday, June 8, Taco Bell restaurants in New York City, Los Angeles, and Orlando will be selling the Vegan Crunchwrap for a "price parity to the signature one… with Crunchwrap prices always varying by local market," per the press release. These cities were selected because of their "notable vegan populations."
Despite the new menu item only being available for a limited time and in select areas of the country, Taco Bell states that this limited rollout of the Vegan Crunchwrap is partially to "gauge customer feedback and inform future menu developments." So there's still hope for the rest of us.