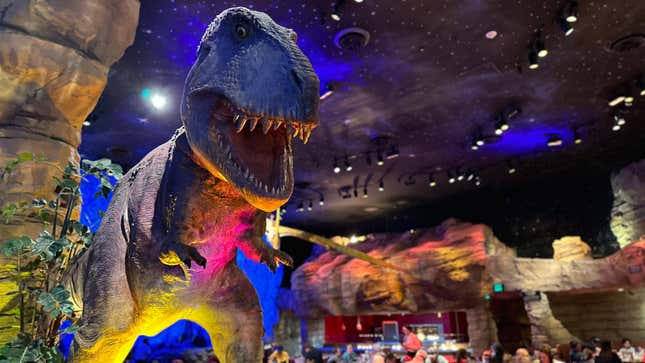 No matter what time of day you visit, the restaurant is always busy, packed with diners, servers buzzing between tables with huge trays of steaks, pastas, burgers, barbecue ribs. But above all the din, you hear it. Is that… a roar?
How To Dispose Of Cooking Grease The Easy Way After Frying
T-Rex Cafe is a restaurant at Disney Springs, Walt Disney World's shopping and dining district that doesn't require park entry; anyone can visit this Lake Buena Vista, Florida attraction. But to say T-Rex Cafe is simply a restaurant is deeply underselling the experience.
You don't just order ribs at this heavily themed restaurant—you order a Mes-O-Bones ($30.99). The same goes with the Megasaurus or Herbivore Burgers ($22-$25), the Prehistoric Pasta with alfredo sauce ($23.99), the Paleozoic Chicken Sandwich with pesto ($22.49), and the Triassic Trio ($34.99), which comes with baked shrimp and scallops, a shrimp skewer with chimichurri, and a sirloin topped with steak butter. If you're really hungry, start with the Supersaurus Sampler for four ($32.99), which has five appetizers including Nashville hot boneless wings and Caprese flatbread.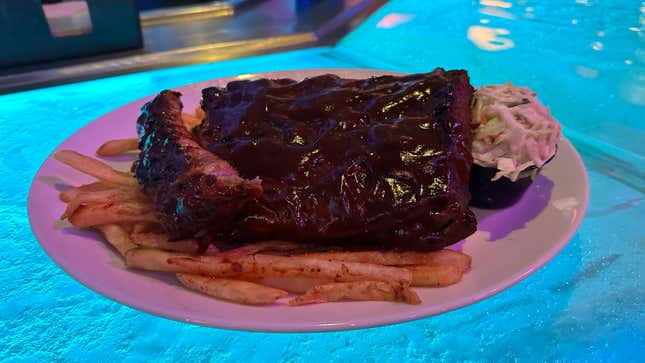 Sure, there are fancier dinners at Disney Springs. But there aren't any quite as fun. And there definitely aren't any other restaurants where you eat in the shadow of a giant dinosaur looming above you, or inside a glacial ice cave among the bones of a massive carnivorous dinosaur skeleton.
I will be honest with you: The first time I went to T-Rex Cafe, it was against my will. I've been to Rainforest Cafe plenty of times and have always been underwhelmed. Sure, there are animatronic monkeys and elephants, but once you've seen them, you've seen them. This sounded about the same, just with prehistoric beasts swapped in for jungle ones.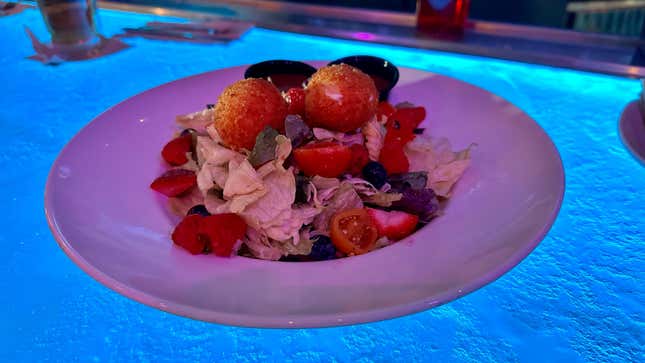 Turns out, it's completely different. And it's much louder, too.
Even before you enter the space, as you walk underneath the massive replica Brachiosaurus skeleton that serves as an entryway, you're hit with a cacophony of roars and volcanic eruptions, plus the shouts of more than a few overexcited kids. Then the scene unfolds in front of you: meteors flying through the sky, tentacles of a giant octopus waving over the glowing bar top, a fearsome T Rex baring his teeth.
Walk further in, and you'll find many other dinosaurs in the different dining areas, like an Apatosaurus in the forested section of the restaurant, Pterodactyls in the volcano area, a imposing Wooly Mammoth standing grandly in an overhead cave, and there, in the middle of the room, just before the ice cave, a Triceratops nosing its way through the foliage, its adorable baby just steps behind.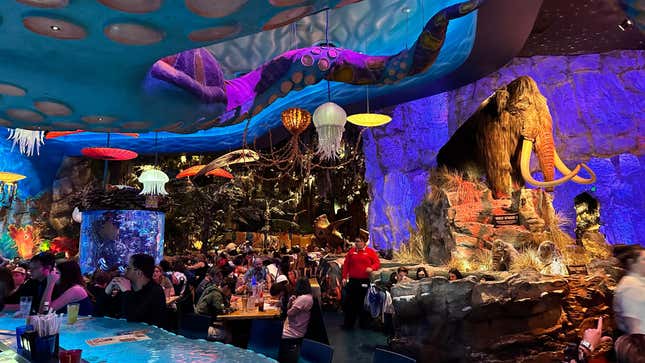 But every so often, the atmosphere of the room changes. The lights go dim, then flashes like lightning appear overhead, followed by booming crashes. The animals all roar and rear up and move around more quickly than before. The energy builds and builds, then all of a sudden, everything stops. The room goes completely quiet. The dinosaurs have all stopped. The diners have just witnessed a mass extinction event.
Don't worry. They're back to their normal selves in just a minute. But the fact that the vibe of the room changes so often makes for a dynamic dining experience, to say the least. I've never brought anyone to T-Rex Cafe who didn't have fun. Casual dinner is nice, but a casual dinner surrounded by dinosaurs— who, let's not forget, all go extinct every few minutes—is much, much better.
The food is consistently good and expertly geared toward families, so for anyone traveling with kids, it's a no-brainer. But even on an all-grown-ups vacation, I like to stop by, sit at the glowing bar under those looming tentacles, and enjoy a drink. The center of the bar is a huge aquarium, and that whole area of the restaurant has a coral reef theme, all cool blues and blasting air conditioning— the perfect respite from blazing Orlando temperatures.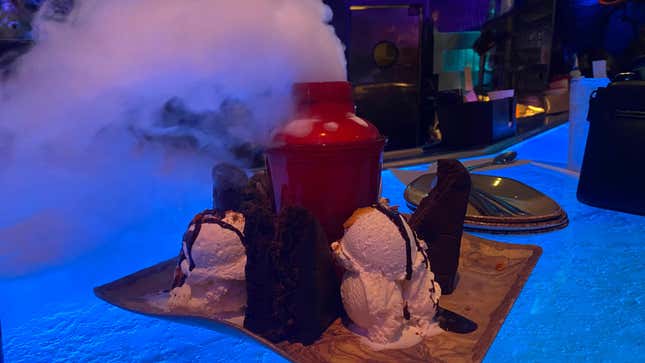 There's one nonnegotiable at the T-Rex Cafe: You must order the Chocolate Extinction ($23.99) for dessert. It allegedly serves four people, but maybe that means four dinosaurs. The plate includes four enormous slices of decadent chocolate cake, cut into triangles and arranged so they rise up like a mountain. In between them sit heaping scoops of vanilla ice cream and whipped cream, and in the center, a souvenir T-Rex Cafe cocktail shaker filled with dry ice, smoke billowing from the top and cascading down over the dessert volcano. My table has never made it all the way through one. We're definitely going to keep trying.