Your friendly Supper Club staff is at home sipping White Russians, and you'll find us parked on our barcalounger for the rest of the year. We'll be back with new stories in 2017, but until then, we'd like to thank you for reading us these last three months. Like with a new restaurant, we're striving to work out the kinks and improve each day, but do know we're grateful for your patronage.
Here are a handful of stories from our first 100 days we're especially proud to have published.

"Curry" is one of the more fascinating and vague terms in the food lexicon. How could one word reach so many corners of the globe—from Japan to England to Jamiaca—and be presented with such varied interpretations? We asked Michael Snyder to track the etymology of "curry," and he returned with a seafaring tale.

G/O Media may get a commission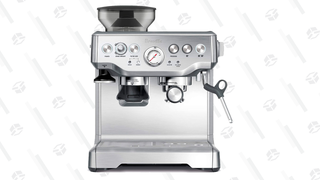 20% off for Cyber Monday starting now
Breville Barista Express Espresso Machine
If you broke down its components, McDonald's Filet-O-Fish is the sum of some mediocre and bland ingredients. But as The A.V. Club's Alex McCown-Levy contends, in concert, his favorite fast food fish sandwich is a special kind of alchemy.

Randall Colburn tracks the devolution in cinema's portrayal of fast food, a genre of restaurants that went from special treat to guilty pleasure to a symbol of American overindulgence.
With its proximity to sea, mountain, fertile soil, and world-class vineyards, Seattle is indisputably one of the country's finest food cities. But how come few guidebooks or travel shows mention the venerable chicken teriyaki shop? Matthew Amster-Burton looks at the official and unspoken proletariat food among Seattleites.
India and its billion-plus inhabitants hold a special relationship with ketchup, specifically Maggi-brand ketchup. Priya Krishna explains her country's obsession with the condiment, to the point where a ketchup sandwich becomes "addictive upon first bite."
Matthew Amster-Burton introduces us to The Lonely Gourmet, a strangely compelling Japanese TV show where the storylines are fiction, the restaurants and dishes are real, and the narrative arc mimics a smut film.
Our bi-weekly series offers a crash course on our favorite beverages—its history, how it should taste, and entry-level examples to start your journey. Here are our guides to IPAs, hefeweizen, saison, ginger beer, and brandy.
Balut is the partially fertilized duck egg seen more as a Fear Factor challenge than a delicacy. But it's as terrifying as it is delicious, M. Paramita-Lin says, and she visits balut vendors on the streets of Manila to sample—and demystify—this popular Filipino street food.
Despite its less-than-stellar reputation, airline food in recent years has grown to become more culinarily ambitious. Alison Fensterstock speaks with Nikos Loukas, arguably the world's foremost in-flight food critic.
Blacklisted in the war on drugs, coca—the raw material for cocaine—is finding new culinary life amongst Bolivian chefs. Michael Snyder headed to La Paz to find out how.
Supper Club has produced 30-plus videos thus far, from silly dumb fun (learn to be a real-life fruit ninja, a vegetarian eats meat for the first time in 22 years, how to hack into a fortune cookie) to a how-to bacon show, plus our D.I.Y. craft cocktail series.
Bizarre Foods' Andrew Zimmern, whose stomach has hosted more animals than Noah's Ark, tells us his most delicious and foulest-tasting meats he's sampled.
In this weekly series, we solicit esteemed food writers and chefs, as well as cooking enthusiasts at The A.V. Club, for their favorite tips and hacks to improve one dish. Here's what we had to say about chili, grilled cheese, chip dips, Thanksgiving side dishes, scrambled eggs, and hot chocolate.
We are nerds at heart at The A.V. Club, so we were particularly geeked to recruit Dave McCowan of University Of Chicago's physics department to explain the mysterious and fascinating world of food science. Here he is on why you can't put metal in microwaves, on the role of bubbles in beer, and the proper way to resuscitate a soggy French fry.