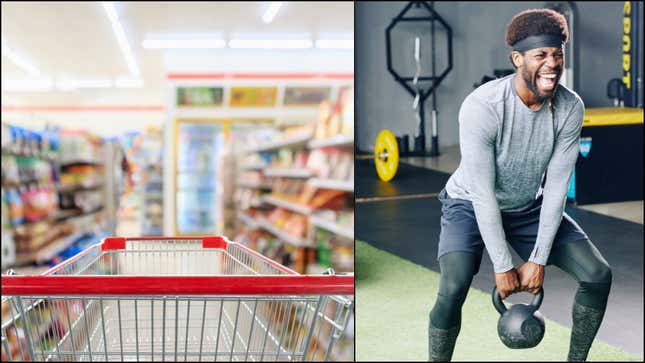 Updated story, September 9, 2021: It's been a few years since Hy-Vee decided to add gyms to its supermarkets, presumably to meet the rising consumer demand for grocery shopping while sweating. But now that we're living in the Age of Instacart, it's become more difficult for people to combine their love of errands with their dreams of improved core strength. What people need is a way to bring the shopping/sweating experience directly into their homes, and Hy-Vee may have found a solution: in-store fitness showrooms.
All the Best Finds at the Sweets & Snacks Expo
Say you're ducking into Hy-Vee for something too small to meet the delivery minimum on a third-party app, like a gallon of milk or a bucket of cheese puffs. You find yourself ambling through the aisles, waxing nostalgic for the days of in-person shopping, remembering how much fun it is to ogle cookies while stretching your legs. You scan your puff bucket at checkout, tuck it into your tote bag, then—BAM!—Hy-Vee hits you with the solution to a problem you didn't even know you had: treadmills.
Not a treadmill person? Hy-Vee still has you covered! The Midwestern grocery chain has partnered with exercise equipment retailer Johnson Fitness & Wellness on a "store within a store" concept at its newest in location in Grimes, Iowa. Inside, shoppers can test out treadmills, elliptical machines, spin bikes, and other in-home exercise equipment.
Industry publication Supermarket News reports the store will provide an "omnichannel shopping experience" where customers can order equipment via kiosk or QR codes and have it shipped straight to their homes, because it's hard to fit a treadmill into a shopping cart. Hy-Vee plans expand the concept to several more of its 280 locations by the end of this year, just in time for everyone's 2022 New Year's resolutions. Hooray?
Original story, November 27, 2019: Supermarkets are, for some reason, adding gyms so that you can feel even worse about yourself when you take a few extra laps around the expensive cheese section for free samples even though you have no intention of actually buying any of the cheese so you start picking up cheeses and inspecting them really closely while making your "thinking hard" face so hopefully the people who work there will think you're seriously considering buying cheese before you put it back while making a face like you weren't impressed so it's totally fine that you ate half a pound of free fancy cheese.
CNN reports that Hy-Vee is jumping on this burgeoning trend, and has announced that it will build studios for OrangeTheory—the $159 a month high-intensity training gym full for very sexy people—in two Minnesota stores. In 2014, a New Jersey ShopRite opened a fitness center that offers yoga and Zumba, and, of course, Whole Foods' flagship store in Austin, Texas, offers barre, spinning, and yoga on the roof.
Industry experts say that adding fitness classes could convince shoppers to stick around the store to shop a little longer, which is totally something you want to do when you're covered from the waist down in crotch sweat. There's no way to stay inconspicuous in the fancy cheese section if you look like that.