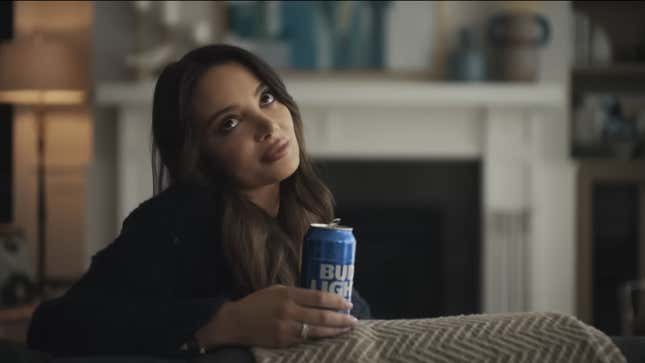 Considering Super Bowl LVII was the only NFL game I watched this season, I sure as hell picked a good one. Not only was the game spectacular, but the commercials this year left me with a better impression than from the past few (ugh, remember all the crypto ads last year?). Food and beverage brands put forth some real effort this year, and the results were mostly entertaining—only a few duds in the bunch. Let's talk about the best and worst booze ads we saw during 2023's big game.

How To Dispose Of Cooking Grease The Easy Way After Frying
Bud Light had the best Super Bowl LVII ad
Bud Light's "Hold" ad won the Super Bowl. Hot take? Maybe, but it was a great execution of a simple concept. The spot features actor Miles Teller and his wife, model and performer Keleigh Sperry, along with their real-life dog Bugsy. Sperry sits on the couch as she phones customer service, listening to some classic hold music on speakerphone (you know the song—it's so ubiquitous that there was even a This American Life segment about tracking it down). She looks bored and restless as she waits.
In the background, Teller goes to the fridge, grabs a pair of Bud Lights, then hands one over to Sperry. He begins to dance to the hold music, which grows progressively louder, and eventually Sperry and even Bugsy get in on the fun. My favorite part about the commercial is that it's exactly the sort of thing my fiancée and I would do if we were stuck in the same situation. Hell, we'd probably grab a drink while we were at it (our current poison is Kirkland brand hard seltzer, but I digress).

There was something genuine and intimate about the sentiment, and there's nothing like grabbing a dull moment and turning it into something fun. In its big Super Bowl moment, Bud Light isn't trying to be suave, cool, or over the top—just playful and silly. Besides, it's about time we all recognize that "Opus No. 1" by Tim Carleton and Darrick Deel is a banger.
The first runner-up for best drink commercial was "Your Cousin's Brighter Boston" from Samuel Adams. Second runner-up, for similar reasons, was Crown Royal's "Thank You Canada" spot featuring Dave Grohl.
Wait, that was supposed to be a Rémy Martin commercial?
Rémy Martin's "Inch by Inch" was meant to be momentous, but it sort of just left us scratching our heads. In it, the great Serena Williams steps into a football locker room to give a team a dramatic pep talk (an homage to Any Given Sunday), while montages of various other crews, like a dance troupe, a group of horse riders in a parking lot, and even a kitchen staff, gear up for their version of The Big Game.
The whole time I was trying to figure out what the commercial was for. The horses made me think of the Budweiser Clydesdales, but nope. Was it a spot for yet another electric vehicle? How about an online corporate software-as-a-service? Or was it something intentionally unrelated, like Heinz Ketchup?
It turns out I was relatively close with the gonzo ketchup guess, because only at the end do we discover it's a commercial for Rémy. Nothing like trying to pep up a team with the promise of postgame cognac, I guess. The only team featured in the ad that I know would reach for a glass of Rémy at the earliest possible moment is the kitchen crew—though I'd frankly be shocked if their kitchen's shift drink were fucking cognac instead of some well bourbon (or Fernet). If I had enough time to prepare a pre-shift pep talk like Serena's, I would have probably walked away to go prep my station instead.
The biggest outright fumble, however, was "Full Swing Gossip," the weird cross-promotion between Michelob Ultra and an upcoming Netflix show about golf. The ad was one in a series of Michelob spots featured throughout the Super Bowl broadcast that went full Caddyshack, stuffed with A-lister cameos and inside jokes about golf. Everything about it felt forced; if anything, the campaign made me want to avoid drinking Michelob Ultra.
Considering Bud Light had the best ad of the bunch, it was surprising that Budweiser's "Six Degrees of Bud" didn't manage to hit the same sweet spot. It certainly tried: Disparate groups of people (food truck employees, pick-up basketball players, bedroom musicians) are shown passing around the same six-pack in a shot that feels continuous, each of them grabbing and sharing beers. The voiceover explains that hustlers and dreamers drink Budweiser, but the sentiment was so broad and sweeping that it only seemed to convey the message, "You know who drinks beer? EVERYONE."
What were your favorite food, drink, or otherwise commercials from yesterday's game? Did anything hit with you? Sound off in the comments.