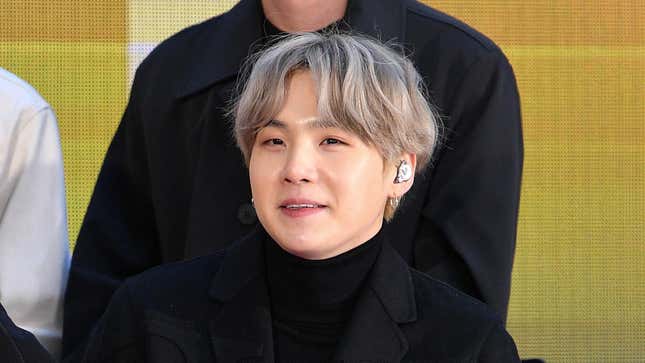 The K-pop band BTS (aka the Bangtan Boys) is currently on indefinite hiatus as its members participate in their mandatory military service in the South Korean army, but that doesn't mean we've forgotten about them. While the group has made its indelible mark on the culture and contributed to the global popularity of Korean pop music, BTS has also done a little dabbling in the food world, most notably in the form of a McDonald's celebrity meal, a bowl of bibimbap celebrating one billion Spotify streams, and a viral Chipotle-tasting video. There's just one BTS-approved food we wish we didn't know about.
How To Dispose Of Cooking Grease The Easy Way After Frying
BTS rapper Suga recently revealed the quick on-the-go meal he used to slam down back in the day for sustenance, and after hearing about it, I'm not so sure I'll ever trust the Bangtan Boys' opinions on food ever again.
Suga's smoothie, explained
This month saw the release of a new memoir titled Beyond the Story: 10-year record of BTS, written by journalist Myeongseok Kang (in collaboration with the group itself), and as Insider notes, tucked away in its pages is a stray anecdote that might upset a few of you, culinarily speaking.
Jin, the eldest member of BTS, recounts a smoothie that rapper Suga used to drink when the crew was being trained to become the superstars they are today. Back then, Suga was one of those people who only ate to live, according to Jin, and eating was a chore for him.
"He ate chicken breasts for protein but even eating them was too much of a hassle for him," Jin says in the book, "so he would blend it with some grape juice and a banana and gulp that down straight from the blender."
Stop. Reread that last paragraph again. Grape juice, a banana, and chicken breast. I'll support your high-protein dreams, everyone, but a meat shake seems pretty far out there, especially when you've got stuff like whey, egg, or even plant-based protein boosters available. Pureed poultry only seems reasonable if, say, your jaw is wired shut and you're hard up for some drinkin' chicken.
Jin had a taste of one of Suga's shakes, by the way, and immediately decided that they weren't for him. Gee, I wonder why.
Protein-rich alternatives to meat shakes
If you're not the biggest fan of eating—I get it; sometimes eating is a chore—there are meal replacement shakes that don't taste like meat. When I was working at a restaurant and barely had time to eat, and the only other options were the nearby 7-Eleven and Taco Bell, I'd occasionally bring in a Soylent or Ample shake to have as my meal. Sure, these things can taste boring, but you can slam them pretty quickly and get a lot of filling calories out of them.

Then, of course, there are those dystopian food cubes, SquarEat, which are literally just cubes of mashed-up foods meant for rapid, nutritionally complete consumption. Or baby food, even, if you need a quick individual portion of prepared produce.
Now that BTS has reached superstar status, I imagine Suga doesn't have to resort to chugging liquid chicken at this point. Maybe takeout or a personal chef might be able to provide some more pleasant forms of nutrition? A shoulder injury has allegedly kept Suga from being assigned as an active duty soldier, which means he might not be suffering through bland military rations at the moment. Suga, I hope your days of meat shakes are well behind you, and that no one tries to emulate your training regimen.