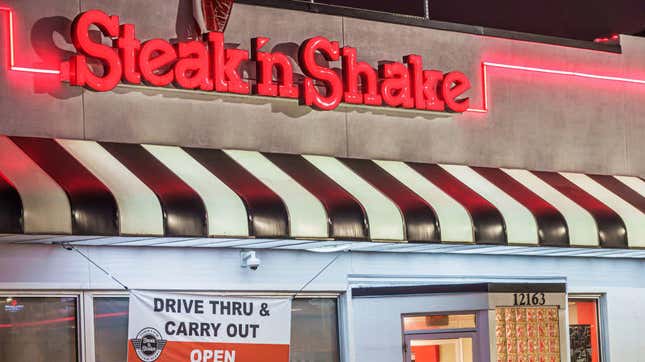 Update, February 24, 2021: Steak 'n Shake has narrowly avoided bankruptcy by paying off its loan just weeks before it was due, and in a dramatic twist, has turned around and sued its lender Fortress Investment Group. Steak 'n Shake is accusing them of trying to take over the company by purchasing the chain's loans on the secondary market, then threatening to drive the company into bankruptcy. The drama!
Dr. Pepper Strawberries & Cream Is Tearing Us Apart
Restaurant Business reports that despite paying off the loan, it's unclear what that actually means for Steak 'n Shake. Fortress Investment Group has a record of purchasing restaurant chain debt on companies struggling to stay above water, and leveraging that debt ownership to take control of the business. They did the same with the restaurant chain Krystal and casual dining group Craftworks. The whole saga hasn't unfolded yet, but when it does, we'll be here waiting to watch the made-for-TV movie version of it.
Original post, February 18, 2021: Steak 'n Shake is looking, well, shaky: the chain may be announcing bankruptcy as soon as this week, reports trade publication QSR. It's considering this route because because some upcoming debt is about to mature, and the pandemic surely can't be helping. It's been a rough ride for the burger chain for a while now, and we've been keeping track.
Starting in the late 2010's, Steak 'n Shake's sales started sagging. The company tried waving a carrot on a stick to potential franchisees in 2018 by letting people start a location for merely $10,000. The money you had to sink into a typical Steak 'n Shake in 2018 ran from $1.6 to $2.6 million. And while I'm not a business guru, my "too good to be true" radar is going off like crazy right now. It didn't help: By the end of 2019,106 of 282 corporate owned locations had temporarily shuttered. Ouch.
While I haven't been to Steak 'n Shake in years now (there are only a handful in the Chicago area), I have fond memories of the place from college after a late night out. That style of griddled smashed burger is awesome, and despite the fact that I'm not a huge shoestring fry fan, every now and then it's what you want.
We did a menu ranking of every Steak 'n Shake burger a few years back, and while the idea of trying 14 different burgers in one sitting makes me clutch my sides in a sympathy bellyache, what I wouldn't do to just sit down in a plastic booth and eat those burgers off ceramic plates for a leisurely lunch. That's what quarantine will do to you.