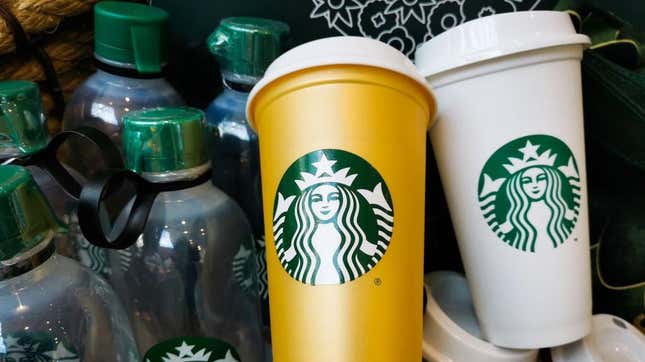 We've all used a lot of plastic in the last year. We went all out on travel-size hand sanitizer, snagged individual ketchup packets from takeout destinations, and accepted single-use coffee cups from chains as a way to minimize potentially germy contact points. And rightfully so—environmental impact aside, these were emergency measures designed to keep us safer during the pandemic. But now that nationwide restrictions are lifting, our collective plastic use will hopefully let up, too. Case in point: Starbucks announced on Tuesday that customers can resume using reusable cups starting June 22. Farewell, wasteful single-use coffee cups with dubious recyclability! Hello, 10-cent discount!
How to Brew Tea Without Ruining It
The decades-old reusable cup program, which unfortunately paused during the pandemic, will look just a little different moving forward. As CNBC reports, Starbucks baristas must first double-check that the cup is clean before placing it in a sterile ceramic vessel for filling. "The beverage will be made without any contact with the cup, and the customer will pick up their drink at the handoff area of the counter," CNBC writes. You'll also have to walk up to the counter to take advantage of the service, as reusable cups will not currently be accepted at drive-thru lanes. (CNBC does add that the company is testing ways to do so safely, but there's no word on the practice just yet.)

The return of the reusable cup program, which also comes with a 10-cent discount for customers, marks the company's renewed focus on sustainability. CNBC reports that, by 2025, the company will offer a reusable cup program across locations in Europe, the Middle East, and Africa. Starting June 22, U.S. customers should be able to take advantage of the reusable cup program—just make sure your coffee vessel of choice is clean and ready for the barista.