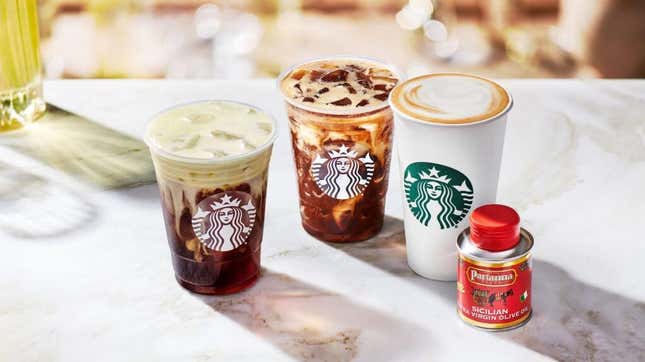 In February, Starbucks debuted a strange lineup of drinks in Italy to much fanfare: beverages that fused coffee and olive oil and were dubbed Oleato. In March, Oleato came ashore at some select locations in the United States. Despite mixed reviews, the offerings have apparently performed well enough for Starbucks to continue Oleato's expansion. As of today, the combination nobody asked for has made its way to Starbucks locations in multiple additional cities.
How To Dispose Of Cooking Grease The Easy Way After Frying
The Oleato lineup includes a Caffè Latte, an Iced Shaken Espresso, and a Golden Foam Cold Brew. Customers at participating locations also have the option to add a spoonful of extra virgin olive oil to specific drinks like espresso or tea lattes. Starbucks Roastery locations also offer a special premium Oleato menu that includes an Oleato Iced Cortado, Oleato Golden Foam Espresso Martini, and a tasting experience.
Starbucks has announced these divisive drinks are now available at select locations in Alaska, Arkansas, Connecticut, Florida, Massachusetts, Maine, New Hampshire, New Mexico, Rhode Island, Texas, and Vermont, and major cities including Austin, Boston, Chicago, Dallas, and Miami. Starbucks has also expanded the availability of the beverages throughout California and Washington, where they originally debuted.
Anyone dead set on tracking down an oily coffee drink can use the Starbucks app to check its availability at their nearest location. Alternatively, anyone can check sbux.co/FindOleato to find out which locations in their city are serving the specialty lineup.
Although not everyone is a fan of this flavor combo, the expansion of the Oleato menu seems to indicate that it has been well received at test locations. It might be that customers are curious about what the mixture of coffee and olive oil could possibly taste like, or it could be that the drink checks a surprising amount of boxes for customer tastes.
"While Starbucks does not share specific sales data, the Oleato beverages appeal to a variety of customer beverage preferences - from iced espresso and cold coffee, to plant-based beverages,"a representative for Starbucks told The Takeout via email. 
Starbucks' latest innovation is now available in 15 states, nearly one-third of its U.S. company-operated stores, and in eight markets around the world. We have to admit it's a unique one.