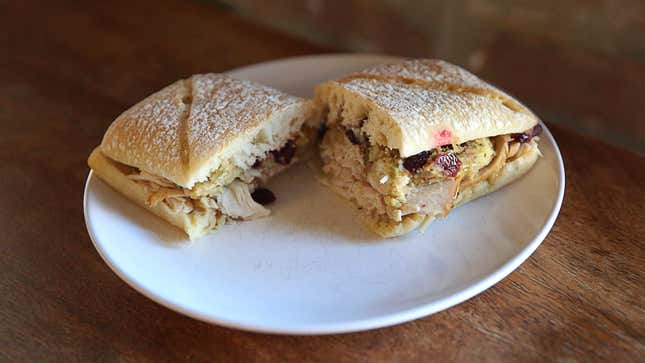 It is no surprise to me that stuffing is America's favorite Thanksgiving leftover side dish; it's easily my favorite part of that holiday meal. But it's one of those foods that is absolutely season-specific; you would never bring stuffing to a July barbecue, for example. Granted, if you did, people would probably love it, but it just doesn't fit in without the requisite turkey and cranberries.

All the Best Finds at the Sweets & Snacks Expo
So, as a bonafide stuffing junkie, I try to take advantage of these all-too-brief stuffing-friendly weeks as much as I can. A few years ago I made the happy discovery of the Holiday Turkey & Stuffing Panini, which is already on the shelves at Starbucks, resulting in a gleeful little squeal from me. As Starbucks itself explains, "The Holiday Turkey Panini includes a generous portion of sliced turkey breast topped with cranberry-herb stuffing and turkey gravy, served on a toasted ciabatta bread. It's a handheld turkey dinner!"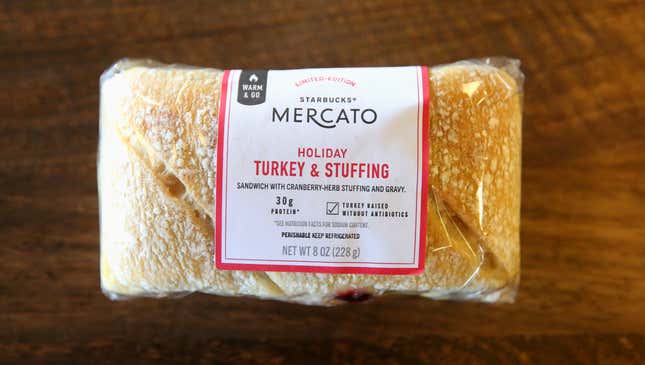 Granted, it's also a microwaved panini, so it isn't going to make you forget about Thanksgiving dinner or anything. But it boasts roasted turkey, stuffing, and cranberries on a squishy panini roll, with lots of celery and sage for that extra-stuffing-esque flavor, and the sweetness of the cranberries to balance out all the savory. I'm not a huge fan of Starbucks' other holiday offerings (not after making the mistake once of ordering the hot eggnog latte), but the Holiday Turkey Panini is my favorite fast-food sandwich of the entire year. From now until it departs at the end of the year, I'll probably pick one up every time I head to Starbucks for coffee, just to make sure I get enough of my requisite stuffing fix in. Especially around mid-November, this sandwich is a welcome preview of the Thanksgiving deliciousness to come.