Umami Issues is The Takeout's exploration of cooking food with the rich, savory, mysterious taste sensation known as umami. 

This was the year we discovered the alchemic wonders of soy sauce plus butter, a flavor combination that imbues all food it touches with an intense beefy richness. Perhaps beefy isn't the right word, but it does explain that full-palate sensation that coats the tongue when you bite into a fatty ribeye steak. That's what umami and soy-butter deliciously achieves with minimal effort.
Recently, we've been exploring other applications of soy and butter, (the beef is friggin' delicious, though—please try the recipe). That's when we came across a show on NHK World, the English-language channel of Japan's national broadcaster, called Dining with the Chef. One of the hosts of the show, Rika Yukimasa, cooked a dish with soy sauce and butter, but with sauteed mushrooms. What's more, she added a smidgen of wasabi, and the idea of soy sauce + wasabi + butter sounded so enticing we made the dish that night.
It took us less than 10 minutes from start to finish, and the resulting dish was—no hyperbole—a life-changer. This is our default side dish now, a recipe we use once a week, and it just happens to be vegetarian.
Just try this once. It could not be simpler—just five ingredients plus salt—and the results will knock you off your feet.
G/O Media may get a commission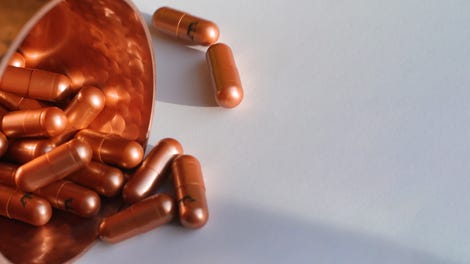 health
The Lyma Supplement
Soy-wasabi butter mushrooms

Adapted from Rika Yukimasa recipe

2 cups assorted mushrooms, halved (button, shiitake, king trumpet)
2 Tbsp. butter
2 Tbsp. soy sauce
1 tsp. wasabi paste
1 pinch Kosher salt
Juice from a quarter lemon
Wipe/clean mushrooms with a slightly damp paper towel (don't ever wash mushrooms!), then halve the pieces. You want meaty hunks here. Sauté these mushroom over medium-high heat, cut side down, with one tablespoon of butter. Avoid any temptation of moving the mushrooms for several minutes—you're looking for a gorgeous golden color on the underside.
Once the mushrooms are nice and golden, add the remaining tablespoon of butter, along with a teaspoon (or less, if you can't handle the heat) of wasabi to one end of the skillet. You'll want to use a fork or whisk to break up the wasabi, because it'll begin to clump. Integrate the wasabi as best you can into the butter.
Finally, add the soy sauce to the butter and wasabi. It will begin to bubble and thicken to a glaze. Now, toss everything together, making sure the mushrooms are fully coated in the sauce. To finish, sprinkle a pinch of coarse Kosher salt atop, and squeeze the juice from a quarter lemon. Serve immediately.