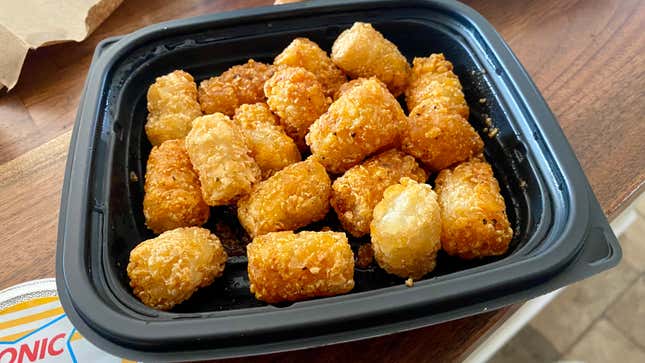 When I heard that Sonic was debuting limited-time-only BBQ Chip Seasoned Tots, I was intrigued, but cautious. Barbecue is by far my favorite chip flavor, but potato chips are a decidedly room temperature delicacy, and tater tots are best enjoyed piping hot. It sounds like the sort of sensory mashup that might confuse the palate.

Luckily, barbecue chip seasoning tastes good on a hot potato. In fact, it tastes incredible.
You need Sonic's BBQ Chip Seasoned Tots
Sonic released its BBQ Chip Seasoned Tots a week early for Sonic app users, of which I am one. The new menu item will be available to the general non-app-using public starting Monday, February 27, and you can order them at participating locations until April 30.
I got the medium order of the tots, which was priced at $4.49 and was a fairly generous serving. The barbecue seasoning was sprinkled on after the tots were cooked, rather than being incorporated in the fried potato mixture; though unevenly distributed, it gave all the tots a reddish-orange appearance compared to a non-BBQ tot (which I ordered for comparison). The dry seasoning also collected in the oil pooled at the bottom of the tots' plastic container, turning it into something more like a thin barbecue sauce.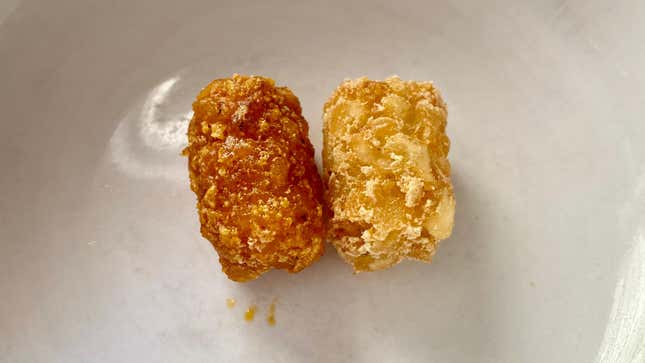 These tots were everything I didn't know I needed. The flavor was smoky and sweet all at once, with a bright punch of vinegar. Sonic hit the bullseye with this promotion: They taste exactly like the best barbecue chips you've ever had.

I found the uncanniness almost bizarre, even though it's not that crazy to get this flavor profile right. After all, barbecue chips don't occur in nature—they have a dusting of processed seasoning that includes everything from sugar to maltodextrin to caramel coloring. But something about throwing that mixture on a hot, fluffy tater tot really heightens the experience.
At a time when Domino's is taking tots way over the top and every other fast food chain is more concerned with adding super spicy flavors to the menu, it's refreshing to see that Sonic has taken a classically delicious flavor combo and found a simple, straightforward way to execute on it.
I don't live very close to Sonic. But I've been thinking about these tots ever since I ate them, and because we're all food lovers here, I'll admit that I will likely be finding a way to get more of them before they go away on April 30.