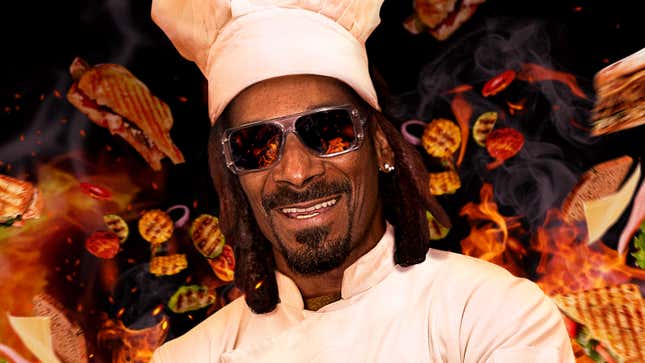 In Celebrity Recipes, we tackle a favorite recipe from a beloved star, past or present.

All the Best Finds at the Sweets & Snacks Expo
Snoop Dogg's career has taken its turns, from Doggystyle "Gin & Juice" rapper to movie star (Training Day, Starsky & Hutch) to current culinary expert co-hosting a show with Martha Stewart, no less: VH1's Emmy-nominated Martha & Snoop's Potluck Dinner Party. Perhaps the show helped inspire his latest effort: a cookbook titled From Crook To Cook: Platinum Recipes From Tha Boss Dogg's Kitchen.
Stewart wrote the book's foreword, where she credits her friend for surprising her "with new lingo and cultural references," as well as his "unique cooking techniques and recipes." Most of these are written in Snoop's casual, conversational style, from Not Ya Mama's Corn Muffin to Mile-High Omelet to a more elaborate take on that Gin & Juice (appropriately called a Remix). Snoop, with his co-author Ryan Ford, also takes the opportunity to open up his pantry and fridge and delve into topics like his favorite breakfast cereals and snack chips, with vibrant glossy photography against bright, colorful graphic design. He even includes full party menus with suggested playlists.
Intrigued by Snoop's new book, we reached out to see if he would let us use a recipe, as well as an interview with The Takeout. The answers were yes and presumably yes? Since he's on tour, we submitted some email questions to which he—Snoop Dogg himself, surely, not some publicist writing with Snoop's verbiage—responded.
The Takeout: What meals do you remember growing up in Long Beach that were important to you? 

Snoop Dogg: I grew up eating that soul food—mac 'n' cheese, fried chicken, greens, sweet potato pie—food that came from my Southern family roots. It wasn't a daily thing, but when we got together as a family, those meals meant something more than what was just on the plate. Nowadays, whenever I'm thinking about what to cook for a big group, that's the kinda food I want to make. Passin' it on, ya know?
TO: What's your most important rule in the kitchen?
SD: Keep it laid back. You can learn all those fancy tricks and go crazy tryin' to get everything looking perfect, but at the end of the day, it's all about coming together over something you put out. People dig that effort. And remember to turn the oven off. That's the wrong kind of blaze.
TO: What's the main thing you want people to take away from your book?
SD: I'm not the most adventurous eater, but ooo-wee do I know some good food. Stuff that hits the spot, the kinda food you can eat everyday and some prize dishes for holidays. I want people to come away from the book knowin' they got Snoop-approved meals to add to they routine.
TO: You talk a lot about breakfast cereal in the book; where does that love come from? 
SD: Cereal is a go-to. First thing in the morning for fuel, in the afternoon for a snack, late at night to satisfy whatever you're lookin' for. Peanut Butter Cap'n Crunch works all the time.
TO: How did you develop the recipes? Did they all come from your own kitchen?
SD: I've been saving my family favorites and recipes from the road for a long time. And to make sure everything worked for every type of kitchen, we tested every recipe.
TO: Loved the addition of the playlists and party menus at the end. Overall, what are your favorite tips for entertaining?
SD: Enjoy the people you with. That's the most important part of any party.
---
To pick a celebrity recipe, although that gin and juice was tempting, I decided to go with something I've definitely never made before, a bit out of my comfort level: the OG Fried Bologna Sandwich. In the book, Snoop Dogg calls this a "verified hood classic." I was never much of a bologna fan, but I trust the master, so I decided to give it a whirl. First I had to recite the ingredients to my grocery-store-shopping husband, as I knew we lacked white bread, bologna, American cheese, and barbecue potato chips. Turns out we even had a shortage of yellow mustard. (I don't quite understand this as the last time we moved I found about five bottles of French's, but now we have a brand new one in the fridge.)

So I set out to fry bologna for breakfast. Snoop's tip to make a slit in the middle of the bologna is crucial, as otherwise, it will puff up into an almost completely round shape. The sandwich is really just an elevated grilled cheese, albeit one with three slices each of meat and cheese. But the frying technique pulled the whole thing together, and the barbecue chips added a welcomed crispy texture.
Honestly, only one element marred the fried bologna experience for me: that dang yellow mustard. Turns out, I really don't like it (where did those five bottles come from then)? But I would definitely be willing to revisit the fried bologna sandwich, maybe with some chipotle mayo instead—I do have a lot of bologna left over.
But another word of caution: This meaty, carby sandwich does not make for the best workday breakfast, unless you can nap on the train. I can see, however, how it likely would be great on a hungover Sunday morning. Or perhaps after partaking of some of the stuff Snoop is best known for.
---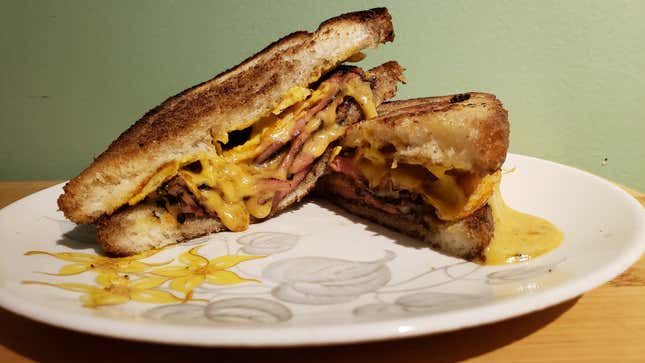 Snoop Dogg's OG Fried Bologna Sandwich
Makes 1 sandwich

3 slices bologna

1 Tbsp. unsalted butter

2 slices white bread

1 tsp. yellow mustard

3 slices American cheese
Barbecue potato chips, as many as you want
Place the bologna on a cutting board and cut one slit from the middle to the edge of each slice.
In a medium skillet over medium heat, melt the butter. Swirl the skillet to cover the bottom completely. When the skillet is hot and the foam has subsided, add the bread. Lightly toast for about 2 minutes per side, or until golden. Transfer to a cutting board and spread the mustard on one slice of bread.
Return the skillet to the heat and add the bologna in a single layer. Cook for 2 to 3 minutes, or until the edges are golden and crisp. Flip the bologna and top each slice with the American cheese. Cook for 2 to 3 minutes more, or until the cheese starts to melt.
Place the fried bologna and cheese on the toasted bread slice without mustard and top with as many chips as you and your sandwich can handle.
Close the sandwich, placing the other bread slice, mustard-side down, on top. Go to town.
---
Reprinted from From Crook To Cook: Platinum Recipes From Tha Boss Dogg's Kitchen by Snoop Dogg with Ryan Ford. Published 2018 by Chronicle Books. All rights reserved.