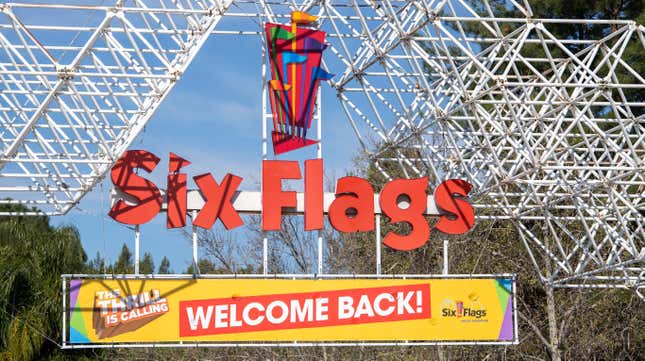 Update, October 26, 2021: It turns out our buddy Dylan isn't the only one who's been living the Six Flags dream. Another person, who goes by MANCHILDvsLIFE online, reached out to me via email to share his story:
"Just want to share with you that I am currently doing the same thing but combining it with living in a van to save even more money."
How To Dispose Of Cooking Grease The Easy Way After Frying
He's documenting it all on his YouTube channel, and in one video he breaks down how it works. It seems the loophole is not actually closed as I previously stated, it's just a little trickier to find than the more expensive and flashily named membership packages.
What you have to do is buy a season pass, which at The Takeout's friendly neighborhood Six Flags (Great America) goes for $64.99. Then, under season-pass add-ons, you'll find the dining options. Great America offers a pass for Two Meal Season Dining, which includes lunch, dinner, and snack, for $109.99. So for $174.98 a year, I could attempt this lifestyle as well.
Of course, I don't live in a van or work near a Six Flags, so I would have to factor in the one-hour commute to Gurnee, Illinois, both ways. But for two free meals a day plus snacks? It just might be worth it.
Original post, October 25, 2021: If you thought you had it all figured out, you are wrong. I don't care if you mastered the art of the all-you-can-eat specials. I don't care if you have a perfect job and a big house and a loving family. Because there is only one person on this Earth who found the ultimate life hack and is truly living the dream, a man simply known as "Dylan."
MEL Magazine spoke to the 33-year-old electrical engineer who spent $150 a year to eat all of his meals at Six Flags. Back in 2014, $150 got him a yearlong membership to Six Flags Magic Mountain that included unlimited roller coaster access, free parking, and two free meals a day. He kept it up for the next six years and ate an estimated 2,000 meals at the park, essentially spending 50 cents per meal. And through his savings on food, over those years he was able to pay down his student loans, get married, and buy a house. (No word on whether or not the wedding was at Six Flags.)
At the start of this venture, the menu mainly consisted of burgers and fries and pizza, which sounds like a chore, but over time evolved to include things like tri-tip sandwiches, carne asada salads, and vegan options. Still, at the end of the day it's all carnival food, and carnival food every day isn't all it's cracked up to be after half of a decade.
"I got so sick of those chicken balls," Dylan said to MEL Magazine about an especially unappetizing-sounding food item. "I'd estimate I got them around 150 times, and at five per meal, that's around 750 balls. I don't know that I could ever eat them again."
While it seems menus at Six Flags locations across the country have expanded, upper management may have spotted this food loophole in the system. As of today, a Diamond Elite membership at Six Flags Magic Mountain gets you the best deal on food, 50% off "almost" all food and drink, and that's going for $505 a year. At least he got in while the going was good.
While we can't follow exactly in Dylan's footsteps, we can fondly remember what he's done and start searching for our own version of the Six Flags meal plan. Drop any theme park and food court hacks you've discovered in the comments, because we're sure you all know some secrets that we don't.